We can define multilateral diplomacy as the cooperation of three or more countries that work toward a common goal. It has developed alongside bilateral diplomacy mainly through congresses and conferences. Modern multilateral diplomacy begins with the co-founding of international organizations,  especially the UN, the Council of Europa, the OSCE, and the European Union.
In the wake of current challenges and globalization, multilateral diplomacy is an indispensable form of international diplomacy. Global challenges that we are facing such as climate change, migration, sustainable development, opportunities and risks of new technologies can only be addressed through mutual cooperation.
What is multilateral diplomacy?
A multilateral diplomacy is a diplomatic approach in which multiple countries work together to address common issues and challenges. This involves engaging in dialogue and negotiation to achieve shared goals and promote cooperation among nations. It can take many forms, such as international agreements, treaties, and conventions.
Why does multilateral diplomacy matter?
Multilateral diplomacy is essential for addressing complex global challenges that require cooperation among countries. By working together, countries can find solutions that are more effective, efficient, and sustainable than those pursued bilaterally. Multilateral diplomacy also promotes dialogue and understanding among nations, which can help to reduce tensions and prevent conflicts.
How is multilateral diplomacy conducted?
Multilateral diplomacy is typically conducted through a process of negotiation, where representatives of different countries come together to discuss and reach an agreement on a particular issue. The negotiation process typically involves several stages, including agenda-setting, information sharing, proposal-making, and consensus-building.
Throughout the negotiation process, countries may also engage in informal consultations and bilateral meetings to build relationships and seek common ground. Multilateral diplomacy can be a complex and time-consuming process, requiring skilled diplomats who can navigate different cultural and political perspectives to find common ground and reach consensus.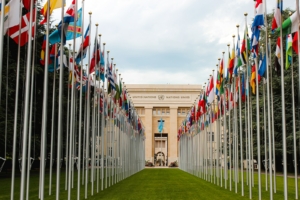 Where is multilateral diplomacy performed?
Multilateral diplomacy is performed in various settings, including international organizations such as the United Nations (UN), the World Trade Organization (WTO), and the World Health Organization (WHO), among others. These organizations provide a platform for countries to come together and negotiate on various issues that affect global stability, security, and development.
Multilateral diplomacy is also performed through regional organizations such as the European Union (EU), the African Union (AU), and the Association of Southeast Asian Nations (ASEAN), among others. These organizations provide a platform for regional cooperation and integration, and their member states engage in multilateral diplomacy to address issues that are specific to their regions.
In addition to these formal settings, multilateral diplomacy is also performed through informal mechanisms such as summits, bilateral meetings, and diplomatic dialogues. These mechanisms provide opportunities for countries to engage in informal discussions and build relationships that can lead to more effective multilateral cooperation.
Overall, multilateral diplomacy is a critical component of international relations, as it enables countries to come together and negotiate on issues that affect the global community.
How is multilateral diplomacy adapting to new global challenges?
A major trend in multilateral diplomacy is the increasing importance of non-state actors, such as civil society organisations, businesses, and other stakeholders. These actors are becoming more involved in international organisations' decision-making processes, demanding greater transparency and accountability from governments and multilateral institutions.
Another trend is the growing use of digital tools and online platforms to conduct diplomacy. This has facilitated greater collaboration and communication among diplomats and government officials but has also brought new challenges related to cybersecurity, data privacy, and online disinformation that are to be addressed in multilateral fora.
When did multilateral diplomacy develop?
Multilateral diplomacy has a long history, dating back to the Treaty of Westphalia in 1648, which established the principle of state sovereignty and paved the way for modern international relations. The League of Nations, established after World War I, was an early example of a multilateral organization. Since then, multilateral diplomacy has become increasingly important as countries face growing global challenges that require collective action.
From our blog
24 April is the International Day of Multilateralism and Diplomacy for Peace. This year, as multilateralism is in a profound crisis, it is definitely not a time for celebration. But it is not a time for desperation ei...
Histories
The period between the end of Renaissance diplomacy (early 16th century) and the start of the golden age of diplomacy and technology (early 18th century) was shaped by the Reformation and religious wars. Central Europe came out divided, while around it, new, more centr... Read more...