People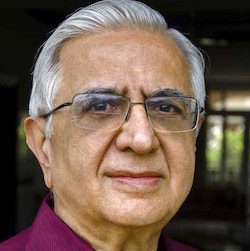 Kishan S Rana
Professor Emeritus, former Indian Ambassador, and a joint secretary to Prime Minister Indira Gandhi
Kishan S. Rana is Professor Emeritus, and a Senior Fellow at DiploFoundation. He was awarded a BA (Hon) and MA in economics, St Stephens College Delhi. He was in the Indian Foreign Service (1960-95); and worked in China (1963-65, 1970-72). He was Ambassador and High Commissioner for Algeria, Czechoslovakia, Kenya, Mauritius, and Germany; and consul general in San Francisco. He served on staff of PM Indira Gandhi (1981-82).
Amb. Rana is an Honorary Fellow of the Institute of Chinese Studies, Delhi (book review editor, China Report); an Archives By-Fellow, Churchill College, Cambridge; a Public Policy Scholar, Woodrow Wilson Centre, Washington DC; guest faculty at the Diplomatic Academy, Vienna; and Commonwealth Adviser, Namibia Foreign Ministry, 2000-01. He has lectured in about 20 countries to diplomats at foreign ministry training institutions, and at ambassador conferences in several countries.
He is the author of Inside Diplomacy (2000); Managing Corporate Culture (co-author, 2000); Bilateral Diplomacy(2002); The 21st Century Ambassador (2004); Asian Diplomacy (2007); Diplomacy of the 21st Century (2011); India's North-East States, the BCIM Forum and Regional Integration, (co-author, 2012); The Contemporary Embassy (2013); and Diplomacy at the Cutting Edge (2015). He is co-editor of Foreign Ministries (2007); and Economic Diplomacy(2011). The two books were translated into Chinese; some used as textbooks at several universities. He has written about 100 articles for academic journals and newspapers.