You landed on the story of digital diplomacy. Welcome!
This story is based on the research and teaching I have done about the digital transformation of diplomacy. It begins with a 4-minute video on digital diplomacy and then clarifies the terminological confusion regarding digital/cyber/tech diplomacy. It lists 25 terms related to technology and diplomacy. 
You can then see a methodological frame consisting of the impact of digitalization of the geopolitical environment for diplomacy and new digital topics diplomats negotiate and tools they use. Also, you will find links to literature, courses, AI platforms and apps of relevance for digital diplomacy. Enjoy your journey through a digital transformation of diplomacy.
Jovan
How to handle terminological confusion regarding digital (and) diplomacy?
Before you embark on the digital (and) diplomacy journey, make sure you clarify any terminological ambiguities……
Should it be 'digital', 'cyber', 'tech', 'net', 'virtual', or 'e-' diplomacy?
The use of different adjectives and prefixes to describe the digitalisation of diplomacy tends to create confusion in discussions and policies in this field. This confusion could be reduced by having clearer instructions on what certain terms, such as 'cyber', 'digital', and 'tech' diplomacy cover.
For example, does 'digital diplomacy' refer to negotiations about digital policy issues or the use of Twitter and Facebook for public diplomacy?

This Tetris-style animation summarises dilemmas on how to name the digital transformation of diplomacy. 

You can find more insights on how to reduce the terminological confusion around the digitalisation of diplomacy in our blog post Different prefixes, same meaning: cyber, digital, net, online, virtual, e-.
You can read more about technology and diplomacy's different 'types'.
What are the three fields of digital transformation of diplomacy?
Digital transformation of diplomacy happens in three main areas: 
Changes in the political, social, and economic ENVIRONMENT in which diplomacy is conducted: digital and redistribution of power in international relations, new types of conflicts, digital interdependence and sovereignty, etc. (Read more)
The emergence of new policy TOPICS in diplomatic negotiations: more than 50 digital governance topics including cybersecurity, privacy, data governance, e-commerce, cybercrime, and AI governance. (Read more)
The use of digital TOOLS in the practice of diplomacy: social media, online conferencing, big data and AI analysis, etc. (Read more)
What are digital diplomacy trends in 2023?
Digital diplomacy in 2023 will be shaped by fast-changing digital geopolitics. Digital geopolitical tensions show no signs of easing in 2023, especially between the USA and China. Worse, global conflicts and tensions could trigger the fragmentation of the internet. Digital geopolitics will be centred around the protection of submarine cables and satellites, the production of semiconductors, and the free flow of data. Read more…
Focus: A holistic approach toward digital diplomacy gains momentum through the EU digital diplomacy communique and the appointment of the U.S. ambassador for cyberspace and digital policy. 
Digital geopolitics: new ENVIRONMENT for diplomatic activities
Digital dependence makes countries highly vulnerable to any disruption of data flows. Maintaining data flows worldwide is vital to the social stability, economic well-being, and the growth of countries. For example, the disruption of e-commerce, e-banking, and platform services, such as Airbnb and Uber, could cause great economic disruption.
Global geopolitics depends heavily on access to the main internet cables carrying internet traffic between countries and continents. Presently, more than 90% of all global internet traffic flows through submarine cables which mostly follow the old geographical routes used by telegraph cables in the nineteenth century.
Source: TeleGeography
Internet cables are a tangible aspect of data geopolitics. Damage to cables can disconnect an entire country from the internet, which can have profound economic and political consequences. In 2008, the cutting of the main internet cables near Alexandria (Egypt) gave us the first glimpse of the consequences for users and businesses in the Gulf region and India.
Key strategic points, such as the Suez Canal and Melaka (Malaysia), remain as relevant today as they were in the past. For example, most of the data traffic between Asia and Europe goes via Egypt (Alexandria, the Suez Canal). Other critical points include Luzon island (Philippines) and Hormuz island (Irania).
The diversity of data traffic routes has increased via terrestrial cables. Submarine cables are increasingly being supplemented by terrestrial ones. The Digital Silk Road (DSR), part of China's One Belt – One Road initiative, aims to span Eurasia with fibre-optic cables laid along newly built railroads and energy pipelines.
You can learn more about internet traffic hubs and digital geopolitics in out post 'The impact of (big) data on geopolitics, negotiations, and the diplomatic modus operandi'.
Digital geoeconomics
Digitalisation triggers a new distribution of economic and societal power. For example, Apple's market capitalisation at the end of 2020 (US$2.23 trillion) was similar to the total 2019 GDP of the entire African continent (US$2.33 trillion), and is close to the GDPs of the UK (US$2.81 trillion), France (US$2.79 trillion), and India (US$2.69 trillion). 
You can compare your country's GDP with the economic might of tech companies via our Compare Countries to Tech Companies tool. 
Following the increasing economic and social power of tech companies, many countries have started establishing representation in tech hubs, such as Silicon Valley. For more on this shift towards tech diplomacy, you can consult Diplo's studies on diplomatic representation in Silicon Valley and Boston.
Diplomacy in the tech hubs 
New digital policy centres have emerged around the fast-growing tech industry. In the USA, digital economic dynamism is based in the San Francisco Bay Area which hosts most leading tech companies. As the Diplo study The rise of TechPlomacy in the Bay Area shows, more than 50 countries have been developing their representation in the Bay Area either via traditional consulates in San Francisco or via new types of representation such as the Swissnex hub. While the presence in the Bay Area is important for understanding what is coming next and for attracting investment, tech companies, on the other hand, station most of their governance units in Washington DC or Boston, highlighting the growing interdependence between governments and Big Tech.
Note: For additional information, read Diplo's research paper Science & Diplomacy: How Countries Interact with the Boston Innovation Ecosystem.
In China, most of the digital dynamism is happening in the Shenzhen area, while Beijing acts as the regulatory and policy centre for digital issues.
A new digital TOPIC on the diplomatic agenda & Digital foreign policy
Diplomats have to deal with a new set of digital policy issues when promoting the interests of their countries. In many countries, digital foreign policy is emerging as analysed on our dedicated Digital Foreign Policy page. Digital foreign policy has to address – according to Diplo's taxonomy – more than 50 digital policy issues organised in 7 baskets: Technology, Security, Human rights, Economy, Development, Legal, and Sociocultural. 
Most of these issues are addressed in the context of the internet and digital governance. Anyone navigating this field should be aware of potential terminological confusion. 
In our illustration on digital governance below, you can find a mapping of digital policy issues where each basket is presented as one subway line, while the issues are displayed as stops. The map also depicts the various interplays between them.
As visualised above, Diplo's digital governance taxonomy has been developed through iterative processes over the last 20 years, relying on inputs from policy processes (such as the World Summit on the Information Society (WSIS) and the Internet Governance Forum (IGF)), and research and teaching activities. Diplo's taxonomy is a classification of internet governance adopted in the only official classification of digital policy that was prepared by the United Nations Commission on Science and Technology for Development (UN CSTD) in 2014: The Mapping of International Internet Public Policy Issues. 
You can learn more about internet and digital governance in Diplo's certified online course, the Introduction to Internet Governance , as well as Dr Jovan Kurbalija's book An Introduction to Internet Governance (DiploFoundation, 7th edition).
Digital policy and the UN
The UN Secretary-General's Roadmap for Digital Cooperation (June 2020) provides an entry point to digital policy at the United Nations. Specific implementation activities are listed in the summary of the Roadmap.
The Roadmap builds on the report of the UN Secretary-General's High-level Panel on Digital Cooperation (Panel) titled 'The Age of Digital Interdependence'.
The report, published in June 2019, provides five sets of recommendations: 
build an inclusive digital economy and society
develop human and institutional capacity
protect human rights and human agency
promote digital trust, security, and stability
foster global digital cooperation
One of the key recommendations on digital governance outlines three proposed models for digital governance: co-governance, IGF Plus, and Digital Commons.
You can consult the summary of the Panel's recommendations and the full report.
A new digital TOOL for diplomacy 
Diplomats use digital tools in their daily work, from negotiations and representation, to communication and policy analysis. Although the most focused is the use of social media for public diplomacy (e.g. Twitter diplomacy, Facebook diplomacy), digital tools have a much more substantial impact on other functions of diplomacy as described below.
'Zoom diplomacy': Online meetings and e-participation
During the COVID-19 pandemic, diplomacy has shifted online to conferencing platforms such as Zoom. However online meetings are not as new as one might think. 
The first online participation session in multilateral diplomacy was held by the International Telecommunication Union (ITU) in 1963. Since then, the availability of the internet in conference rooms has made remote participation a reality for more inclusive and open international negotiations. 
Online meetings come with many pros and cons. As the pandemic crisis has shown, they provide business continuity. They also increase inclusion by allowing participation without being physically present, which is often conditioned by travel and other expenses. Among the major cons of online meetings is the lack of physical contact, which is important for building trust and empathy that are essential for dealing with, in particular, controversial and political issues.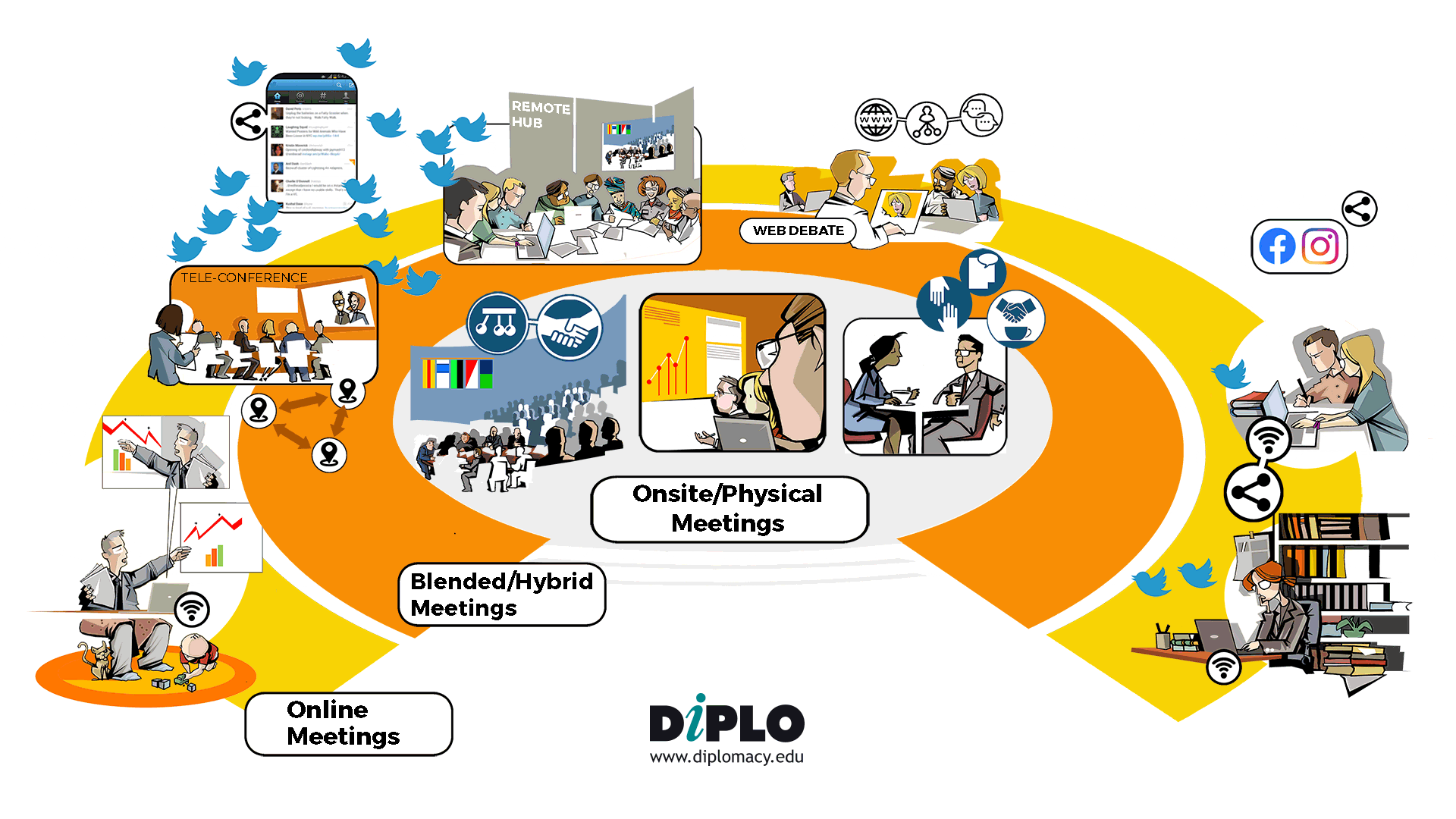 As the illustration shows, in addition to traditional physical and remote meetings, there will be the emergence of 'hybrid (blended)' meetings that will combine in situ and online participation. Hybrid meetings will require new techniques for planning and running meetings, as you can see on our ConfTech page.
Read also: Remote is far, far away: Online is inclusive collaboration
Social media for public diplomacy
Twitter and Facebook are currently the most popular e-tools used by diplomatic services globally.
Twitter is used as a tool for public diplomacy in many countries. It remains to be seen if and how the current controversies around Twitter will affect diplomacy. For more information, consult our publication Twitter for Diplomats (2013). 
Other social media tools used in public diplomacy include Facebook, YouTube, FlickR, LinkedIn, Pinterest, and Instagram.
The 5 core e-competences
The specific value of e-tools lies in the set of core skills, i.e., the five core e-competences (5Cs) that diplomats need to harness:
Curate: Listening is the first step. It is done by curating information and knowledge.
Collaborate: While you curate, you gradually start collaborating both within your organisation and with outside communities. You start developing your community by sharing resources, asking questions, etc.
Communicate: It is time to start communicating. This skill represents the ability and knowledge to extend your outreach and visibility.
Create: After curating, collaborating, and communicating, you are much more comfortable in social media. You have a solid following. It is time to focus more on creating your online content.
Critique: By now you should have gained more social visibility. This also exposes you to more critical comments and discussions. You need to engage in critical discussions and learn how to manage criticism.
In the context of digital diplomacy, these competencies represent the skills and knowledge needed by professionals to perform optimally in the digital world. Effective social media campaigns are also based on these core skills. Nevertheless, the development of competencies in digital diplomacy requires time. 
On social media, we estimate that a practitioner requires:
One day to get acquainted with e-tools for digital diplomacy
One month to become a good e-listener and to actively follow the core resources
One year to become an active e-diplomat, i.e., to contribute and develop a stable following. 
These timeframes are not fixed, but they do demonstrate the ratio and proportion of time needed for an e-diplomat to acquire and employ core e-competences.
Learn more about these skills by joining Diplo's E-Diplomacy accredited online course.
Geneva Engage
Geneva Engage is an initiative of the Geneva Internet Platform (GIP), supported by the Republic and State of Geneva, and DiploFoundation. Through its annual event, Geneva Engage awards the most engaging use of social media and online meetings by international organisations, non-governmental, and non-profit organisations, as well as permanent representations to the United Nations Office in Geneva.
Read also: 2020: The year of online participation
AI and big data for policy analysis
Data has a lot of potential to be used for diplomacy and evidence-based policymaking, as analysed in the report Data Diplomacy: Updating Diplomacy to the Big Data Era (2018). The report maps the main opportunities of big data and lists their practical applications. Read our executive summary and the full report.
Apply for our online courses on digital (and) diplomacy:
To view the full list of Diplo's courses and training, visit our Course Catalogue.
20+ years of digital diplomacy
Back in 1992, there were two early digital diplomacy developments. At the Earth Summit in Rio de Janeiro, civil society activists used emails and mailing lists for the first time to coordinate their position in lobbying and negotiations. At the same time, in Malta, the first Unit for Computer Applications in Diplomacy was established at the Mediterranean Academy of Diplomatic Studies. The unit later evolved into DiploFoundation, which, over the last 20+ years has conducted research and trained thousands of diplomats on how computers and the internet impact diplomacy.
A summary of 20+ years of e-diplomacy would include the introduction of email, the use of websites by diplomatic services and international organisations, the arrival of computers in conference rooms (with the introduction of notebooks and Wi-Fi) and, most recently, the intensive use of social media such as blogs, Facebook, and Twitter. The introduction of each new e-tool challenged the way things were done traditionally and opened up new opportunities for diplomats and diplomacy.
In 2010, Diplo launched the 2010 E-diplomacy Initiative, consisting of awareness building and the launch of events in main diplomatic centres, including the International Conference on E-diplomacy (June 2010, Malta). The E-diplomacy Initiative created momentum for courses, research, and community discussions on e-diplomacy. Many of the issues discussed during the events and the conference (social media, security, openness vs discretion in diplomacy) became quite topical during the public discussions on WikiLeaks and diplomacy.
Digital diplomacy meaning: definitions and diplomatic synonymes 
This table lists the main ways to define diplomatic changes brought about by technological advancements.
Source: Jovan Kurbalija, 'Digital Diplomacy: Issues, Actors, and Processes' (forthcoming publication in 2023)
What is cyber diplomacy?
Cyber diplomacy refers to using diplomatic methods – negotiations, international law, and confidence building – to deal with cyber threats in international relations.
Sometimes cyber diplomacy is used interchangeably with digital diplomacy. The emerging practice is that the prefix cyber, is used for dealing with cybersecurity issues, while the prefix digital is used for diplomatic coverage of other policy issues such as human rights online, data, e-commerce, and content.
Overall, cyber diplomacy is an important tool for promoting international cooperation and addressing the challenges and opportunities presented by cyberspace.  Cyberdiplomacy includes negotiations on cybercrime and cybersecurity in the UN and regional organisations.
What is tech diplomacy?
Tech diplomacy is the practice of diplomacy engaging with the private tech sector on digital policy and emerging technology issues. Denmark introduced the term tech diplomacy in 2017 when they appointed the first tech ambassador based in the Bay Area with the main task of engaging with the tech sector in the Bay Area and other tech hubs worldwide.
However, tech diplomacy has also been used in some cases to describe the wider impact of digital technologies, including digital geopolitics and negotiations on digital policy issues.
Denmark used the name TechPlomacy to describe tech diplomacy.
You can read more about tech diplomacy here. 
Manuals and guidelines
The e-diplomacy series of illustrations – a concept of the Digital Diplomacy team, designed by Diplo's CreativeLab – highlights the impact of e-diplomacy on various diplomatic functions. The Internet has affected the way we curate information, the tools we use to communicate, the speed at which we communicate, and the formality of communications – among many other aspects. View our gallery for more.
Meet also our e-diplomat, Ana Gabel, an environment diplomat. Ana represents the modern e-diplomat, and uses e-tools for an agile approach to her work at the ministry. Ana comes alive in Diplo's A Day in the Life of an E-diplomat series, which illustrate how diplomacy can be improved through the use of modern tools and approaches.
Quick Diplomatic Response
Ana is sent to an urgent emergency team meeting to deal with an oil spill in the region. Fast action and efficient management are necessary to minimise environmental change. Read the story; the illustrations are also available on our gallery.
Knowledge Management in Action
Ana's work involves environmental emergencies. In another urgent task, she uses knowledge management in her work at the Ministry. View the illustration on our gallery.
FAQs on Digital Diplomacy
drafted by Jovan Kurbalija and Artificial Intelligence
These FAQs were created using both human and artificial intelligence. Jovan represents human. He is a pioneer in digital diplomacy education & research. In 1996, he invented the three-partite methodology for digital diplomacy consisting of:  Digital Geopolitics shaping the environment for diplomacy, Digital Topics on diplomatic agenda and Digital Tools for diplomatic activities.
Following this methodology, he has published dozens of publications and led Diplo's training on digital diplomacy and diplomacy. The training involved more than 6000 diplomats and other officials representing 202 territories and countries since 1996.
Artificial intelligence use machine learning to process thousands of pages on digital diplomacy and distil answer to your question. Jovan (expert), and AI will provide new insights and nurture enhanced intelligence as you can follow here.
From our blog
Last week, as the corridors of the UN General Assembly (UNGA) buzzed with the chatter of global leaders, our team at Diplo delved into an unusual experiment: the analysis of countries' statemen...
Histories
The period between the end of Renaissance diplomacy (early 16th century) and the start of the golden age of diplomacy and technology (early 18th century) was shaped by the Reformation and religious wars. Central Europe came out divided, while around it, new, more centr... Read more...