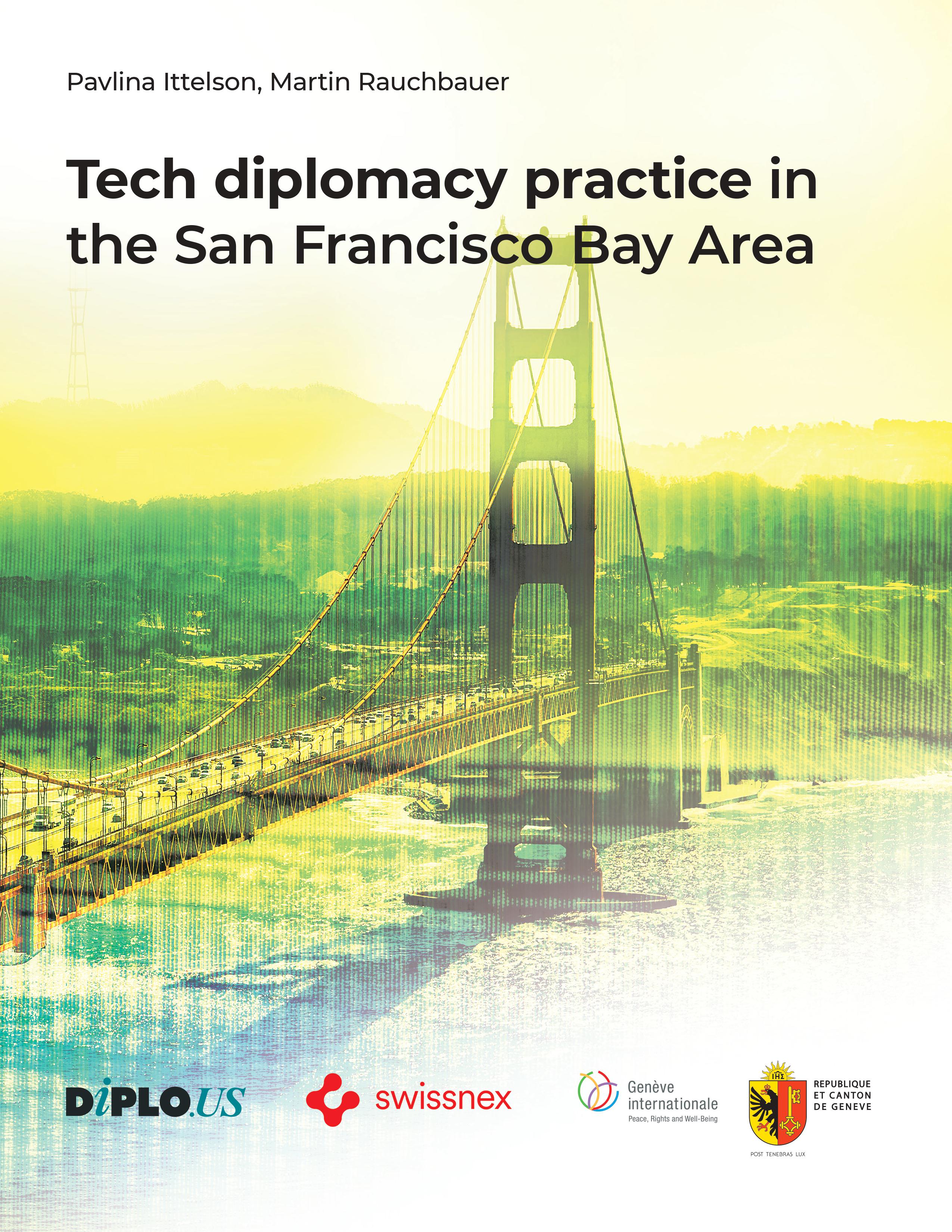 There is an overall agreement between tech companies and tech diplomats in the Bay Area that the conduct of tech diplomacy is crucial in building understanding between governments and tech companies, allowing for holding difficult conversations on the intersection of values, policy, compliance, and technology, as well as development globally.
Since 2018, new topics emerged on the tech diplomatic agenda in the Bay Area that also need to be addressed in policymaking. This includes complex AI conversations on a global level, 5G and geopolitical impacts of its implementation, Web3, cryptocurrency and blockchain, and open internet. With geopolitical tensions, the topic of cybersecurity, and climate and environmental tech are high on the agenda.
Most of the tech diplomacy outposts in the Bay Area are from Europe (43), with Asia-Pacific (14) being the second most represented region. Low- and middle-income countries, especially from the Global South, are largely underrepresented. Many countries, such as Senegal, Pakistan, Guatemala, and Chile, are exploring the possibility of establishing their tech diplomacy representation in the area. Others, like India, are looking to build on existing business, academic, and investment ties, expanding to new areas of cooperation.1Bay Area Council Economic Institute. (2023). Seismic shift: Economic growth and strategic alignment between the Bay Area and India. http://www.bayareaeconomy.org/files/pdf/SeismicShift-India2023.pdf
In most cases, the countries exploring a tech diplomacy presence in the Bay Area are looking into existing models of representation, from global digital ambassadors and dedicated tech ambassadors, to consulates with tech diplomacy sections.
This report looks at the various models that countries use in the practice of tech diplomacy in the Bay Area. With the introduction of Denmark's Office of the Tech Ambassador in 2017, the model of appointing a global or tech digital ambassador has gradually become more prominent. Even though this model is not so widespread, in the last couple of years, several countries have appointed tech ambassadors dedicated to dealing with tech and digital agendas. The mandate of these tech ambassadors differs by geographical location: their mandate can be global (Australia, Denmark, France, Switzerland) or local to the Bay Area (UK, Mexico, Brazil, Canada, Switzerland). In the case of global tech (or digital) ambassadors, there are still supporting structures in place to facilitate local engagement. Below are some examples of such engagement.
Denmark
Denmark was the first to introduce tech diplomacy (or 'techplomacy') in 2017, when it became the world's first country to appoint a tech ambassador, making technology and digitalisation one of its critical foreign policy priorities. The Danish tech ambassador represents the Danish government to the tech industry and to governance forums on emerging technologies.
Danish techplomacy is operationalised through the Office of the Danish Tech Ambassador ('Office'). The Danish tech ambassador has a global mandate with three offices in Silicon Valley, Copenhagen, and Beijing. This global mandate allows the tech ambassador to not be geographically limited in their diplomatic mission and endeavours. Two main elements that are important for the operationalisation of Danish techplomacy:
The Office advances interests on behalf of the Danish government by engaging in a dialogue with big tech with the aim to influence the direction of technology.
The Office takes into consideration and acts in accordance with Danish national interests and values to influence the international agenda concerning tech policy issues.
While the tech ambassador heads the Office, the Silicon Valley (San Francisco Bay Area) office appointed a deputy tech ambassador, and is staffed with career diplomats advising the tech ambassador on different aspects of emerging technologies. The Office of Danish Tech Ambassador covers different policy issues ranging from cybersecurity and disinformation, countering terrorism online, digital privacy protection, digital taxation, responsible AI, and data ethics.
The Office puts a great emphasis on and actively supports policymaking as related to technology and its impact on human rights in international forums. Denmark, jointly with other countries, largely promoted the implications of emerging technologies on human rights and brought it to the UN Human Rights Council (HRC) agenda in Geneva. In addition, the Office has also assisted the UN High Commissioner for Human Rights (OHCHR) in building dialogue with tech companies in the Bay Area on questions related to human rights risks and online platforms.
The uniqueness of Denmark's approach to techplomacy is reflected in its maturity when it comes to policymaking processes at the national level.
The Office has elaborated two key guiding documents to strategically guide Danish techplomacy:
The Strategy for Denmark's Tech Diplomacy 2021-2023
The white paper titled Towards a Better Social Contract With Big Tech
The Strategy for Denmark's Tech Diplomacy 2021-2023 is the outcome of Denmark's efforts to elevate technological diplomacy to one of its key foreign policy priorities. The strategy focuses Denmark's efforts 'towards a more just, democratic and safe technological future'.
According to the strategy, Denmark will work to ensure that big tech meets its societal responsibility and upholds its part of the social contract by supporting and enhancing discussions at the global level on challenges concerning data-driven and algorithmic business models. Denmark will advocate for global digital rules that meet democratic values and human rights, and shape global tech governance. It will also strive for a more precise division of responsibilities between governments and the private sector. Denmark considers the emergence of big tech and its corporate business models as a challenge for modern society and democracy, and stresses that it therefore needs to be regulated.
In addition, Denmark has established a Tech Advisory Board under the auspices of the Ministry of Foreign Affairs to advise Denmark's techplomacy. The Tech Advisory Board meets annually and is represented by international experts from relevant companies, research institutions, and non-governmental organisations (NGOs).
Australia
In 2021, Australia adopted Australia's International Cyber and Critical Tech Engagement Strategy that is structured along three main areas: values, prosperity, and security. This includes democracy, human rights, ethics of critical technology, and diversity and gender equality. Australia appointed their global ambassador for cyber affairs and critical technology with a portfolio including the issues of technology and geopolitics. In the Bay Area, Australia established a consulate general focusing on investment attraction in several key areas, including digitech, cybersecurity, agritech, and clean energy. Another local outpost is the Australian Trade and Investment Commission (Austrade), the Australian government's trade, investment, and education promotion agency, which provides market research into different industries in the USA, such as advanced materials manufacturing, agritech, cybersecurity, digital technology, resources and energy, renewable energy, defence, fintech, and medtech. Austrade also manages Landing Pad, a programme that serves as an entry point for Australian start-ups and entrepreneurs to the local ecosystem.2Australian Trade and Investment Commission. (n.d.). Australian landing pads. Australian Government. https://www.austrade.gov.au/landingpads/locations/san-francisco Australia is an active participant in the diplomatic ecosystem in the Bay Area. In collaboration with Denmark, the Office of Australia's Cyber Ambassador launched a new foreign and security policy initiative called the Cyber and Tech Retreat (see below), which gathers tech and cyber diplomats and other stakeholders to discuss current digital diplomacy issues.
France
Other countries followed Denmark's model and appointed a tech ambassador to deal with issues surrounding tech challenges. France nominated its first ambassador for digital affairs in 2018. The ambassador has a global mandate and works closely with the French Ministry of Europe and Foreign Affairs and other ministries on advancing France's positions related to international implications of digital transformation, as well as other issues related to technological innovation.3Ministry of Europe and Foreign Affairs of France. (n.d.). Ambassador for digital affairs: 2019 annual report. https://www.diplomatie.gouv.fr/IMG/pdf/ambassador_for_digital_affairs_-_summary_of_the_2019_annual_report_cle4e6c48.pdf
In addition, the French tech diplomacy team is staffed with 30 diplomats, and the ambassador is advised by three technical advisers from the Ministry of Europe and Foreign Affairs, the National Agency for the Security of Information Systems (ANSSI), and the Ministry of the Economy.
To promote French science and technology to US actors, France established the Office of Science and Technology (OST) at the Embassy in Washington, D.C., with six offices in the consulates in Atlanta, Boston, Chicago, Houston, Los Angeles, and San Francisco. The OST team comprises 24 staff members, including professors, researchers, and scientists who work throughout the USA, bringing together diverse scientific knowledge and skills.
The mission of OST is primarily to publicise and promote French science and technology in the USA, observe the scientific and technological developments of US laboratories and research institutes, strengthen and enhance French–US partnerships by organising different events and meetings, and reinforce and bolster innovation from academic research by accompanying infant French start-ups in their exposure to the US ecosystem.4Embassy of France in the United States. (n.d.). Office for Science and Technology. https://france-science.com/en/the-office-of-science-technology/ The OST Office in San Francisco is headed by the attaché for science and technology and the deputy attaché for science and technology. They are supported by a logistics manager. The team in San Francisco deals with different topics related to emerging technologies such as AI, blockchain, Web3, robotics, and quantum computing.
Switzerland
Switzerland has adopted its Digital Foreign Policy Strategy for 2021–2024 and defined four areas of priority: digital governance, prosperity and sustainable development, cybersecurity, and digital self-determination. The strategy also aims to 'raise Switzerland's profile in the area of digital governance, further develop its digital foreign policy and position International Geneva as a prime location for discussing digitalisation and technology.'5Swiss Federal Department of Foreign Affairs (2021). Digital foreign policy strategy 2021–2024. https://www.eda.admin.ch/missions/mission-onu-geneve/en/home/news/publications.html/content/publikationen/en/eda/schweizer-aussenpolitik/Digitalaussenpolitik_2021-2024 Tech diplomacy is a part of the broader digital foreign policy agenda but is not directly defined.
To implement the Digital Foreign Policy Strategy, Switzerland has appointed their digital ambassador with a global mandate. Within the Swiss Government, this position refers to the head of the Digitalisation Division at the Federal Department of Foreign Affairs (FDFA) State Secretariat in Bern. The division has five full-time staff members dedicated to digital foreign affairs issues. The Division for Digitalisation has also built up a network of 'Digital Knots' with over 30 Swiss diplomatic representations abroad. In the San Francisco Bay Area, Switzerland has established a Consulate General with a Consul General/Tech Ambassador at its helm. The Swiss technology diplomacy portfolio in the US is shared by its Tech Ambassador in San Francisco and the Embassy in Washington that covers mainly regulatory questions. The FDFA has a top-down structure, and its tech diplomacy practice includes regular exchanges and collaboration between the Embassy, the global digital ambassador, and the tech ambassador. The representation in San Francisco focuses on emerging tech developments and their impacts on policy-making, dialogue with tech companies on developing rules and institutions, work with international organisations that explore the San Francisco Bay Area, and strengthening the links between San Francisco and Geneva in digital governance discussions.
One of the benefits of the Swiss model is the flexibility of the agenda of the tech ambassador in San Francisco, allowing for the pursuit of new developments to achieve the four priorities of the Digital Foreign Policy Strategy.
The digital diplomacy engagement is complemented by the global Swissnex network with six offices in the innovation hotspots worldwide, such as the San Francisco Bay Area. Swissnex is an initiative of the State Secretariat for Education, Research and Innovation and is part of the Swiss Confederation's network abroad managed by the FDFA. It is based on a bottom-up collaborative approach, relying on a public-private partnership model of engagement and funding. The Swissnex network is supported by 20 science counsellors based at Swiss embassies in major cities worldwide, focusing on education, research, and innovation. Swissnex regularly hosts events and programs that fall within the realm of science and tech diplomacy.
Austria
Austria operates in the Bay Area through Open Austria. The Open Austria office in San Francisco is also a consulate. It is operated jointly by the Austrian Federal Ministry for European and International Affairs, the Foreign Trade Organization of the Chamber of Commerce, and the Austrian Business Agency. The Austrian consul is a co-director of Open Austria with the trade commissioner, and carries the title 'Austrian tech envoy'. Open Austria focuses on tech diplomacy, business and innovation, and investments in Austria. Open Austria works on developing dialogue between tech companies and other stakeholders, promotes human rights in the digital age, as well as digital humanism. In the past, Open Austria was also a key player in the field of cultural tech diplomacy, and has initiated the European platform The Grid.6Blume, C., & Rauchbauer, M. (2022). How to be a digital humanist in international relations: Cultural tech diplomacy challenges Silicon Valley (2021). In: H. Werthner, Prem, E., Lee, E. A., & C. Ghezzi (Eds.), Perspectives on Digital Humanism, pp. 101–107. Springer, Cham. https://link.springer.com/chapter/10.1007/978-3-030-86144-5_15
Canada
Canadian engagement in the digital diplomacy agenda is based on the Global Digital Government Strategy.7Government of Canada. (n.d.). Canada's digital government strategy: Canada's digital efforts in the global context. https://www.canada.ca/en/government/system/digital-government/digital-government-strategy/global.html In the Bay Area, Canada has established a consulate general with a consul general/tech envoy at its helm. The tech diplomacy agenda spans from innovation policy and human rights to content moderation, mitigating online harms, data privacy, the rise of digital authoritarianism, and the future of work. The Canadian local presence is enhanced by the Canadian Technology Accelerator (CTA)8Government of Canada. (n.d.). Canadian technology accelerator. https://www.tradecommissioner.gc.ca/cta-atc/index.aspx?lang=eng, which provides support to Canadian firms entering the US market of digital technologies, life sciences, and cleantech.9Government of Canada. (n.d.). Canadian technology accelerator. https://www.tradecommissioner.gc.ca/cta-atc/index.aspx?lang=eng

Ireland
The Consulate General of Ireland in San Francisco, also called the 'Ireland House' pursues goals set forth in the initiative Global Ireland: Ireland's Global Footprint to 202510Government of Ireland. (n.d.). Global Ireland: Ireland's global footprint to 2025. https://www.gov.ie/en/campaigns/globalireland/# and specifically Ireland's Strategy for the US and Canada 2019–2025.11Government of Ireland. (n.d.). Global Ireland: Ireland's strategy for the US and Canada 2019–2025. https://www.dfa.ie/media/dfa/ourrolepolicies/strategies/usandcanada/US-and-Canada-Strategy-Long-Version.pdf Ireland is taking a 'whole-of-government approach' in its engagement with the USA and Canada, with the vision for Ireland House to be a whole-of-government platform, both in the physical and digital space. Headed by the consul general, the main goal of Irish tech diplomacy in the region is promoting Ireland as a destination for companies across a range of sectors, including biotechnology, information and communications technology (ICT), pharmaceuticals, medical technologies, and financial and shared services. The efforts of the consulate are complemented by Enterprise Ireland, a government organisation responsible for the development and growth of Irish enterprises in world markets and its Access Silicon Valley (ASV) programme, designed to fast-track innovative Irish technology companies targeting Silicon Valley and San Francisco.
As of September 2022, the Irish Consulate in San Francisco hosts the EU office under the lead of the EU's senior envoy for digital to the USA.
Japan
Japan launched its comprehensive government digitalisation programme in 2021, with a Digitalisation Policy and the Digital Agency of Japan put in place in 2022.Digital Agency of Japan. (2022). 12Japan's digital policy. https://www.digital.go.jp/assets/contents/node/basic_page/field_ref_resources/0f321c23-517f-439e-9076-5804f0a24b59/6fd24c53/20220519_en_japan_digital_policy_01.pdf The focus of the efforts is to increase the effectiveness of the Japanese government with benefits to its citizens. In the Bay Area, with more than 80 Japanese corporate innovation offices operating in the region, Japan is the country with the largest presence of corporations.13Mind the Bridge. (2022). Government innovation outposts in Silicon Valley: 2022 report update. https://storage.googleapis.com/mtb-research.appspot.com/publications/2022-outposts-government-silicon-valley/MTB-2022-outposts-government-silicon-valley-report.pdf They are focused on information gathering, developing business partnerships, and investment.14Mind the Bridge. (2020). Japanese corporate innovation in Silicon Valley: The new report. https://mindthebridge.com/japanese-corporate-innovation-in-silicon-valley/ Japan has a consulate general in the area, focusing on exchanges to increase the number of start-ups in Japan, innovation and emerging tech, and climate change. The work of the consulate general is complemented by the Japanese External Trade Organization (JETRO) and the New Energy and Industrial Technology Development (NEDO) under the auspices of the Japanese Ministry of Economy, Trade and Industry.
Republic of Korea
The attractiveness of the Korean digital ecosystem worldwide contributes to the greater engagement of the Republic of Korea (Korea) in the Bay Area. Korea strives to intensify its engagement through its Office of Science, ICT and Economic Affairs that falls under its consulate general in San Francisco. The office is led by the science attaché. Besides the ICT and tech agenda, the office also supports Korean companies and start-ups that wish to enter the US market.
United Kingdom
The UK has just released The UK's International Technology Strategy15UK Government. (2023). The UK's international technology strategy. https://www.gov.uk/government/publications/uk-international-technology-strategy/the-uks-international-technology-strategy, outlining the way forward in the digital foreign policy agenda. In terms of tech diplomacy, the policy paper outlines six strategic priorities: technology and data, international partnerships for global leadership, values-based governance and regulation, technology investment and expertise for the developing world, technology to drive the UK economy, and the protection of security interests. The strategy also sets forth the creation of a tech diplomacy network, increasing the number of UK tech envoys, and increasing the tech expertise of UK diplomats. This new strategy will impact the work of the UK's consul general, who is also designated as His Majesty's Tech Envoy to the United States. Going forward, the priority areas of engagement for the UK are AI, quantum technologies, engineering biology, semiconductors, telecoms, all of which underpinned and enabled by data.
Brazil
Brazil's Innovation Diplomacy Program16Government of Brazil. (2022). Innovation diplomacy program. https://www.gov.br/mre/en/subjects/science-technology-and-innovation/innovation-diplomacy-program aims to monitor public policies, raise Brazil's profile in foreign innovation ecosystems, and foster collaboration between Brazilian and foreign technology innovation areas. The Ministry of Foreign Affairs of Brazil set up 55 offices dedicated to technology called Science, Technology, and Innovation Sections (SECTECs), which are part of Brazil's diplomatic representations, embassies, and consulates worldwide. The core mission of SECTECs is to harness cooperation opportunities and Brazilian potential in the field of science, technology, and innovation.17Government of Brazil. (2021). Science, technology and innovation sections (SECTECs). https://www.gov.br/mre/en/subjects/science-technology-and-innovation/science-technology-and-innovation-sections-sectecs In the Bay Area, Brazil is represented by its consulate general. The role of tech envoy is vested with the deputy consul general.
Norway
Norway adopted its Digital Transformation and Development Policy in 2019.18Norwegian Ministry of Foreign Affairs. (n.d.). Digital transformation and development policy.https://www.regjeringen.no/contentassets/4250970ee8e845aeb9114143fff45d84/en-gb/pdfs/digital_transformation.pdf For Norway, the priority areas are environmental technology, security, and human rights. Represented in San Francisco through the consulate general, the Norwegian consul general, chief of mission conducts tech diplomacy in close cooperation with Innovation Norway and Nordic Innovation House.
Sweden
The Swedish Governmental Agency for Innovation Systems (Vinnova) is Sweden's agency helping to boost the country's innovation capacity while contributing to sustainable growth. Working under the Ministry of Enterprise, Energy, and Communications, and acting as the national contact agency for the EU framework programme for research and innovation, Vinnova funds different research and innovation projects, and works on promoting collaboration between companies, universities, research institutes, and the public sector. In the Bay Area, Vinnova has historically been an outpost of the Swedish government, represented by an honorary consul for the Bay Area. Currently, Sweden is planning to open a consulate general in San Francisco in mid-2023.
Italy
Italy's Consulate General in San Francisco is in charge of the tech diplomacy and bilateral relations activities in Silicon Valley and in the Bay Area in the fields of technology, innovation, business, academic and scientific cooperation. In all these fields, the Consul General also operates by means of the Consulate's Office/Attaché for Scientific Cooperation and its Economic and Commercial Office/Attaché. The Consulate General is the only Italian representation on the local level dealing with tech issues and all other sectors of relations with the US North-West Coast public and private entities. This allows the Italian institutional system in the Bay Area to have a highly coordinated approach and to properly identify objectives and policies to promote the collaborations between Italian and Silicon Valley innovation ecosystems and to tackle emerging issues.
The Italian tech diplomacy in Silicon Valley is developed within the larger Italian diplomatic network in the US: the Embassy in Washington DC, nine consulates general, trade offices and seven scientific cooperation offices.
To further boost the collaborations and the Italian tech presence in the Bay Area and Silicon Valley and foster the Consulate General's actions, the Italian Ministry of Foreign Affairs and International Cooperation opened its new and first-ever Italian Innovation and Culture Hub INNOVIT abroad, right in San Francisco in 2022. INNOVIT is a platform in which three entities cooperate under the supervision and coordination of the Consulate General:
1. Italian Innovation Center (run by a private corporation) aimed at:
– accelerating selected Italian startups and SMEs by immersing them in the Silicon Valley ecosystem through curated programs;
– providing services for Italian large corporations interested in Open Innovation activities in the Bay Area;
– organizing events, conferences and seminars related to disruptive technologies, scientific research, technological transfer, venture capital and investments;
– cooperating in synergy with all the Silicon Valley US and international tech&innovation actors.
2. Italian Trade Agency (ITA) – Desk for FDI attraction and Desk for Innovation&Market Access;
3. Italian Cultural Institute – responsible, with the Consulate General, for promoting cultural relations.
European Union
The EU, the newest addition to the Bay Area ecosystem, opened its office in San Francisco in September 2022. Co-located with the Irish consulate, the EU office's current focus is mainly regulation: from promoting EU standards and technologies, to digital policies, regulations, and governance models. Another line of engagement is helping tech companies navigate through the EU's Digital Markets Act and the Digital Services Act.19Birnbaum, E. (2022, October 17). EU's digital diplomat to Silicon Valley braces for tech lawsuits. Bloomberg. https://www.bloomberg.com/news/articles/2022-10-17/eu-s-digital-diplomat-to-silicon-valley-braces-for-tech-lawsuits#xj4y7vzkg Other areas of work include the EU–US Trade and Technology Council and cooperation with US stakeholders. Headed by the Senior EU Envoy for Digital to the US Gerard de Graaf, the office works under the authority of the EU Delegation in Washington, D.C., and in coordination with Brussels. The office has a solid base in the Bay Area, with 24 consulates and honorary consulates from Europe, plus an array of corporate presence and trade and bridge organisations.20Mind the Bridge. (2022). Government innovation outposts in Silicon Valley: 2022 report update. https://storage.googleapis.com/mtb-research.appspot.com/publications/2022-outposts-government-silicon-valley/MTB-2022-outposts-government-silicon-valley-report.pdf

Go back to 'Tech diplomacy practice in the San Francisco Bay Area'