People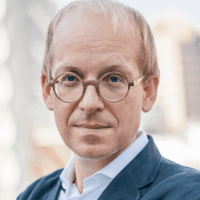 Martin Rauchbauer
Former Austrian Tech Ambassador in Silicon Valley; Founder & Co-Director, Tech Diplomacy Network
Martin Rauchbauer is a senior Austrian diplomat, a tech governance expert, and the executive director of the Djerassi Resident Artists Program in Silicon Valley. He is currently the executive director of an arts organisation in the San Francisco Bay Area after having served for two years as Austria's first tech ambassador to Silicon Valley, and more than five years as head of Open Austria, and Austrian consul in San Francisco.
Martin shaped the emerging field of tech diplomacy, and was engaged in transatlantic tech diplomacy and digital human rights. He also developed digital humanism as a strategic focus of Austria's foreign policy.
In Silicon Valley, Martin founded Open Austria's 'Art + Tech Lab', and co-founded the European art, tech, and policy initiative The Grid. In 2023, he launched the Tech Diplomacy Network in San Francisco as a platform for the growing community of tech diplomats in Silicon Valley and beyond. Currently, he is focussing his research on how tech governance is conceptually based on our understanding of humans, nature, and technology.