Author: Stephanie Borg Psaila
The EU's New Commission: Digital Policy in the Limelight (Briefing Paper #13)
2019
In this briefing paper, Dr Stephanie Borg Psaila analyses Ursula von der Leyen's new EU Commission's emphasis on digital policy for 2019–2024.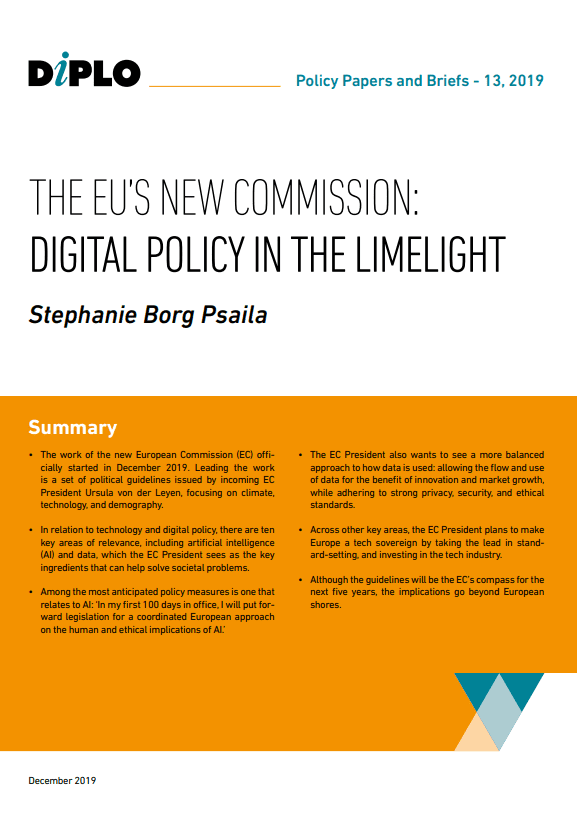 The paper underlines that:
In relation to technology and digital policy, there are ten key areas of relevance, including artificial intelligence (AI) and data, which the EC president sees as the key ingredients that can help solve societal problems.

Among the most anticipated policy measures is one that relates to AI: 'In my first 100 days in office, I will put forward legislation for a coordinated European approach on the human and ethical implications of AI.'

The EC president also wants to see a more balanced approach to how data is used: allowing the flow and use of data for the benefit of innovation and market growth, while adhering to strong privacy, security, and ethical standards.

Across other key areas, the EC president plans to make Europe a tech sovereign by taking the lead in standard-setting, and investing in the tech industry.

Although the guidelines will be the EC's compass for the next five years, the implications go beyond European shores.

PDF