MA students graduate in Malta
Published on 16 December 2016
Updated on 07 August 2022
Eight students recently graduated Master in Contemporary Diplomacy from the University of Malta and DiploFoundation. Two of the students undertook a specialisation in Internet governance.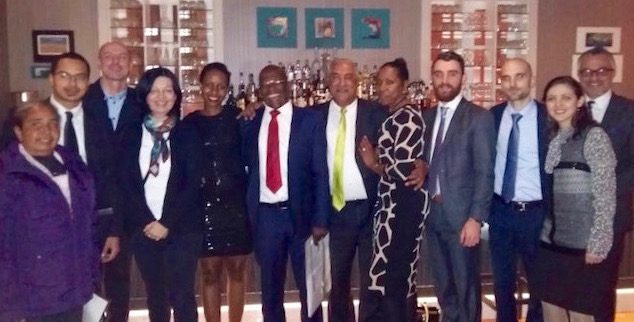 The graduates and their research topics were: Alexander Omotayo Bandipo (The Role of the New Media in The Electioneering Process of Developing Nations, A Case Study of Nigeria 2015), Alex Henderson (How important is the Role of Small States Security in the Maintenance of International Peace and Security), Mustafa Mohamed Ibrahim (The Role of the Community And Its Involvement in Deradicalization in Kenya: The Case of Nairobi and Mombasa Counties), Zakhele Mnisi (Italy from Recession to Recovery: A Critical Reflection of Italy during the Eurozone Financial Crisis), Grace Njeri Mutung'u (Stakeholderism in African Internet Governance: the Case of the .africa gTLD), Fauzia Nkunyingi (Geopolitics of Access to Oil Resources: The Case of Uganda), Philip J. Perinchief (In search of the most sustainable and coherent diplomatic approaches to addressing the fundamental challenges Small States – including Small Island States or SIDS – perennially face in an uncertain world of hegemonic giants), and Felix Samakande (Unlocking Sustainable Human Development Potential Using Cyberspace Resources and Diplomacy).
The graduation was the culmination of months of study. The graduation ceremony took place on 30 November at the Jesuit's Church in Valletta, Malta. Read the Times of Malta article on the graduation ceremony.
DiploFoundation thanks its faculty members who supervised the work of these graduates, and congratulates the students on their graduation.
The blended learning Master/Postgraduate Diploma in Contemporary Diplomacy, offered through the University's Department of International Relations, includes a 10-day residential workshop in Malta, followed by 16 to 20 months of online study. Applicants may select Internet Governance as an area of specialisation within the Master/Postgraduate Diploma in Contemporary Diplomacy. The next programme starts in February 2017.
Subscribe to Diplo's Blog