Science diplomacy has gained increasing importance and prominence over the last years. Though not a new practice, there is a growing realisation that science diplomacy, actively pursued, is integral to reaching foreign policy goals and addressing some of the world's most pressing challenges, such as climate change and global health (watch the short video by the S4D4C Project for more examples:)
This course explores how science diplomacy can be put in the service of the sustainable development goals (SDGs). We ask: How can it effectively contribute to achieving the SDGs? What particular practices of science diplomacy are relevant? Who are the key actors? What is required of diplomats on the one hand and of scientists on the other? And more broadly, what is needed to ensure that science and diplomacy come together in working towards the SDGs?
This course is aimed at diplomats and staff of international organisations, on the one hand, and scientists on the other. It makes an explicit effort to bring together both groups to engage in a dialogue that is crucial in working towards reaching the SDGs. The course will also benefit academics and NGO representatives working on the intersection of science and policy.
What will you learn?
Explain the main ideas and concepts of science diplomacy
Have a broad overview of the various actors
Understand it's relevance for the SDGs
Pinpoint the various ways in which science and policymaking interact
Understand and contextualise evidence-based decision-making
Highlight science diplomacy practices in relation to four case studies on specific SDGs
Have an overview of skills and practices that foster science diplomacy in the service of the SDGs
Apply the knowledge and skills gained in this course in their field of work
How will you learn?
In this course you will interact intensively in discussions with classmates and lecturers from around the world. You will receive guidance and personalised feedback on your classwork from the course team.
How long will you learn?
The course lasts for 10 weeks:
1 week of course introduction and orientation to online learning
8 weeks of addressing the course topics one by one (see below for more details)
1 week for the final assignment and completing pending tasks
Who should apply
Diplo, the GSPI, and GESDA are seeking applications from the following applicants, from both developed and developing countries:
Practising diplomats, civil servants, staff of international organisations, and others working in international relations who want to explore this subject in the context of the SDGs under the guidance of experienced practitioners and academics.
The following applicants are also welcome:
Journalists, staff of non-governmental organisations, translators, business people, and others who interact with diplomats and wish to improve their understanding of diplomacy-related topics.
Postgraduate students of diplomacy or international relations wishing to study topics not offered through their university programmes or diplomatic academies and gain deeper insight through interaction with practising diplomats.
Overview
According to one definition, science diplomacy is 'the use of scientific collaborations among nations to address the common problems facing 21st century humanity and to build constructive international partnerships.'
A three-part typology introduced by the Royal Society and the American Association for the Advancement of Science (AAAS) looks at: science in diplomacy, diplomacy for science, and science for diplomacy. This online course takes this as a starting point to explore the relevance of science diplomacy in solving the challenges of today's world. 
Partnerships and collaboration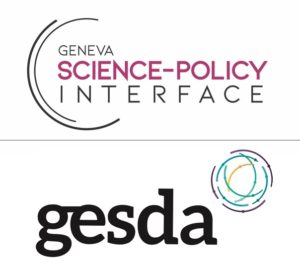 This is a Diplo course, developed and delivered in collaboration with the Geneva Science-Policy Interface (GSPI) and the Geneva Science and Diplomacy Anticipator (GESDA). Please see 'Lecturers' above for further details. 
Some course materials were developed by the National Science Policy Network's (NSPN) Science Diplomacy Exchange and Learning (SciDEAL) programme fellows. Our SciDEAL fellows were Dr Sona Chowdhury (Scientist, School of Medicine, University of California), Mr Levi Helm (PhD Candidate in Biology, Biology and Society, Arizona State University), Ms Tara Illgner (Commonwealth of Virginia Engineering and Science (COVES) fellow working for the Joint Commission on Technology and Science (JCOTS)), Dr Ryan Haupt (Director, WV STEM Programs, National Youth Science Foundation), and Ms Nikita Lad (PhD Candidate, Environmental Science and Policy, George Mason University).
The course consists of 8 modules
Introduction to science diplomacy: In this module, we present various ways of understanding, approaching, and doing science diplomacy. While we discuss various definitions, we also pay attention to recent developments in the practice of science diplomacy. 
Science diplomacy and the SDGs: This module takes the understanding of science diplomacy developed in module one and applies it to the specific context of the SDGs. We unpack the role of science in and for the SDGs, and shed light on specific science diplomacy interactions. 
SDG 3 – Good Health: This module is the first of four modules that focus on a specific SDG. The module highlights why it is so crucial that science and diplomacy interact to achieve the SDGs. It pays particular attention to recent developments, discussions, and achievements in addressing the COVID-19 pandemic. 
SDG 7 – Renewable Energy: The module gives an overview of the scientific concepts and tools related to renewable energy and discusses case studies that highlight science diplomacy interactions. 
SDG 13 – Climate Action: In this module we explore climate science and the diplomatic setbacks, as well as breakthroughs in addressing climate change globally. Key moments of interaction between science and diplomacy in the field of climate action are further discussed. 
SDG 15 – Life on Land: This module focuses on land change in the context of sustainable development. Key diplomatic milestones, such as the UN Conference on Environment and Development (1992) and the UN Convention to Combat Desertification (UNCCD) are discussed alongside scientific tools such as remote sensing and modelling. 
Bridging the world of science and diplomacy: Following the discussion on science diplomacy in the context of the four SDGs, this module sheds further light on science diplomacy interactions and how to successfully approach and conduct them. It gives practical advice on the interface of science and diplomacy. 
Anticipation of future science policy interactions and challenges: This final module moves the focus towards anticipation and future developments in science policy interactions. The module discusses approaches to anticipation, and concludes with hands-on exploration of anticipation tools.
Also of interest
Need more info:
DiploFoundation (attn Tanja Nikolic)
Anutruf, Ground Floor, Hriereb Street Msida, MSD 1675, Malta
Methodology
This online course is based on a collaborative learning approach, involving a high level of interaction over a period of 10 weeks. Reading materials and the necessary tools for online interaction are provided in a virtual classroom.
Each week, participants study and discuss course materials and complete additional online activities. At the end of the week, participants and lecturers meet to discuss the topic of the week. For successful completion, this course requires a minimum of 7 to 8 hours of study time per week.
Participants who complete the course successfully will receive an electronic certificate issued by Diplo.
Prerequisites
Applicants must have:
Sufficient English language skills to undertake postgraduate-level studies.
Regular internet access; dial-up connections are sufficient, broadband is preferable.
A minimum of 7 to 8 hours of commitment per week, and the readiness to participate in class online sessions (once a week at specified times)
Fees and scholarships
The course fee is €690 per participant, due upon acceptance into the course.
A limited number of partial scholarships are available for applicants from developing countries. Discounts are available for more than one participant from the same institution. 
Apply for a certificate course
Fill out the short form to start your application process for this course. You will receive an instruction email on how to continue.
If you are applying for financial assistance, please upload your CV and a motivation letter that should include:
Details of your relevant professional and educational background
Reasons for your interest in the course
Why you feel you should have the opportunity to participate in this course: How will your participation benefit you, your institution and/or your country?
Cancellation Policy
Diplo reserves the right to cancel this course if enrolment is insufficient. In case of cancellation, Diplo will notify applicants shortly after the application deadline.