People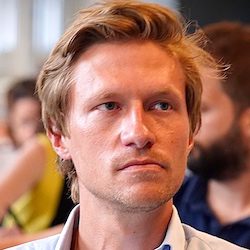 Nicolas Seidler
Executive Director, Geneva Science-Policy Interface
Nicolas Seidler is the executive director of the Geneva Science-Policy Interface (GSPI). He leads the GSPI's mission to enhance scientific engagement with global governance actors within the Geneva ecosystem, with the objective to facilitate the emergence of effective, evidence-informed policies and solutions to complex global problems.
In his previous position as senior policy advisor at the Internet Society (ISOC), he developed an extensive network of collaboration and engagement with international organisations and NGOs in Geneva and abroad. He led the organisation's policy implementation in the fields of digital rights and the internet of things (IoT), and made numerous publications and public interventions in international forums. Nicolas obtained a Master's in International Relations from the University of Geneva and the Graduate Institute of International and Development Studies in 2007, and a Master's in Communication and Media Sciences from the University of Geneva in 2009.
Related events
A luncheon event on \'The way forward for the WSIS+10 review process\' is being organised on Thursday, 28th May, in Geneva, in co-operation between ICC-BASIS, Global Partners Digital, the Center for Democracy & Te...