One year of the 'new normal'
Published on 24 March 2021
Updated on 07 August 2022
Looking back on 2020 is a bit different from our usual annual perspectives. Communication and work over the internet have taken a completely new meaning in the past 12 months. Prior to the global pandemic, we would have had a hard time explaining what MS Teams or Zoom are used for, and now these two companies combine for 25% of all things done online. 
We would send emails and reminders about the possibility to ask questions online or be involved in the discussion – Today, almost half of the employees already have a home corner with the best light and the most stable internet as part of the home-office layout. This is why we at Conf Tech consider March as the starting point for a new online meeting paradigm, and mark it as the completion of a full circle.
I will try to avoid listing all of the online events we had during this period, since it will not do much to describe the type of help we were asked for, or the importance of things we noticed to be the primary concern for the future. (In retrospective, Diplo's Conf Tech held more than 60 online events and conferences in an 11-month period, from February to December 2020, with more than 6200 participants inside our online conferencing rooms! (Image bellow)
Instead, I will try to focus on new things we have learned and share the project focus and developments. 
What did online event organisers need help with?
When we look at the type of requests we received and processed, the most common one was the help in organising online events and conferences from scratch. This can be considered a normal first step when asking for help. Many organisations and companies did not have any procedure or basic knowledge on how to conduct online meetings – starting from announcing/promoting the event on the website to the follow-up email after the event. This was particularly noticeable for diplomatic missions with the limited personnel and smaller NGOs battling to stay updated with Geneva's vivid international scene.
In the beginning, we helped conceptualise, set in place, and deliver several events moved online due to the pandemic, which needed to quickly adapt to an online format. We noticed one thing that stood out: everyone was convinced this was a short break in 'business as usual'. Not many organisations were interested in building capacity around this part of online work. Anyhow, we realised that even when the global pandemic is over, the new way of meetings will become the standard norm of modern business communication. Therefore, our particular effort was placed on doing what Diplo does best: tailor an online course for practitioners and help build a new organisational capacity within the missions and NGOs.
Our course participants learn how to plan, manage, and run successful online events: selecting and using the appropriate video-conferencing platform, planning the entire process from the initial draft to follow up, and effectively moderating interaction and an event flow in an online environment.
Online platforms
Furthermore, most requested was the issue of choosing a suitable online platform for online events. In order to help in making the choice, we created a comprehensive survey of online platforms that is available on our website and constantly updated by our colleagues. This includes hands-on testing and the use of particular platforms, (dominant players in the arena) and the discovery of new and creative platforms that can enhance the meeting experience. As we all stayed at home and started working from home, things like the 'virtual background' to hide your room full of scattered books and face masks, became an important feature of the online meeting platform. Services with low bandwidth utilisation have become more important, as we witness major problems in broadband's 'last-mile' stability. Some of the world areas still lack basic infrastructure, including electricity. In developed countries, people are starting to move out of wired high tech offices and work in their homes, often at the far end of the 'last mile' connection. Which services respect your privacy? Can they be suitable for use on office computers, which have now become home computers? How are audio quality and noise reduction good for hiding loud home noises or sounds of your pets? How secure is a service to be used for confidential and delicate documents you would use on your office computers? Can we take notes during online meetings? And can there be a translation into my language? All of these features, and much more, are depicted and marked in our survey.
Online working spaces
Most of all, we learn to share empathy for all emerging changes and issues that people were facing during the shift to online working spaces. From bad internet connections to the ability to actually participate on an equal footing. We shared their fears, hopes, and efforts to transform events that were already planned as in situ events. We worked on innovative ways to capture and include all global time zones. We tried to help missions and organisations that lack capacity and personnel. Being in the centre of international cooperation helped us reach those who needed this help and those who understand how vivid and fast-changing the landscape of International Geneva is.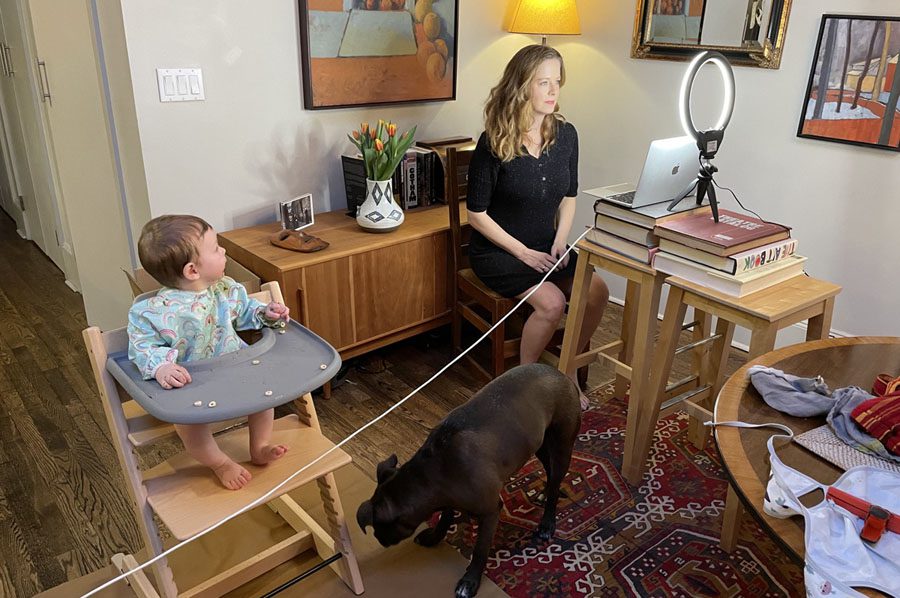 We realised that the future of meetings will be in an integrated hybrid approach where the line between participation via online tools will not be so visible, but prior to that, we need massive efforts in three areas. First, capacity building within organisations, by creating new sets of skills and procedures. Second, working on strong competing internet standards to deliver what we want as users: easy access, multicultural inclusion, and clear data policies. And third, thinking about limiting factors for many worldwide users – from gender unequal access to tech to poor last-mile broadband.
We will do our best to continue supporting people, by understanding technology and social circumstances that surround working and meeting places.
Subscribe to Diplo's Blog