Author: Jan Melissen
The New Public Diplomacy: Soft Power in International Relations
2005
"The New Public Diplomacy: Soft Power in International Relations" is a thought-provoking and insightful book that delves into the realm of public diplomacy and its significance in the context of modern international relations. Authored by Jan Melissen, a renowned scholar in the field, this book offers a comprehensive analysis of the evolving nature of diplomacy and the growing importance of soft power.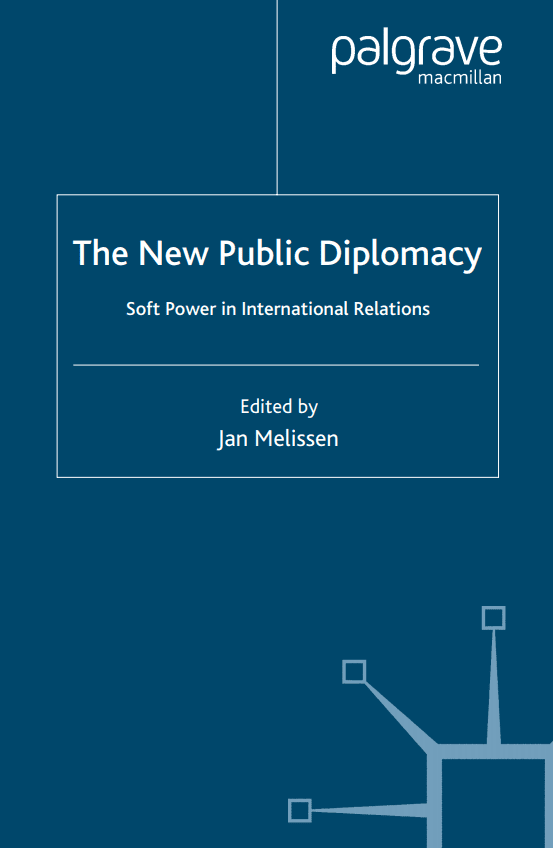 The book begins by establishing a solid theoretical foundation, exploring the conceptual underpinnings of public diplomacy and its historical evolution. It highlights the shifting landscape of international relations, where traditional notions of power and influence are being complemented by soft power, which is primarily based on attraction, persuasion, and the power of ideas. Melissen expertly examines the various dimensions of public diplomacy, including its actors, strategies, and tools, providing a nuanced understanding of the subject.
One of the book's strengths lies in its detailed exploration of case studies from different regions of the world. Melissen draws upon real-world examples, such as the public diplomacy efforts of the United States, the European Union, China, and Brazil, to illustrate the practical implications of soft power in today's interconnected world. These case studies effectively demonstrate how public diplomacy can shape international perceptions, foster cooperation, and promote a country's interests in the global arena.
Melissen's writing style is engaging and accessible, making complex concepts and theories comprehensible to readers from various backgrounds. He strikes a balance between theoretical analysis and practical insights, ensuring that the book remains relevant and applicable to policymakers, diplomats, academics, and students alike. Additionally, the author provides a critical perspective on public diplomacy, acknowledging its potential limitations and challenges, and offering valuable recommendations for its future development.
"The New Public Diplomacy" contributes significantly to the field by emphasizing the transformative power of soft power in international relations. It serves as a valuable resource for those seeking to understand the role of public diplomacy in shaping perceptions, building relationships, and advancing national interests in an increasingly interconnected world.
One aspect that could have been further explored is the role of digital technologies and social media in shaping public diplomacy practices. Given the rapid advancements in communication technologies and their impact on public discourse, an in-depth analysis of the digital dimension would have enriched the book's overall perspective.
In conclusion, "The New Public Diplomacy: Soft Power in International Relations" is a must-read for anyone interested in understanding the evolving dynamics of diplomacy and the growing importance of soft power in the contemporary global landscape. Melissen's expertise and comprehensive analysis make this book an invaluable resource that sheds light on the transformative potential of public diplomacy and its role in shaping international relations.

PDF