DiploNews – Issue 441 – 15 April 2022
Upcoming study opportunities
🌼 Applications open! Diplo's 2022 spring online courses
Register to reserve your place in our popular spring courses: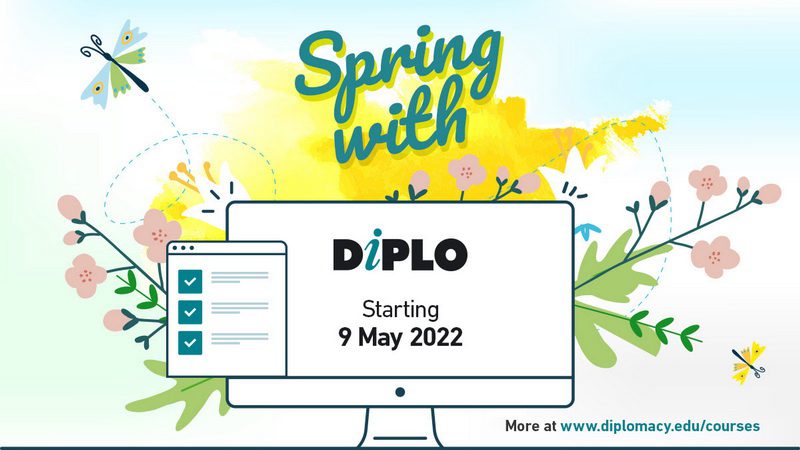 👉 Application deadlines for certificates issued by Diplo: 27 April 2022
We are happy to celebrate Diplo's 20th anniversary with an increased alumni discount of 20% on all courses until the end of 2022!
For further information and to apply, click the course titles above or visit Diplo's course catalogue.
◆ Need financial assistance? Scholarships available!
Thanks to the support from the government of Malta, partial scholarships are available for applicants from developing countries to attend upcoming Diplo online courses. These scholarships cover 30%–60% of course fees and can be applied to most online courses in 2022. Browse our course catalogue and contact us at admissions@diplomacy.edu for further information.
Upcoming events
◆ Internet governance in April 2022 (Briefing #84)
Digital policy updates never stop coming in! You can rely on us to bring you an end-of-month analysis of the highlights. Don't miss our April Internet Governance Briefing! Register and join us on Tuesday, 26th April, at 12.00 UTC (14.00 CEST). Register here!
Main takeaways from our recent events
◆ Science Diplomacy in 2022: More Cooperation or More Division? (WebDebate #53)
History is full of examples of unexpected cooperation between rival countries. Nonetheless, science diplomacy does not automatically lead to more peaceful relations between countries. Additionally, international cooperation to reach common goals cannot be taken for granted. We discussed these topics and more with Dr Kimberly Montgomery (American Association for the Advancement of Science (AAAS)) and Mr Alexis Roig (SciTech DiploHub; Barcelona's Chief Science and Tech Envoy). Check out the event recording and find further resources!
Blogs and publications
◆ Will science diplomacy survive?
'The utopian flames of science and peace should be kept alive. They may enlighten us in the future.' In his blog post, Jovan Kurbalija (Executive Director, Diplo; Head, Geneva Internet Platform (GIP)) discusses the challenges science diplomacy faces, and the need for a balance between utopia and realpolitik. Read it here!
◆ The USA is pursuing holistic digital diplomacy
The U.S. State Department's Bureau of Cyberspace and Digital Policy (CDP) began operating just a few days ago. Will it change diplomacy as we know it? Jovan Kurbalija analyses. Read it here!
◆ Digital Watch monthly newsletter – Issue 68 – April 2022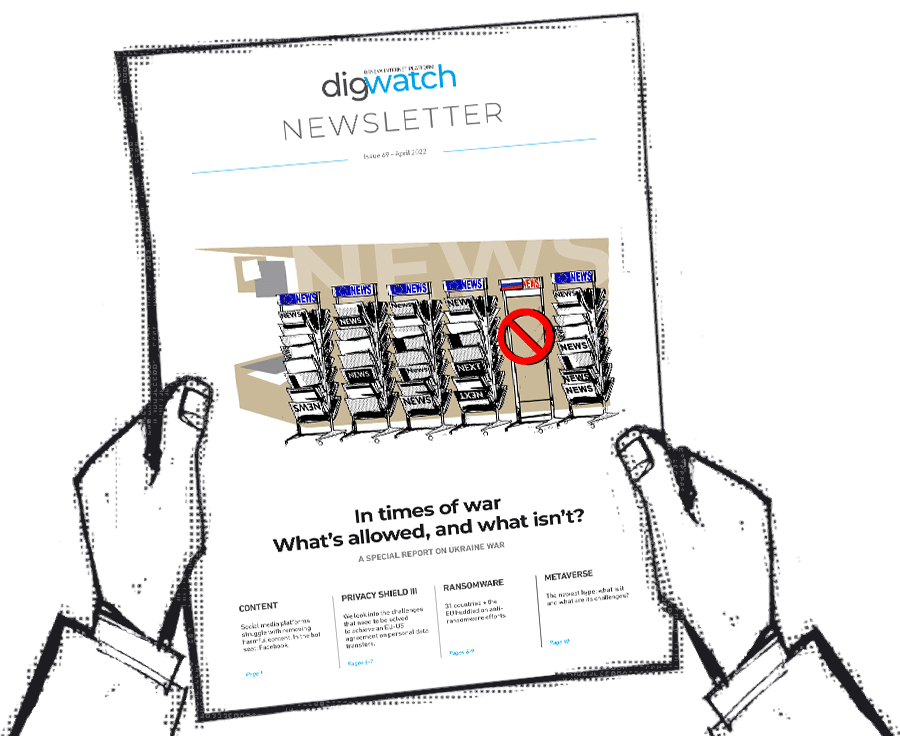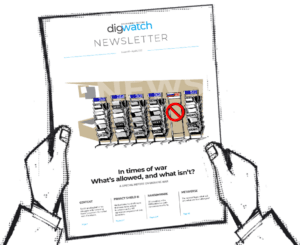 In this issue, we continue our special coverage of the Ukraine conflict with a four-part article that looks at:
country responses to the spread of disinformation

battle between Russia and Meta

use of AI and facial recognition during wartime

cost of cyberwar for other countries
We also cover the new Digital Markets Act which moved to the next phase on its journey to become law. You will also find a rich barometer of developments, and an even richer analysis of Geneva discussions. Read it here!
◆ Digital Watch weekly newsletters
Your weekend reads are here! The latest Digital Watch issues analyse a number of issues:
extensive coverage on the digital aspect of the war in Ukraine

Google and Apple getting sued for misuse of dominant market position

Meta's tentative to sabotage TikTok

official start of the US State Department's cyber diplomacy bureau

Google's plan to introduce a 'Reject All' cookie button
Read the latest issues: Issue 79 | Issue 80. Interested in our newsletters? Subscribe and don't miss any of them!
Don't miss…
◆ Richard Werly strengthens Diplo's Top Expert Team
Diplo is proud to announce that Richard Werly, renowned journalist and political analyst with great experience in international and European affairs, has joined our team on 1 April as senior strategic advisor . Find out more!
Subscribe to Diplo's News