Summary: An X-ray of the 2020 UN General Assembly debates
Published on 12 October 2020
Updated on 10 February 2023
By Katarina Andjelkovic, Andrijana Gavrilovic, Natasa Perucica, Katharina Hone, and Jovan Njegic
The world today looks much different than it used to. New challenges that we are facing nowadays require global cooperation, and the high-level segment of the UN General Assembly (UNGA) was a great opportunity to see where we stand. DiploFoundation's research team took a deeper look at what was discussed during this segment, and the way the topics were discussed.
Our online event 'An X-ray of the 2020 UN General Assembly debates' was moderated by Dr Katharina Hone (Research Director, DiploFoundation), and joined by Dr Jovan Kurbalija (Executive Director, DiploFoundation; Head, Geneva Internet Platform (GIP)), Diplo's researchers Ms Katarina Andjelkovic, Ms Andrijana Gavrilovic, Mr Jovan Njegic, Ms Natasa Perucica, and Ms Stéphanie Fillion, a New York-based reporter specialising in foreign affairs and human rights.
The context for this research exercise was given by Kurbalija. He explained that the research findings presented in the webinar are part of Diplo's approach to augmented intelligence, whereby the human intelligence of researchers should be supported by machine intelligence. Our approach is to anchor artificial intelligence (AI) in the context of human intelligence, making AI a mirror through which we can see how issues are framed in the UNGA, but also elsewhere. This exercise also helps to have a clearer understanding of what humans can do wiser and with more information.
General impressions and visual elements
At the beginning of our online discussion, 75% of the audience voted that the speeches at this year's high-level segment of the UNGA showed a fundamental shift in practice and/or focus. Kurbalija reflected on this, noting that diplomacy is typically a conservative profession and fundamental shifts do not happen quickly. This year's discussions were remarkably different in modality and the framing of discussions.
Andjelkovic noted that the greatest impression was, as expected, that almost all UN member states addressed the UNGA in the form of prerecorded statements. However, a number of governments didn't seem to have taken this transition seriously, as on the day before the General Debate of the 75th session was due to begin, only half of all statements had been turned in. She also pointed to the lack of real debates at this year's UNGA session, but made mention of several occasions when the right of reply was exercised, mainly by countries with strained relations, such as Armenia and Azerbaijan, and India and Pakistan.
Given that this year's UNGA high-level segment was conducted mainly through prerecorded videos, the visual aspects were one of the most interesting points of our analysis. Fillion highlighted that especially smaller countries were able to take advantage of this format through the careful visual curation of their videos in which they used backgrounds or staging of the main speaker. The president of Costa Rica delivered his speech while wearing a mask, thereby emphasising his position on the importance of COVID-19 measures. In the speech of the President of the Philippines Rodrigo Duterte, images and videos were used to illustrate his main points. Fillion also explained how the video message format provided communications teams with the opportunity to stage their country's leader in an advantageous way, and how that worked well in some cases while leading to missed opportunities in others.
COVID-19 and the response to the global pandemic
Unsurprisingly, almost all statements made reference to the global pandemic. Perucica stressed that the fact that only four statements did not tackle COVID-19 should come as no surprise given that the theme of the debate was actually dedicated to the health crisis. In a number of cases, including China, the UK, and the Czech Republic, entire speeches focused on the Coronavirus.
One directly related topic the pandemic was vaccination. The term itself appeared at least 150 times in the statements, where countries, among other things, highlighted the need to recognise the COVID-19 vaccine as a global public good that should be available to all member states.
Perucica noted that state representatives also provided reflections on the economic and financial impacts of COVID-19. Touching on the decline in gross domestic products (GDPs), the rising levels of unemployment, as well as the shutdown of certain industries (such as tourism that is particularly important for small island states like the Bahamas, Grenada, and the Maldives), many argued that the realisation of the sustainable development goals (SDGs) will be difficult.
Peace and security, and multilateralism were two other prominent topics brought into focus by the pandemic. Perucica emphasised that, while some member states expressed support for the UN secretary general's call for a global ceasefire, others pointed out the vulnerability of certain groups in conflict-affected areas where they face an even greater challenge in accessing essential health services. To that end, speakers underlined that the crisis has very much illustrated the necessity of international cooperation in an increasingly interdependent and interconnected world.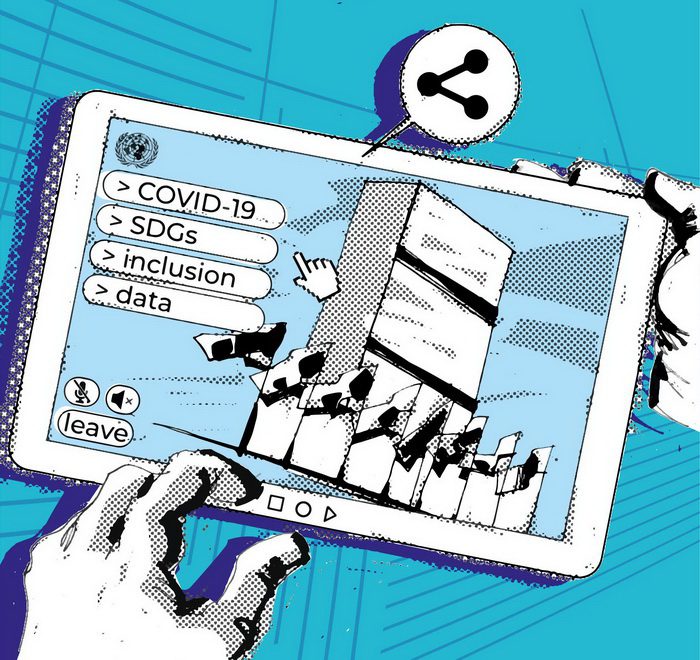 Digital policy issues are here to stay
In the past four years, in which we began following the digital policy issues on the UNGA agenda, the digital has never failed to make the cut, Gavrilovic highlighted. Delegations pledged to improve digital cooperation in the 'Declaration on the commemoration of the seventy-fifth anniversary of the United Nations' because we are now relying on digital technologies more than ever. The 2020 High-Level Week at the United Nations also saw a series of events on digital cooperation organised by the international community from which the Geneva Internet Platform's (GIP) rapporteurs reported. During the commemoration of the 75th anniversary, 17 out of 113 delegations that sent recordings mentioned digital policy issues. During the high-level segment, 76 out of 194 delivered statements mentioned digital policy issues. This is the first year in which we have seen a decrease in the number of statements mentioning digital issues. In 2020, there were eight statements less which dealt with digital issues compared to 2019. This might be contrary to our expectations that more countries would be concerned with digital policy issues as we have 'shifted most of our lives online'.
Andjelkovic spoke of the data analysis Diplo's data team conducted on all the 2020 UNGA statements, in order to identify the most frequently mentioned digital policy issues as per the taxonomy used by the GIP Digital Watch observatory. She noted that the majority of mentions of digital issues were made by European states (51), followed by South American (25) and Asian (22).
According to Andjelkovic, issues belonging to the development basket, such as the digital divide, access to information and communications technologies (ICTs), and capacity development, were the most prominent as they were mentioned by close to one-fifth of the countries from almost all regions. Cybersecurity comes in second place with a total of 25 states addressing issues such as cybercrime, cyberwarfare, and child safety online, followed by the infrastructure basket with 21 appearances. Andjelkovic highlighted that most infrastructure-related mentions were made by European delegations who focussed on AI and other emerging technologies, such as 5G and nanotechnology. Lastly, the analysis showed that the human rights basket was the least popular one with a total of seven mentions, despite the fact that privacy concerns and the freedom of expression were often addressed in the context of the COVID-19 crisis.
For a more detailed analysis of digital policy issues on the UNGA agenda, visit our page at the GIP Digital Watch observatory.
We found clear patterns in speeches, and the cognitive analysis of how arguments are framed can be advanced in the next few years, and include ambiguities and double-meaning. In the future, there will be a stronger automation in tasks such as speech-writing, saving valuable time for diplomats in direct contact in negotiations and open issues. From a researcher's perspective, the X-ray is extremely interesting because it reveals the typical way of framing arguments in diplomatic speeches, signaling positions, and avoiding conflicts.
Building back better and leaving no one behind
The Declaration points out that we have the historic opportunity to 'build back better' and to 'rebuild' a more equal, more resilient, and more sustainable world, Gavrilovic highlighted. On equality, one of the pledges is to 'leave no one behind'. On resiliency, it was noted that the pandemic caught us unaware, and that it is important to learn and share experiences and information to reduce risks and make systems more resilient. On sustainability, countries expressed their concerns about how COVID-19 is undermining the progress that has already been achieved on the SDGs, as well as the slowing of future progress. Some concerns were raised around climate change and the fulfilment of obligations under the 2016 Paris Agreement, food security, the quality of education, poverty, and unemployment. The difficulties of economic recovery once again caused countries to call on Bretton Woods institutions (BWIs) and other international donors to assist in restructuring the repayment of debts, while some countries, such as Ivory Coast and Vanuatu, also called for debt forgiveness and relief..
Big data and AI for text analysis and speech generation
Text analysis is still a greatly uncharted area, Njegic noted, with a lot of room for progress and advancements.
Nowadays, the main attention is on text generation, a field focused on imitating texts written by humans. This area experienced some big advancements recently (GPT-3 for example), but there is also a lot of hype in the field. GPT-3 is an algorithm which is able to transfer knowledge across a couple of different tasks, but on the short side, it is hard to explain its answers.
Besides text generation, there are a lot of other equally important fields in text analysis, because human communication is quite a complicated process. This is very important to keep in mind if we want to implement AI technology in this field, because we think that AI should be able to not just generate answers to questions, but also explain why it gave us those answers, which puts AI decision-making during text generation under focus.
At DiploFoundation, instead of trying to imitate human texts, we are focusing on imitating the thought process humans use while writing texts. Currently, we are working on our Speech Generator application which should help diplomats generate written diplomatic speech. After users select issues and how much they agree with a certain approach to those issues, the application will generate a speech. Under the hood, we implemented various AI algorithms which we connected in a logical way in order to reconstruct the human thought process. And finally, which is very important, all these tasks are done by combining these algorithms and human expertise. We believe that we should open the road for cooperation between artificial and human intelligence, instead of their competition. This way, we try to achieve augmented intelligence.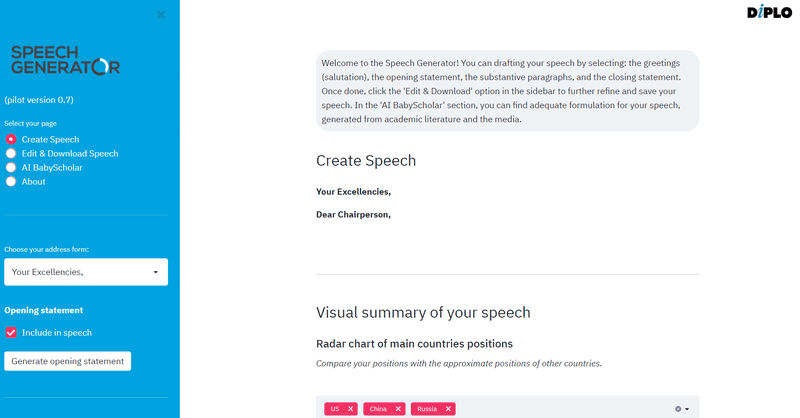 This also brings us to the question to what extent AI can really act as a speech-writer for diplomats. Kurbalija noted that the speeches can be replicated because they are formulaic. The challenges lie in the interplay between human and artificial intelligence, in understanding the differences between them, and in digging deeper into the logic of neural networks to understand AI so that we are not afraid of it. This will help humanity as a whole to gain self-confidence and the ability to use AI as a tool. The main point of our research is to see how far machines can go and how we can remain in charge.
Subscribe to Diplo's Blog