DiploNews – Issue 335 – 3 November 2017
Conference: The Future of Diplomacy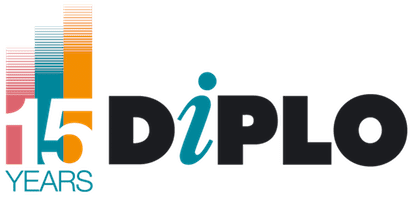 Diplo's upcoming international conference, on 17-18 November in Malta, will reflect on the role of diplomacy in the modern era, and the impact of technology and other areas on the core functions of diplomacy. Diplomats, academics, researchers, students of diplomacy, and other practitioners of diplomacy, will also discuss the impact of new technologies (including artificial intelligence, blockchain, and big data), and effective participation in various policy areas. View the conference programme; registration deadline is 10 November.
Read and view:
Upcoming study and training opportunities
Deadline extended: 2018 Master/Postgraduate Diploma in Contemporary Diplomacy
Diplo has extended the deadline for applications for the 2018 Master/Postgraduate Diploma in Contemporary Diplomacy, and the Master/Postgraduate Diploma in Contemporary Diplomacy with a specialisation in Internet governance. These unique postgraduate programmes, offered in co-operation with the University of Malta, include a 10-day residential workshop in Malta followed by 16-20 months of online learning. Visit the Master in Contemporary Diplomacy webpage to read more. Scholarships covering 20-50% of the postgraduate diploma fee are available for applicants from small and developing states. The programme starts on 5 February 2018. The extended application deadline is 15 November 2017.

Humanitarian Diplomacy Diploma course
Apply now for the next session of the popular online course Humanitarian Diplomacy, offered in cooperation with the International Federation of Red Cross and Red Crescent Societies (IFRC). This highly interactive 13-week course, led by Ambassador Christopher Lamb and a team of experienced practitioners, extends the knowledge base and develops practical skills of current and future practitioners in humanitarian diplomacy and policy. The course familiarises participants with basic definitions, concepts, actors, and institutions in the field of humanitarian diplomacy; introduces international humanitarian law; hones advocacy and negotiation skills; develops participants' research skills; and increases their understanding of national and regional humanitarian diplomacy activities.
 The course is offered in English; however, participants have the option to write and submit major course assignments and the final research paper in French or Spanish.
 The next session starts 19 February 2018 and the application deadline is 15 January 2018. Please visit the course webpage to read more and apply.
Capacity Development
Capacity development has been emerging as a central approach within development for more than two decades. To help development professionals better understand and master this paradigm, this interactive course, offered in cooperation with the Learning Network for Capacity Development (LenCD), introduces the key concepts, principles, and values of capacity development. The main focus is on building practical skills for better design, planning, implementation, and assessment of capacity development initiatives. The course is taught online by Jenny Pearson and Carol Kiangura. The next session starts 19 Feburary 2018 and the application deadline is 15 January 2018. Please visit the course webpage to read more and apply.
February 2018 online diplomacy courses
Start the new year with one of our most popular online courses:
Introduction to Internet Governance
Apply by 18 December 2017 for University of Malta accredited courses and by 15 January 2018 for Diplo certificate courses. For further information or to apply, click on the titles of the courses listed, or visit our courses webpage. Register now to reserve your place.
Malta scholarships
Thanks to support from the government of Malta, partial scholarships are available for applicants from developing countries to attend upcoming Diplo online courses. These scholarships cover 30-60% of course fees and can be applied to most online courses in 2018. Browse our course catalogue and contact us at admissions@diplomacy.edu for further information. You can also sign up for our courses mailing list to be informed about upcoming courses.

How can technological solutions advance cybersecurity?
Organised as part of the Geneva Digital Talks series, the event How can technological solutions advance cybersecurity? will take place at the Geneva Internet Platform on 3 November 2017, from 10:00 to 16:30 CEST, at the WMO building (De Mello conference room, 2nd floor), Avenue de la Paix 7bis, 1202 Geneva. This Geneva Digital Talks discussion will feature three parts : (1) a mapping of cyber vulnerabilities, (2) a panel on the interplay of technical and policy aspects as well as the installation and presentation of one practical Internet solution – the SCION architecture, and (3) future directions and expectations in cybersecurity.
Diplo & GIP at the Geneva Peace Week 2017
DiploFoundation and the Geneva Internet Platform are organising two sessions in the context of the Geneva Peace Week 2017. Both will take place on 9 November. The first session (09:30-11:00), organised in the context of the Geneva Digital Talks, will explore the need for a treaty to prevent cyber conflicts. The second session (11:15-12:30) will address the potential, challenges, and limitations of big data in conflict prevention. Registration is open and available on the event pages.
Issue 25 of the Geneva Digital Watch newsletter is out!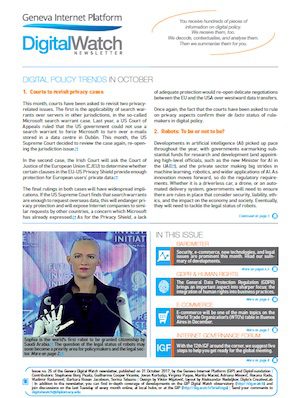 Published on 31 October 2017, the newsletter features an overview of the top digital policy trends in October, including: courts revisiting privacy-related issues, governments increasingly focusing on artificial intelligence and considering the legal status of robots, and new indications that automation will affect jobs and employment. The newsletter also features analysis on the EU's General Data Protection Regulation (GDPR) and the integration of human rights into business practices, and an overview of some of the positions of World Trade Organization (WTO) member states on whether the WTO should negotiate new e-commerce rules. Plus much more! Download your copy.
Join us next month for November's briefing on Internet governance. Registrations are now open.
Summary report on Big Data for Foreign Policy is now available
In the context of our ongoing policy research on Data Diplomacy, DiploFoundation and the Ministry of Foreign Affairs of Finland organised an event on Big Data for Foreign Policy in Helsinki. The event discussed the potential, challenges, and limitations of big data for foreign policy-making, including best practices, biases, and organisational challenges. Consult our summary report for an overview of the discussions at the event.
Upcoming WebDebate: Humanitarian diplomacy and the influence of new actors and new technology
In our November WebDebate, we are focusing on humanitarian diplomacy. Humanitarian diplomacy involves different actors each time it is employed. This not only reminds us of the importance of new actors, but also of the importance of conducting careful stakeholder analysis. The growth of technology and especially social media has definitely enhanced the ability of new actors to enter the equation. What are the lessons we can draw from looking at humanitarian diplomacy and what is the impact of new actors and technology? Ambassador Christopher Lamb (Special Adviser to the Australian Red Cross and the IFRC) and Mr Javier Ormeno (Disaster Response and Recovery Senior Officer, Red Cross) will discuss these and other questions. Join us on Tuesday, 7th November, at 12:00 UTC (13:00 CET). Register to reserve your place.
What's been happening in Diplo's blogsphere
In BRICS: a new decision-maker in global governance? Diplo guest blogger Selcuk Colakoglu uses the 9th BRICS summit which took place in September to reflect on the increasing economic capacity of BRICS as a global player, the differences between some of the BRICS countries, and the potential enlargement of BRICS. Diplo senior fellow Ambassador Kishan Rana discusses changes in diplomatic practice related to volatility, uncertainty, complexity, and ambiguity in his post, The VUCA world and diplomacy. He identifies technology as a disruptive factor but also looks at how ministries of foreign affairs can or should address home actors, foreign engagement, forms of representation, systemic responses, and policy coherence. Diplo's Marília Maciel blogs about e-commerce and asks will compromise be possible at the WTO Ministerial in Buenos Aires? She concludes that e-commerce discussions have given member states the opportunity to reach a better understanding of each other's positions and frustrations and to question the remit of international organisations (and the need for synergy and collaboration among them) in the increasingly interlinked digital and trade policy spaces. Diplo guest blogger Fiorella Belciu looks at youth and media literacy and the legal frameworks and policies in the USA and the EU. She argues that we need to do more to create bright digital citizens.
Subscribe to Diplo's News