DiploNews – Issue 336 – 5 December 2017

The Future of Diplomacy: report, videos, photos available
In November, Diplo celebrated 15 years of DiploFoundation and 25 years of research and training on Internet and diplomacy. To mark this milestone, we reflected on the role of diplomacy in the modern era, and the impact of technology and other areas on the core functions of diplomacy, while keeping a firm eye on the future. The conference on The Future of Diplomacy took place in Malta, on 17–18 November 2017. Several resources are now available; follow the links below, or visit the conference website for more updates:
Upcoming study and training opportunities
Humanitarian Diplomacy Diploma course
Apply now for the next session of the popular online course Humanitarian Diplomacy, offered in cooperation with the International Federation of Red Cross and Red Crescent Societies (IFRC). This highly interactive 13-week course, led by Ambassador Christopher Lamb and a team of experienced practitioners, extends the knowledge base and develops practical skills of current and future practitioners in humanitarian diplomacy and policy. The course familiarises participants with basic definitions, concepts, actors, and institutions in the field of humanitarian diplomacy; introduces international humanitarian law; hones advocacy and negotiation skills; develops participants' research skills; and increases their understanding of national and regional humanitarian diplomacy activities.
 The course is offered in English; however, participants have the option to write and submit major course assignments and the final research paper in French or Spanish.
 The next session starts 19 February 2018 and the application deadline is 15 January 2018. Please visit the course webpage to read more and apply.
Capacity Development
Capacity development has been emerging as a central approach within development for more than two decades. To help development professionals better understand and master this paradigm, this interactive course, offered in cooperation with the Learning Network for Capacity Development (LenCD), introduces the key concepts, principles, and values of capacity development. The main focus is on building practical skills for better design, planning, implementation, and assessment of capacity development initiatives. The course is taught online by Jenny Pearson and Carol Kiangura. The next session starts 19 Feburary 2018 and the application deadline is 15 January 2018. Please visit the course webpage to read more and apply.
February 2018 online diplomacy courses
Start the new year with one of our most popular online courses:
Apply by 18 December 2017 for University of Malta accredited courses and by 15 January 2018 for Diplo certificate courses. For further information or to apply, click on the titles of the courses listed, or visit our courses webpage. Register now to reserve your place.
Malta scholarships
Thanks to support from the government of Malta, partial scholarships are available for applicants from developing countries to attend upcoming Diplo online courses. These scholarships cover 30–60% of course fees and can be applied to most online courses in 2018. Browse our course catalogue and contact us at admissions@diplomacy.edu for further information. You can also sign up for our courses mailing list to be informed about upcoming courses.

Webdebate: Digital diplomacy – opportunities and challenges of social media use in diplomacy (5 December)
In our December WebDebate, we will focus on digital diplomacy. We are joined by Ms Liz Galvez (former British senior diplomat and lectuer on digital diplomacy with Diplo) and Ambassador Stefano Baldi (current ambassador of Italy to Bulgaria and former director of the Diplomatic Institute of the Italian MFA) who will be discussing the following: What are the digital diplomacy strategies of ministries of foreign affairs? How have they adopted social media as part of their public diplomacy efforts? Further, we will explore how digital diplomacy can empower new actors and how they interact with more traditional diplomatic players. But beyond new technology being a tool for diplomacy, old and new, our speakers will also address how the very environment in which diplomacy is conducted is changing. Join us on Tuesday, 5th December, at 12:00 UTC (13:00 CET). Register to reserve your place.
Diplo will lecture on the resident Program on Cyber Security Studies at the George C. Marshall European Center for Security Studies (7 December)
The Program on Cyber Security Studies (PCSS) is a resident course is offered to senior and mid-career civil-servants from across all governmental ministries and institutions who are involved in the development of cyber and information technology, legislation, planning, investigations, and governmental oversight. The curriculum focuses on discussing policy objectives, strategies, and best practices that contribute to the security of cyberspace. This year, the PCCS will run from 5 to 21 December. On 7 December, Diplo's Marilia Maciel will discuss the challenges and opportunities associated with the balance of privacy and security in policy development.
3rd Annual Geneva Engage Awards (11 December)
The work done by International Geneva greatly depends on effective engagement with the communities affected by its policies. The 3rd Geneva Engage Awards, supported by the Canton of Geneva, will highlight the most successful efforts of international organisations, NGOs, and permanent missions in Geneva in their social media outreach and engagement in 2017. The event will take place on 11 December, 15:00–17:00, followed by a reception. For more information and registration, visit the event page.
Diplo and the GIP at the 12th Internet Governance Forum (18–21 December)
DiploFoundation and the Geneva Internet Platform will be actively engaged at the 12th Internet Governance Forum (IGF), in Geneva and online.
The GIP Digital Watch observatory will provide just-in-time session reports from the IGF, and IGF Daily newsletters, which will be available on a dedicated webpage, dig.watch/igf2017. A final report, published after the IGF meeting, will summarise the main themes. These will complement the dynamic updates offered through the observatory.
The Art@IGF project will connect digital policy with art in an interactive and interdisciplinary exhibition of digital issues. The exhibition will use a subway map as a journey metaphor to explore different Internet governance issues (infrastructure, security, human rights, etc.), each depicted as a subway line in a different colour on the exhibition floor. As participants follow the different lines, they arrive at subway stations where digital artists display their perceptions of the core digital policy issues of the day.
Join us also for workshops and sessions, and drop by at our booth! More updates will be available on our calendar page.
November's Geneva Digital Watch newsletter is out!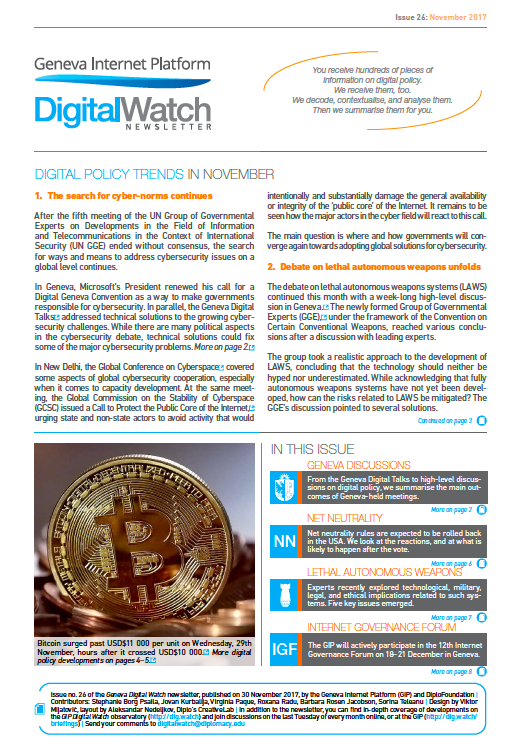 Published on 30 November 2017, Issue 26 of the Geneva Digital Watch newsletter provides the latest digital policy updates which took place in November. The main highlights include:
An overview of the top digital policy trends in November, including the ongoing search for cyber-norms at international level, the ongoing debate on lethal autonomous weapons systems (LAWS), new data breaches and cyber vulnerabilities, courts continuing to shape the applicability of digital policies across jurisdictions, and rifts appearing in e-commerce negotiations ahead of the 11th Ministerial Conference of the World Trade Organization (WTO).
An analysis of the possible roll back of the US net neutrality rules, and an overview of the main issues raised during the LAWS debates of the Group of Governmental Experts.
A round-up of the main digital policy updates of November, with security, e-commerce, digital rights, net neutrality, and new technologies being prominent this month, and a review of the main digital policy events that were held in International Geneva.
What's been happening in Diplo's blogsphere
This time, we had some strong voices reviewing current developments in online learning in our blogsphere. Angelic del Castilho describes her personal experience with online learning in her blog post Online learning: A hype that changes and improves reality. Importantly, she highlights that scepticism towards online learning persists and that 'learning through the use of the Internet, webinars, and attending conferences virtually are still developments that are not fully appreciated for what they offer in making processes more efficient and cost-effective.' In Online learning: delivering on promises? Diplo's Educational Programmes Director, Hannah Slavik looks at massive open online courses (MOOCs) and interactive, tutor-led online courses with high levels of participant engagement. She points out that it is not useful to compare these types of online learning directly. Rather, each type of online learning needs to be assessed based on whether it delivers what it promises. She finds that we should be sceptical about claims that MOOCs are democratising education. In addition, our blogsphere continued to see important critical engagement with Internet governance and digital policy. Adriana Minović added insights on the EU General Data Protection Regulation (GDPR), which is now only months away from entering into force in May 2018. She argues that the GDPR brings an important point into sharper focus: the integration of human rights into business practices. Ryan Gener's blog on Cloud computing and data localisation: Lessons on jurisdiction adds an important new perspective on questions of data localisation. By using multilateral trade rules as an analogy for cloud computing, he argues that jurisdiction should be framed from a data processing and transfer perspective.
Subscribe to Diplo's News