A journey in time: 20 years of Internet and diplomacy
Published on 20 August 2020
Updated on 16 June 2023
If you've recognised the sound in the audio file above, you are old enough to remember the birth of the Internet as we know it.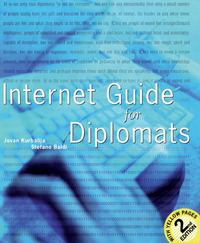 In 2000, the two of us wrote a book titled the Internet Guide for Diplomats. At the time, it was the only book to explain the opportunities and changes that the Internet revolution was bringing to diplomacy.
Our idea was simple. We wanted to provide a practical handbook for diplomats to make the best use of what was a new powerful tool. IT literacy among diplomats was almost non-existent. The changes that the Internet brought to the diplomatic professional life took place too quickly to be metabolised. Therefore, there was a need for training in new skills and new tools. The powerful new tool was now at the diplomat's complete disposal.
It was also a time when a limited number of organisations and institutions – both local and global – had a fully functional website. E-mail was not yet part of diplomats' daily routine.
Fast forward by 20 years
Today, every organisation (and ministry) has its communication strategy that relies heavily on the Internet and social media. Limitations in the use of videos, due to bandwidth limitations, have been overcome thanks to fast broadband and new devices which have made it easy to produce and broadcast videos.
How many of the concepts that we covered two decades ago in our book are still valid today? While the technology and telecommunications landscapes have changed a lot, some principles are still part of today's challenges.
Over time, data replaced information in the digital lingo, but issues of data or information management and governance remain very similar. For example, what we referred to back then as 'how to evaluate information' is what we are tackling today as data science. Handling misinformation has evolved into dealing with fake news. The question 'who governs the Internet?' is still relevant and has received no valid answer. Internet governance is still one of the issues that the international community has been heavily discussing, without being able to find sufficient common ground.
Among diplomats, tech-literacy and knowledge of all things digital has certainly improved. Yet, the developments in technology and communications are evolving very quickly. Diplomatic expertise in social media and digital marketing, two essential elements for effective public communication, still need improvement. New skills for chairing online meetings or using artificial intelligence (AI) for diplomatic reporting are needed more and more.
Diplomatic training in these specific areas, therefore, need to be developed, and programmes of diplomatic training institutions need to be adjusted to the current needs. Reassuringly, the use of hypertext, Internet conferencing, discussion groups, and cognitive maps – already present 20 years ago – still provide the most solid basis for online learning.
Ahead of us, the pendulum between continuity and change will keep its rhythmic swing. We will see continuity through the core functions of diplomacy – a tool for the peaceful solution of conflicts and for the promotion of national interests. We will also see many changes triggered by new tools (from AI to augmented reality) for negotiations and other diplomatic activities. Are we ready?
More resources
Subscribe to Diplo's Blog