People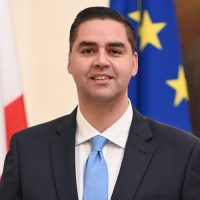 Ian Borg
Malta's Minister for Foreign and European Affairs and Trade
Dr Ian Borg was appointed Minister for Foreign and European Affairs and Trade in March 2022, at the start of the 14th legislature. His current role encompasses the responsibility for maintaining Malta's external relations and the management of its international diplomatic missions.
In June 2017, Dr Ian Borg was entrusted with a wide portfolio ranging from major infrastructural projects to the construction and maintenance of the country's infrastructure, land, air and maritime transport and property. Minister Borg's portfolio commitment towards a radical improvement in the country's infrastructure is visible in the continuous and persistent work being undertaken by the Ministry and the authorities falling within its remit.
During the 12th legislature, as the youngest member of the Cabinet, Dr Ian Borg also served as Parliamentary Secretary for the EU Presidency 2017 and EU Funds. During this time, he was responsible for the national preparations for the successful 2017 Maltese Presidency of the Council of the EU, together with the strengthening of the EU Funds absorption process towards a more efficient and transparent practice. In fact, in 2016, Malta recorded a 100% absorption rate in EU Funds for the programming period 2007-2013.
His political career started in 2005 with his election as Mayor of his hometown Dingli, which was reaffirmed in 2008 and 2012.
Dr Borg graduated as a Doctor of Laws from the University of Malta in 2012, after successfully reading a Doctoral degree in Laws, a Diploma in Public Notarial Practice and a Bachelor's Degree in Law.