DiploNews – Issue 453 – 17 October 2022
Our upcoming Malta Summit: 5 things to achieve
There are five goals we plan to achieve during the Summit on Digital Diplomacy and Governance that will take place in Malta on 17-18-19 November 2022.
First. We will bring diplomats, tech envoys, digital policy experts, and other officials from around the world together to discuss the most pressing issues in digital governance right now. We've planned a rich programme which we have co-created with our experts.
Second. We will think beyond traditional narratives and hype, and try to find new solutions for the new era. Overrated blue-sky narratives around AI, the metaverse, and quantum technology? We see through them. Diplo experts will contribute to the discussions.
Third. We will dedicate a part of the programme to facilitate a consultation on the Global Digital Compact, the initiative launched by the UN Secretary-General in 2021 which will be agreed upon at the UN Summit of the Future in 2024. 
Fourth. We will launch our latest report, 'Stronger Digital Voices from Africa', with insights on how Africa can build its digital foreign policy and diplomacy. It's not only of relevance for Africa but also for a globally inclusive digital future.
Fifth. Last but not least, we will celebrate Diplo's 20th anniversary!
Learn more: Programme | Speakers | FAQ | Registration form


Celebrating Diplo's 20th anniversary
We're celebrating Diplo's 20th anniversary! Listen to what Tereza Horejsova and Jovan Njegic had to say about Diplo.
Visit our Diploversary page, find out more about Diplo's history, and stay tuned for more birthday news!
Upcoming study opportunities
Subscribe to Diplo's Courses Newsletter and stay informed about our upcoming courses, programmes, and workshops.
🎓 Master/Postgraduate Diploma in Contemporary Diplomacy!
Diplo is now accepting applications for the 2023 online Master/Postgraduate Diploma in Contemporary Diplomacy and the MA/PGD with a specialisation in internet governance, run in cooperation with the University of Malta Department of International Relations. The programme starts on 30 January 2023.
During 16 to 20 months of online study, the programmes guide working diplomats, international relations professionals, and internet policymakers through the theoretical and practical building blocks of diplomacy, with a focus on contemporary issues and challenges.
Scholarships covering 20%–50% of the Postgraduate Diploma fee are available for applicants from small and developing states.
For further information and to apply, please visit the MA/PGD in Contemporary Diplomacy web page.

⛄ Applications open! Winter 2023 online courses
Register now to reserve your place in our popular winter courses:
👉🏼 Application deadlines for certificates issued by Diplo: 16 January 2023
For further information and to apply, click the course titles above or visit Diplo's course catalogue.
◆ Need financial assistance? Scholarships are available.
Thanks to support from the government of Malta, partial scholarships are available for applicants from developing countries to attend upcoming Diplo online courses. These scholarships cover 30%–60% of course fees and can be applied to most 2023 online courses. Browse our course catalogue and contact us at admissions@diplomacy.edu for further information.

Upcoming events
◆ Digital Cooperation Day: Discussion on the Global Digital Compact (25 Oct.)
Digital cooperation dynamics will pivot around the Global Digital Compact (GDC) which was introduced by the UN Secretary-General as part of the UN Pact for the Future.  
Join the Digital Cooperation Day discussion in Geneva organised by the Geneva Internet Platform (GIP), the Permanent Mission of Switzerland to the UN Office in Geneva, and the Federal Office of Communications (OFCOM).
The GIP will also present findings from the 2nd edition of the Geneva Digital Atlas. Join us in Geneva on 25 October 2022, 14:00–17:30 (CEST). Register now!
◆ Launch of the Geneva Digital Atlas 2.0 (8 Nov.)
​The Geneva Internet Platform (GIP) is pleased to announce the launch of the 2nd edition of the Geneva Digital Atlas. The atlas is a comprehensive mapping of the digital policy and internet governance scene in International Geneva and provides an in-depth coverage of the activities of over 40 actors, including the analysis of policy processes and the cataloguing of core instruments and featured events. More information soon. Learn more about the Geneva Digital Atlas 2.0 !
Blogs and publications
◆ Why is Borrell's speech powerful and historical?
Europe is fighting for the survival of its 'operating system' that links prosperity, democracy, and security. This is how Josep Borrell describes the current situation and calls for a revolution in the organisational culture of the EU.
In his latest blog post, Diplo's Executive Director Jovan Kurbalija evaluates the main points of Borrell's speech which he sees as the most important speech of 2022. Read the blog post and watch the video op-ed DiploTalks: Can European diplomacy prevail?
◆ Can a chair remind us of the interests of future generations?

The Future Chair is a concept that should be used in diplomatic meetings and negotiations to remind us of the 'presence' of one missing actor: future generations. In his blog post, Dr Jovan Kurbalija explains how the Future Chair can help foster a new diplomatic culture that would deal more directly with long-term public goods and the survivability of humanity. Read the blog post!
◆ Cyberattacked: Who do you call?
Who do you call when you have been a victim of a cyberattack? Dr Jovan Kurbalija writes about the emerging global cybersecurity landscape and what awaits us in the future. Read the blog post!
◆ Can blockchain go green?
Ethereum switched its mining from proof-of-work to proof-of-stake, reducing its power consumption by 98%! Can blockchain become green technology? What has changed in the regulatory and energy environment? Find out more Arvin Kamberi's latest blog post. Read the blog post!
◆ DW Newsletter
The Digital Watch October newsletter is out, analysing an eventful September: the Shanghai Cooperation Organisation (SCO) Summit, UNGA 77, and the ITU plenipotentiary conference. What did the leaders have to say about digital during their UNGA 77 general debates speeches? Read the newsletter!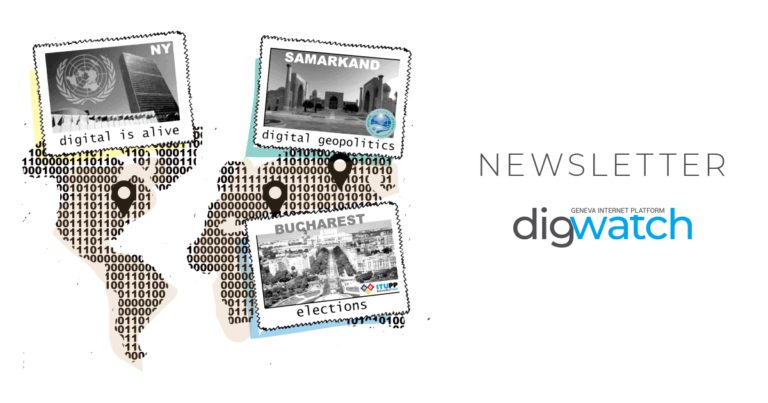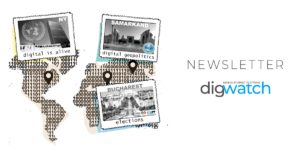 Subscribe to Diplo's News