DiploNews – Issue 344 – 4 April 2018
Upcoming study opportunities
Negotiation Skills
Non-traditional areas of diplomacy (education diplomacy, health diplomacy, Internet governance, humanitarian diplomacy, development diplomacy, and more) require the use of diplomatic skills to build bridges across sectors, diverse actors, and borders. This course on Negotiation Skills, offered by DiploFoundation and the Center for Education Diplomacy, is a practical, interactive course that equips participants with the skills to successfully prepare, undertake, and conclude negotiations in formal and informal settings with government and non-government actors alike. The course introduces the concept and principles of negotiation and reflects on the role of power and empathy in negotiation. It introduces key skills supported by case studies and practical learning activities, including an online simulation exercise. Rather than going into the theoretical considerations of negotiation, such as game theory or group decision-making theory, the course focuses on key skills that are valuable for a variety of negotiations. The course starts on 23 April 2018. Read more on the course webpage and apply by 11 April 2018.
May 2018 online diplomacy courses
Starting on 7 May 2018, we offer courses on diplomacy topics, both classic and contemporary:
Apply by 23 April for Diplo certificate courses. For further information or to apply, click on the titles of the courses listed, or visit our courses webpage. Register now to reserve your place.
Malta scholarships
Thanks to support from the government of Malta, partial scholarships are available for applicants from developing countries to attend upcoming Diplo online courses. These scholarships cover 30%–60% of course fees and can be applied to most online courses in 2018. Browse our course catalogue and contact us at admissions@diplomacy.edu for further information. You can also sign up for our courses mailing list to be informed about upcoming courses.

12 April in San Francisco: Hello, World: The Rise of Tech Diplomacy. How does Silicon Valley upend traditional forms of diplomacy?
Diplomacy is no longer limited to states. Today, tech companies engage more people than any given nation, and some are responsible for decisions and impacts once limited to governments. In turn, governments are taking on new forms of diplomacy to stay at the forefront of innovation, to secure the rights of their citizens, and to warrant safe and successful future developments for their countries. Join us to discover the various ways diplomacy has evolved in the Silicon Valley ecosystem, from tech ambassadors to dedicated innovation centers. Diplo and the Geneva Internet Platform, in partnership with the Consulate General of Switzerland in San Francisco and swissnex San Francisco, have mapped this diplomatic landscape and summarised their findings in a report that will be launched at the event. Government representatives from around the world will also pitch their models of 'tech diplomacy'. See more and register. More information about the project.
WSIS Forum: Session reports and thematic summary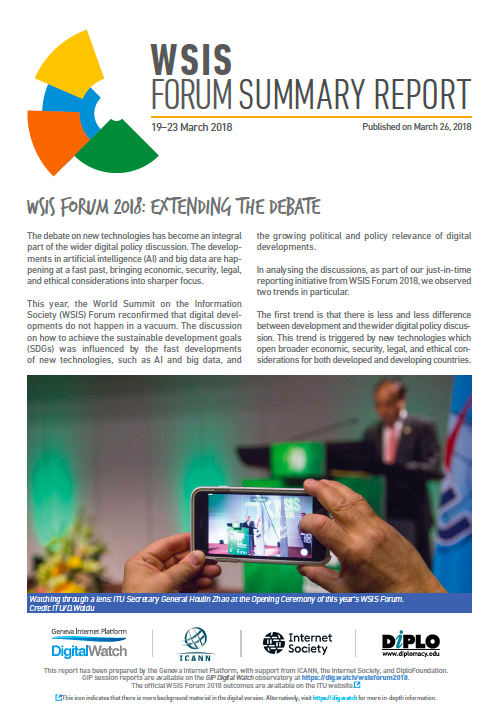 This year's World Summit on the Information Society (WSIS) Forum reconfirmed that digital developments do not happen in a vacuum. The discussion on how to achieve the sustainable development goals (SDGs) was influenced by the fast developments of new technologies, and the growing political and policy relevance of digital developments. We observed this by reporting from over 150 sessions during the WSIS Forum, which we then analysed and summarised thematically. Read our reports, and download the thematic summary.
March newsletter:
The latest developments and trends in digital policy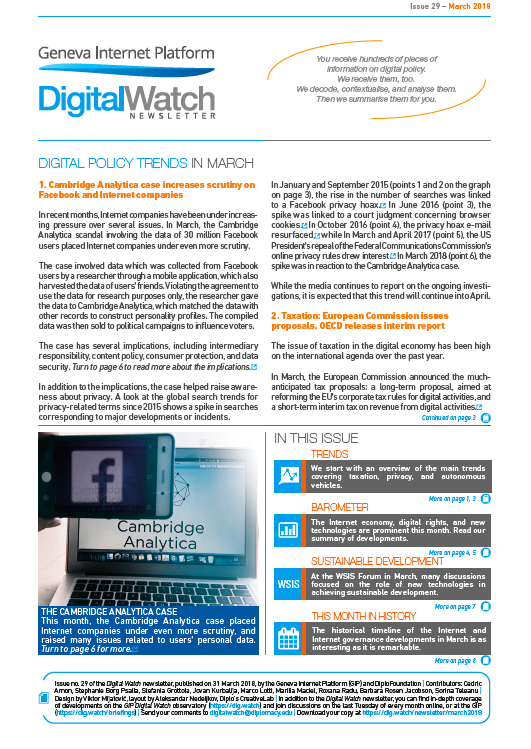 Published on 31 March 2018, Issue 29 of the Geneva Digital Watch newsletter provides the latest digital policy updates which took place in March. The main highlights include:
An overview of the top digital policy trends of the month, including increasing scrutiny on Facebook and other Internet companies, caused by the Cambridge Analytica case; taxation in the digital economy continuing to be in focus, as the European Commission announces the much-anticipated tax proposals, and the Organisation for Economic Co-operation and Development (OECD) issues its interim report on tax challenges arising from digitalisation; and the autonomous car accident amplifying concerns over safety and security issues.​

An analysis of the Cambridge Analytica case and the digital policy implications of its Facebook data modelling practices.

An overview of the discussions held at this year's WSIS Forum on the role of new technologies in achieving sustainable development.

The Internet Governance Barometer for March, which shows the Internet economy, digital rights, legal issues, and new technologies being the most prominent issues during the month.​

A review of the main digital-policy-related events that were held in International Geneva in March, including the UN Human Rights Council, the Big Data conference, the IGF Open Consultations.
Join us for April's briefing on Internet Governance
What are the main Internet governance updates in April, and how will they shape future developments? What can we expect in May? Join us for our next monthly briefing, on Tuesday, 24th April, for a round-up of the major global IG and digital policy developments. Registrations are now open.
Coming up: Reporting from UNCTAD's E-Commerce Week
Diplo and the Geneva Internet Platform will be participating actively during UNCTAD's E-Commerce Week on 16-20 April. The GIP will run a just-in-time reporting initiative from UNCTAD E-commerce Week, reporting from most sessions and from the Intergovernmental Group of Experts on E-commerce and the Digital Economy. Reports will be available on the GIP Digital Watch observatory by the end of each day.
Join us also for our session on 'Introduction to Digital Commerce and Emerging Technologies: A Capacity Development Workshop', on Wednesday, 18th April, at 8.30 – 10am CEST (Room XXV).
What's been happening in Diplo's blogsphere
Diplo's blogosphere has been very busy this week. Sorina Teleanu discusses how the increasingly digitalised world, the sharing economy, and the ongoing developments in automation and AI are bringing changes to the world of work. She analyses several recently launched reports and studies that shed light on how these changes could look. Andrijana Gavrilovic summarises the main points covered in March's Web Debate, which focused on how African states can navigate multilateral diplomacy successfully. Obstacles that African states face in their multilateral diplomatic work and strategies to overcome them were covered by the speakers. Stefania Grottola and Clement Perarnaud analyse the Clarifying Lawful Overseas Use of Data Act (CLOUD Act), a recently proposed bill in the USA which aims to establish a new framework for authorities to access data stored abroad. Marilia Maciel discusses President Trump's decision to introduce tariffs on steel and aluminium and the growing association between trade and national security. She analyses the consequences of introducing a military vocabulary, such as 'trade war', to refer to outstanding cases of protectionism.
Subscribe to Diplo's News