Internet governance in April 2020
Published on 04 May 2020
Updated on 07 August 2022
Tackling misinformation and protecting media freedom in time of crisis and data tracing apps and privacy challenges they pose were among the main digital policy trends in April 2020.
These and many other developments were covered during April's just-in-time briefing on Internet governance – our monthly appointment on the last Tuesday of every month – which took place on 27 April 2020. They will also be summarised in the Issue 49 of the Geneva Internet Platform (GIP) Digital Watch newsletter.
The briefing was led by DiploFoundation's Director of Cybersecurity and E-diplomacy Programmes Vladimir Radunović. He was joined by DiploFoundation's Project Manager Marco Lotti, DiploFoundation's Project Development Director Tereza Horejsova, DiploFoundation's Executive Director and Head of Geneva Internet Platform Jovan Kurbalija, and DiploFoundation's Multimedia Co-ordinator Arvin Kamberi.
A look back to events in April
Due to the circumstances, many events have been cancelled or postponed. However, there is an emerging trend of event organisers moving events to online mediums.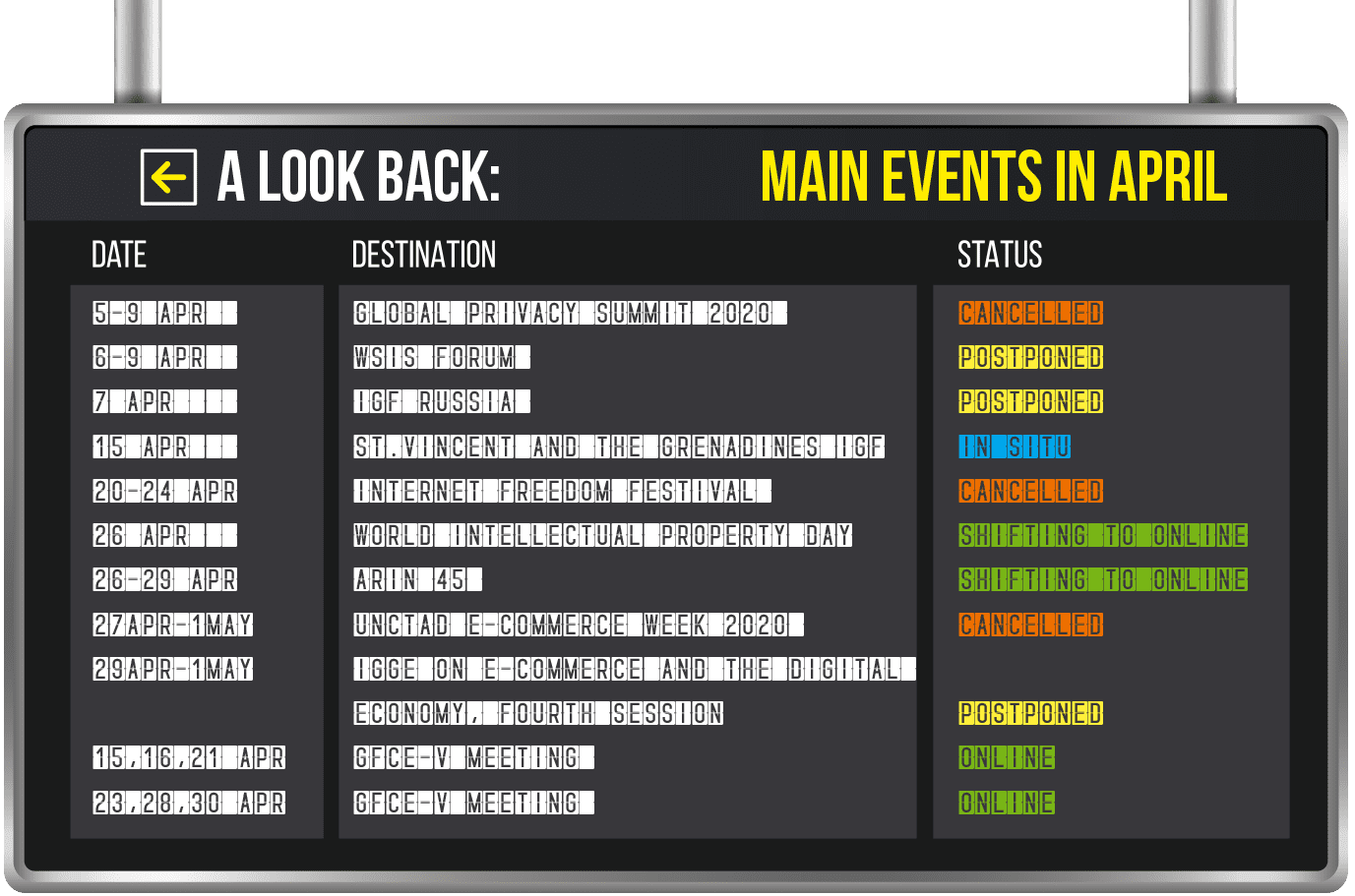 Visit dig.watch/events for details
Main developments in April 2020
Radunović underlined the main developments in the past month:
The International Telecommunication Union (ITU) and the office of the UN Under Secretary-General Fabrizio Hochschild launched a series of webinars on digital co-operation in response to the COVID-19 pandemic.
The annual report of the UN Conference on Trade and Development (UNCTAD) shed light on the current state of development and the digital economy.
The ITU released a report on the role of digital technologies in protecting the environment.
The UN Under-Secretary-General called for a 'digital ceasefire' during the COVID-19 pandemic.
The UN Children's Fund (UNICEF) warned of increased child vulnerability during the pandemic.
A US judge decided that Twitter cannot reveal surveillance requests from the government.
Google must pay French publishing companies and news agencies for reusing content.
US federal agencies called on the Federal Communications Commission (FCC) to revoke China Telecom's license.
The California Attorney General told ICANN to reject the sale of the .org registry to Ethos Capital.
The World Wide Web Consortium (W3C) published 'web of things' recommendations.
The Council of Europe (CoE) adopted a recommendation on human rights impacts of algorithmic systems.
Kamberi then explained that Facebook announced changes to its Libra cryptocurrency plans, and that the G20 Financial Stability Board outlined draft recommendations for global stablecoin arrangements.
Visit dig.watch/updates for details
Main trends in April
The online spread of COVID-19 misinformation remains a concern for governments, intergovernmental organisations (IGOs), and Internet companies; and they have taken new measures to curb the spread of misinformation. Lotti explained that the measures taken by governments are raising concerns regarding media freedom and the 'survival' of local media outlets. IGOs, such as the CoE, have called for the protection of freedom of information and media in times of crisis. Meanwhile, tech companies such as Google have announced measures to support local journalism.
Data tracing apps developed by countries to help curb the spread of the Coronavirus are raising privacy concerns, Horejsova noted. Such concerns led data protection authorities, civil society, and academics around the world to call for strict privacy-friendly contact tracing apps. US tech companies announced that they are working to develop a system using Bluetooth technology that will alert individuals of possible exposure to the Coronavirus, but have clashed with some governments on the issue, the UK and France in particular. DiploFoundation undertook a study mapping 195 countries and how they approach data tracing apps; the results will be presented during a webinar on contact tracing and challenges to privacy that Diplo and GIP will co-organise with partners on 6 May.
Digital policy discussions are moving online, and Diplo has been following this shift through its ConfTech Lab, Kurbalija explained. There is more inclusiveness as there are less obstacles for people to join meetings, but the question is how much inclusiveness is good for the effectiveness of meetings? There is less interaction in online meetings. Most concerning to the international community, security, privacy, and confidentiality of online meetings are being questioned as well as the security of interactions and where data is stored. The shift to online meetings is changing the way diplomacy is conducted, and traditional rules of procedure will need to be addressed to fit online interaction. Another trend is that people feel more fatigue after numerous online meetings. Blended (where participants are both in situ and remote) linked meetings will emerge after people return to some sort of normality.
A look ahead to events in May
Due to the COVID-19 pandemic, many events have been cancelled or postponed. However, there is an emerging trend of event organisers moving events to online mediums.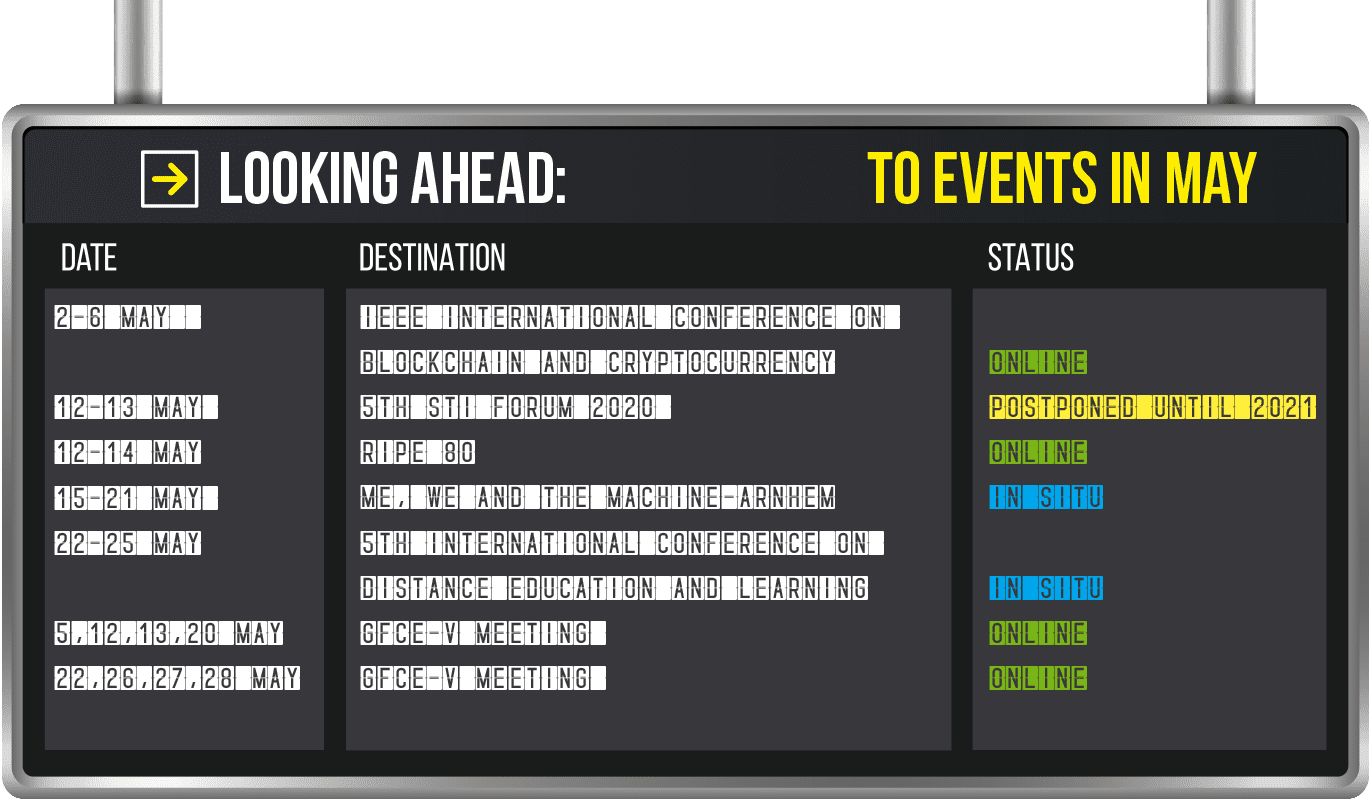 Visit dig.watch/past-events for details
Updates from GIP and Diplo
The next Internet governance briefing is on 26 May 2020. Registrations are open.
The next issue of the GIP Digital Watch newsletter will be published in the beginning of May. Diplo and GIP will co-organise a webinar on contact tracing and challenges to privacy with partners on 6 May. On 26 May, the GIP and its partners will organise the third dialogue of the Road to Bern via Geneva entitled 'Sharing data: Towards a data commons.' At the end of the month, the GIP will hold the regular monthly Internet governance briefing on 26 May.
Q&A
Whether Facebook's Libra project will clash with some countries' plans to issue digital fiat currencies; whether Libra will have transactional fees for its holders and users; balancing the need for tracking during the pandemic and the transparency concern, consent and democracy; whether the effectiveness of online meeting depends on their organisation, were discussed during the Q&A.
Regional perspectives
Amrita Choudhury provided updates from Asia. Australia decided that digital platforms have to pay media outlets for reusing content. Facebook acquired a 9.9% stake in India's biggest telecommunications company Reliance Jio.
Jacob Odame-Baiden gave updates from Africa. E-commerce platform Jumia implemented contactless delivery and cashless payments to help curb the spread of COVID-19. Facebook launched Coronavirus information centres across countries in the continent. Alphabet's Loon deployed Internet connectivity balloons to Kenya.
Noha Fathy highlighted updates from the Middle East and North Africa. The e-commerce sector is thriving post COVID-19 outbreak in the Middle East. Global civil society urged Gulf countries to unblock voice-over-IP (VoIP) services.
Andre Edwards gave updates from the Caribbean region. COVID-19 virtual screenings via mobile phones are possible in Cuba. Telecommunications operators in the British Virgin Islands offered discounted rates for education.
Visit dig.watch/regional-updates for details
Subscribe to Diplo's Blog