People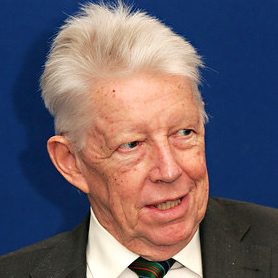 Dietrich Kappeler
Former Director, Diplomatic Studies Programme, Graduate Institute of International Studies Geneva
Professor Dietrich Kappeler served as Director of the Diplomatic Studies Programme of the Graduate Institute of International Studies in Geneva from 1993 to 1998. He was the founding director of the Mediterranean Academy of Diplomatic Studies at the University of Malta, 1990–1993. Professor Kappeler has extensive experience in diplomacy and international relations, and lectures and writes on international law, diplomatic and consular law, law of international institutions, human rights and humanitarian law, diplomacy, and constitutional and administrative law of Switzerland.
Born on 6 March 1933 in Berne, Switzerland, he was educated in Berne and in Beirut, Lebanon. He received a Bachelor's degree in French Law in 1953 from the Faculty of Law, Université St Joseph, Beirut. In 1955, he was licenced in Public Law by the Faculty of Law at the University of Berne, and recieved his doctorate in Public Law from the same institution in 1957.
Kappeler served in the Swiss diplomatic service from 1957 to 1965, with postings in The Hague and Algiers, as well with the Legal Department at headquarters. From 1965 to 1973, he was a personal assistant to Professor Paul Guggenheim and a consultant with the Carnegie Endowment for International Peace working on the training of third world diplomats. He was involved in the creation of the International Relations Institute of Cameroon (IRIC) in 1971 and the Institute of Diplomacy and International Studies of the University of Nairobi in 1973. During the 1970s and 80s he was a research fellow and lecturer at the University of Geneva and a professor at the Graduate Institute of International Studies in Geneva. From the Graduate Institute, he was seconded as a lecturer to the University of Tehran and the University of Nairobi.