People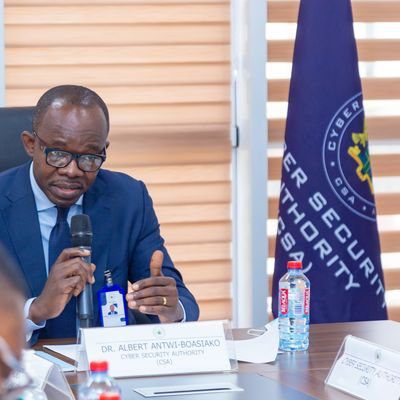 Albert Antwi-Boasiako
Director General, Cyber Security Authority, Ghana
Dr Albert Antwi-Boasiako is currently serving as Director General at the Ghana Cyber Security Authority, responsible for overseeing the development of Ghana's cybersecurity through the implementation of Ghana's National Cybersecurity Policy & Strategy, working with both public and private sector stakeholders.
He is a forward thinking professional with a pioneering role in providing Cybersecurity, Digital Investigations and Security Intelligence Services across Africa. Having established e-Crime Bureau Inc in Ghana as the first organisation with the state-of-art cyber security & investigations lab to operate in the sub-region, Albert has provided services related to Cyber & Information Security, Digital Forensics, Data Protection, Counterfeit Detection as well as Intelligence and Investigations related services to clients across the Private Sector, Government, International Organisations and Security & Law Enforcement Sectors.
Albert has delivered consulting services, workshops and training programmes in a number of countries including Ghana, Nigeria, Kenya, Uganda, South Africa, United Kingdom, United States of America, Italy, Spain, Australia, Germany, Lithuania, Ethiopia, Malaysia, Morocco, Tonga, Sierra Leone, The Gambia and Mauritius among others.
As a scientist, Albert has developed a model for establishing the admissibility and evidential weight of digital evidence. The Harmonised Model for Digital Evidence Admissibility Assessment (HM-DEAA) is underpinned by an algorithm developed based on specific technical and legal determinants. An expert system which allows judges to determine the evidential weight of digital evidence to provide scientific guidance for sentencing. The expert system allows investigators, prosecutors and lawyers to evaluate digital evidence for use in judicial proceedings. The introduction of the HM-DEAA model constitutes a significant contribution to digital forensics standardisation.