Event description
Algorithmic diplomacy has become one of the terms that now reverberates around the corridors of diplomatic institutions. While its meaning is not entirely clear, there is a sense that something important is at stake and that reflections and measured responses are urgently needed. This WebDebate will look at algorithmic diplomacy in the context of geopolitical analysis and diplomatic decision-making on the one hand, and implications of the use algorithms for human rights on the other.
Watch the recording:
and read the summary from our June WebDebate.
There are now vast amounts of data that are potentially useful for foreign policy decision-making, yet they are not easily accessible to analysts. Algorithms are likely to play an increasing role in making sense of all this data. Hence, they are likely to become important for informing diplomatic decision-making. As Shaun Riordan writes '[t]he way in which the algorithm is designed and structured will affect analytical output from scanning the data. Algorithm design and construction is highly technical.' The nature of their profession means that diplomats have a minimal understanding of the design and functioning of algorithms. We therefore need to ask, what are the implications for algorithmic diplomacy?
At the same time, when debating the value of algorithms for geopolitical analysis and diplomatic decision-making, it is crucial not to lose sight of larger questions related to the ethics of using algorithms. For example, a number of organisations have begun to debate the relationship between the use of algorithms and human rights. Common concerns include freedom of speech, privacy, and democratic values. What are the key points that diplomats need to be aware of, both in terms of using algorithms as tools for decision-making and in terms of larger international debates and policy-making on algorithms and human rights?
At the intersection of both of these topics, we also need to carefully analyse the potential of algorithms for creating and reinforcing online echo chambers and the implications for foreign policy analysis as well as human rights and democratic values.
In our June WebDebate we will give room to these crucial questions related to an emerging algorithmic diplomacy.
Join us on Tuesday, 5th June 2018, at 11:00 UTC (13:00 CEST ‒ please note the change in UTC time). Register to reserve your place.
Our speakers
Mr Shaun Riordan is a Senior Visiting Fellow of the Netherlands Institute for International Relations (Clingendael), a member of the social media team for The Hague Journal of Diplomacy, and a senior analyst with Wikistrat. He collaborates closely with UNITAR on digital and cyber diplomacy and is a member of the Public Diplomacy Advisory Panel of the SDGF. He also works as an independent consultant on geopolitical risk and diplomacy for governments, Spanish companies and Anglo-American hedge funds. Shaun spent 16 years in the British Diplomatic Service, including postings to New York, Beijing and Madrid and stints in the Counter-Terrorist and Yugoslav Departments of the Foreign Office in London.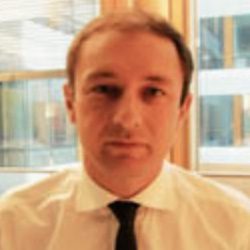 Mr Lee Hibbard is an administrator in the Bioethics Unit of the Council of Europe based in Strasbourg, France, and a senior fellow at DiploFoundation. For the last 10 years, he has been responsible for developing European human rights norms on the challenges posed by the Internet, in particular regarding freedom of expression, the public service value of the Internet, children's right to be forgotten, responsibilities of Internet companies, privacy, and other areas. He has also coordinated the Council of Europe's policy on Internet governance.
About our WebDebates
The WebDebates on the future of diplomacy are live streamed on the first Tuesday of every month. They are organised by Diplo within the framework of the International Forum on Diplomatic Training (IFDT). Learn more about our series of WebDebates.
If you form part of a dynamic circle of practitioners in your community, we encourage you to establish a diplomatic hub to follow the WebDebates and to facilitate discussions. For more information, contact Diplo's Ms Mina Mudric.