Event description
The shift towards online work makes us even more dependent on the critical Internet infrastructure and digital services. However, these are vulnerable and under a heavy stress-test through increasingly sophisticated cyber-attacks. In our next live discussion on COVID-19, on Thursday, 9th April 2020 at 12:00 UTC (14:00 CEST), we will ask our experts: Is the COVID-19 crisis leading towards an increasingly insecure cyber-world?
[Update] Registrations for this live discussion are closed. You can still follow the event here.
Digital infrastructure is already under stress due to the surge in use and this stress is aggravated with increased cybersecurity risks. For instance, some critical health infrastructure and e-learning platforms are targeted by distributed-denial-of-service (DDoS) attacks, rendering them unavailable in critical moments; and any ransomware campaigns may now lead to more fatalities, if they target critical systems in hospitals and medical research centres. In addition to these 'regular' threats, specific crisis-driven threats have emerged as well: While some online services (such as e-participation platforms) have become en mass default tools overnight, without being able to address serious vulnerabilities in their products – our demand for more information about COVID-19 makes us easy victims of smartly put phishing e-mails, by perpetrators impersonating health institutions – even the World Health Organization (WHO).  
An overview of emerging cybersecurity threats is available in the special edition of the monthly Newsletter of the GIP Digital Watch observatory.
At the webinar, we will discuss following issues:
Do cybersecurity risks increase in time of crisis, or do they just change form? 
Are we more vulnerable, are there new threats, and how has the value of the assets we protect changed? 
How should governments and computer emergency response teams (CERTs) respond? 
How can industry strengthen the security of digital products, and what can civil society and the technical community do? 
We will also look into a 'day after' scenario: what can we expect after the crisis is over in terms of cybersecurity?
Join us to revisit cybersecurity challenges in the time of the COVID-19 crisis.
Participants:
Dr. Serge Droz is a Security Lead at Proton Technologies, and serves as a Chair of the Forum of Incident Response and Security Teams (FIRST), and a Senior Advisor at ICT4Peace. He is a senior IT-Security expert and seasoned incident responder working at Proton Technologies. He studied physics at ETH Zurich and the University of Alberta, Canada and holds a PhD in theoretical astrophysics. He has worked in private industry and academia in Switzerland and Canada, among others as a Chief Security Officer of Paul Scherrer Institute, as well as in different security roles at the national CERT in Switzerland for more than 20 years. Serge is the chair of the board of directors of FIRST (Forum for Incident Response and Security Teams), the premier organisation of recognised global leaders in incident response and a Senior Advisor to the Swiss based ICT4Peace foundation. He also served for 2 years in the ENISA (European Union Agency for Network and Information Security) permanent stakeholder group. Serge is an active speaker and a regular trainer for CSIRT (Computer Security Incident Response Team) courses around the world.
Ms Anastasiya Kazakova is a Public Affairs Manager at Kaspersky. In this role, Anastasiya assists in the implementation of the company's worldwide public policy with a major focus on EU government relations, and of the Global Transparency Initiative – Kaspersky's program to enhance transparency and accountability in cybersecurity.
Mr Stéphane Duguin is the Chief Executive Officer of the CyberPeace Institute. His mission is to coordinate a collective response to decrease the frequency, impact, and scale of cyberattacks by sophisticated actors. Building on his hands-on experience in countering and analyzing cyber operations and information operations which impact civilians and civilian infrastructure, he leads the Institute with the aim of holding malicious actors to account for the harms they cause.   Prior to this position, Stéphane Duguin was a senior manager and innovation coordinator at Europol. He led key operational projects to counter both cybercrime and online terrorism, such as the setup of the European Cybercrime Centre (EC3), the Europol Innovation Lab, and the European Internet Referral Unit (EU IRU). A leader in digital transformation, his work focused on the implementation of innovative responses to a large-scale abuse of the cyberspace, notably on the convergence of disruptive technologies and public-private partnerships.
Mr David Koh is the Commissioner of Cybersecurity and Chief Executive of the Cyber Security Agency (CSA) of Singapore. As a Commissioner, he has the legal authority to investigate cyber threats and incidents to ensure that essential services are not disrupted in the event of a cyber-attack. Concurrently, as Chief Executive of CSA, he leads Singapore's efforts to provide dedicated and centralised oversight of national cyber security functions. These include enforcing the cybersecurity legislation, strategy and policy development, cyber security operations, ecosystem development, public outreach and international engagement. Mr Koh also sits on the Boards of the Government Technology Agency (GovTech), Defence Science and Technology Agency (DSTA) and DSO National Laboratories (DSO), and the Monetary Authority of Singapore (MAS) Cyber Security Advisory Panel. Prior to his current appointments, Mr Koh served in the Singapore Armed Forces (SAF) and the Ministry of Defence (MINDEF), where he held numerous command and staff appointments. He was most recently the Deputy Secretary (Special Projects) and Defence Cyber Chief of MINDEF, where he was responsible for leading and coordinating cyber defence policy, capability development, and operations for Singapore's defence cluster. Mr Koh is the recipient of the first Billington CyberSecurity International Leadership Award. He has also been awarded the Public Administration Medal – Gold, the Public Administration Medal – Silver (Military), the Public Administration Medal – Bronze (Military), and the Commendation Medal (Military). Mr Koh has a Master's degree in Public Administration from Harvard University, USA; and a Bachelor's degree in Electrical and Electronics Engineering from King's College, London, UK. He and his wife, Marlene, have three children, Daniel, Rachel and Michael.
Moderator: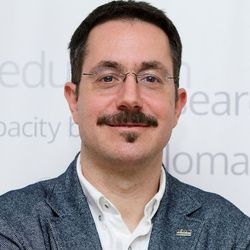 Mr Vladimir (Vlada) Radunović is a lecturer in cybersecurity policy, Internet governance, and e-diplomacy on postgraduate and professional courses. He also serves as a member of the Advisory Board of the Global Forum on Cyber Expertise (GFCE) and as an expert with the Geneva Internet Platform. He served as a member of the Multistakeholder Advisory Group of the UN Internet Governance Forum (IGF) from 2012 to 2014. Vlada has been a lecturer, speaker, and resource person on a number of educational and training programmes and events worldwide, including within the WSIS and IGF processes. His professional and research focus is on Internet governance, broadband policy and net neutrality, cybersecurity and cyber-diplomacy, e-diplomacy, and capacity development. He holds an MSc in Electrical Engineering from the University of Belgrade and a Master's in Contemporary Diplomacy from the University of Malta. He is currently working on his PhD in cybersecurity. Vlada is currently member of the Board of Directors of Diplo US.