DiploNews – Issue 371 – 16 May 2019
The new redesigned GIP Digital Watch newsletter is out!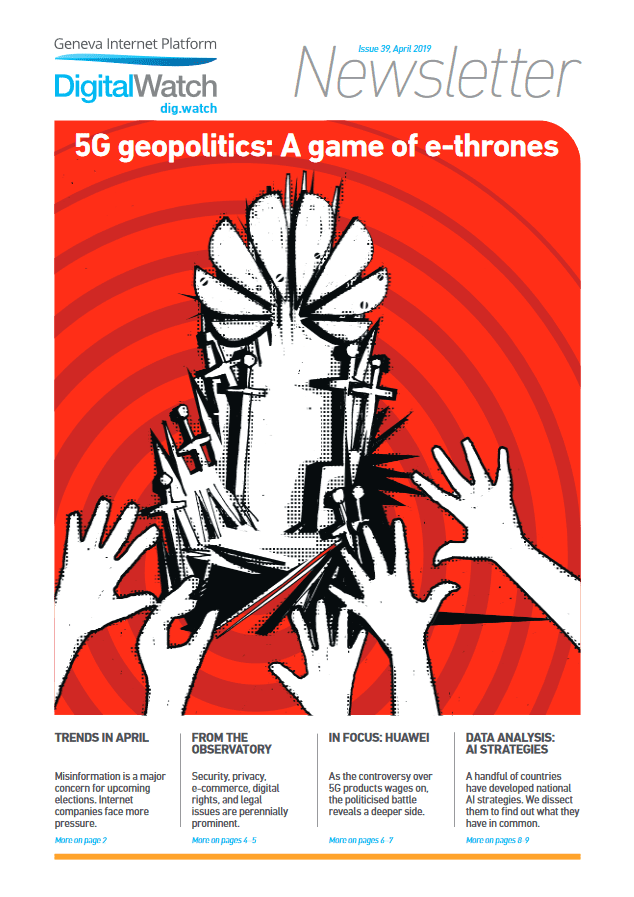 The GIP Digital Watch newsletter has been redesigned and is now bigger and better! We have added more in-depth articles, a new section on data analysis, and more visible timelines. The latest issue of the GIP Digital Watch newsletter covering April 2019 contains
an overview of the top digital trends, including misinformation as a concern in upcoming elections, new data breaches causing more pressure on companies, and digital health in focus.
a review of main digital policy developments in April, which shows that security, e-commerce and Internet economy, digital rights, jurisdiction and legal issues, and new technologies were prominent issues.
an analysis of the controversy over 5G products.
a data analysis section shedding light on national artificial intelligence (AI) strategies.
the calendar of upcoming events in May.
Visit the GIP Digital Watch website to get your free copy.
Upcoming study opportunities
Summer diplomacy courses
Is summer a quiet time at your office? Then it is the perfect opportunity to take an online course. Have a look at our courses on diplomacy and Internet technology starting on 22 July:
Apply by 20 May for University of Malta accredited courses and by 17 June for Diplo certificate courses. For further information or to apply, click on the titles of the courses listed, or visit our courses webpage. Register now to reserve your place.
Malta scholarships
Thanks to support from the government of Malta, partial scholarships are available for applicants from developing countries to attend upcoming Diplo online courses. These scholarships cover 30%–60% of course fees and can be applied to most online courses in 2019. Browse our course catalogue and contact us at admissions@diplomacy.edu for further information. You can also sign up for our courses mailing list to be informed about upcoming courses.

Diplo at STI Forum 2019, New York
Dr Tereza Horejsova (Project Development Director, DiploFoundation) attended the 4th annual Multi-stakeholder Forum on Science, Technology and Innovation for the Sustainable Development Goals (STI Forum 2019). On 14 May she spoke at the session on Ethical Code: Designing and Governing Inclusive AI, and on 15 May she addressed the Briefing to Member States on the Internet Governance Forum in Berlin, Nov 2019. For more information, visit our dedicated page.
Just-in-time reporting from the 22nd Session of the CSTD
The GIP Digital Watch Observatory is providing just-in-time reporting from the digital policy related sessions at the 22nd Session of the Commission on Science and Technology for Development (CSTD), taking place 13-17 May at the Palais des Nations in Geneva, Switzerland.
The Commission represents a subsidiary body of the Economic and Social Council (ECOSOC). Under the supervision of the UN Commission on Trade and Development (UNCTAD), the commission is meant to provide the UN General Assembly and ECOSOC with high-level advice on relevant science and technology issues.
Read the session reports on the dedicated page.
What's been happening in Diplo's blogosphere
Upcoming elections triggering fresh misinformation concerns, new data breaches leading to more pressure on companies, and an increased focus on digital health were among the main digital policy trends in April 2019. Andrijana Gavrilović sums up April's just-in-time briefing on Internet governance, which took place on 30 April 2019.
Internet governance in May 2019
What were the main Internet governance updates in May? How will recent updates influence developments in the upcoming months? Join us for our next monthly briefing, on Tuesday, 28th May, for a round-up of the major global IG and digital policy developments. Registrations are open.

Subscribe to Diplo's News