DiploNews – Issue 361 – 18 December 2018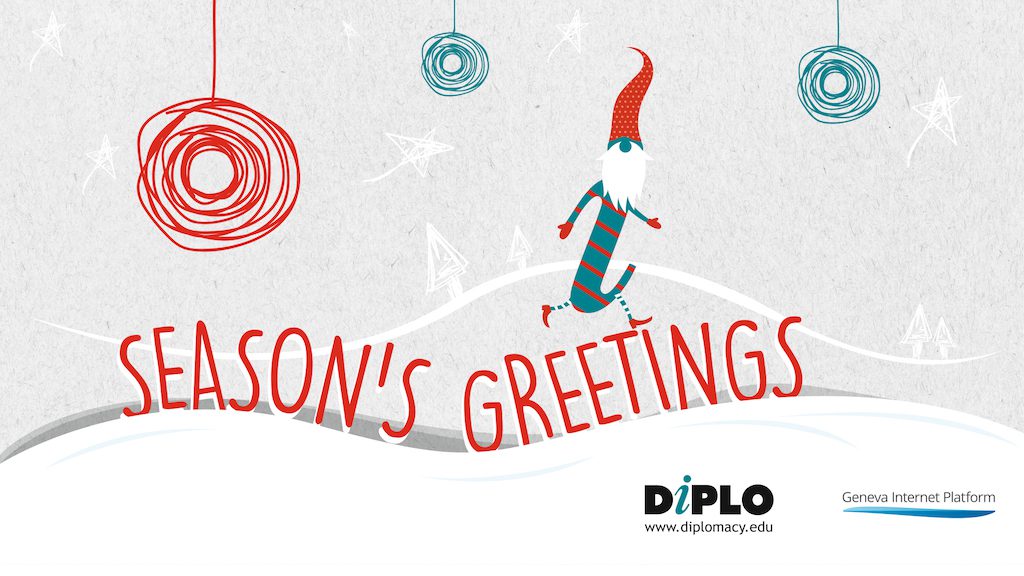 We take this opportunity to thank all of our friends, partners, and colleagues, around the world, for being part of our activities in 2018. We wish you and your loved ones a peaceful end to 2018 and a happy, healthy, and prosperous New Year.
The Diplomacy of Ancient Greece: A Short Introduction. A new e-book by G.R. Berridge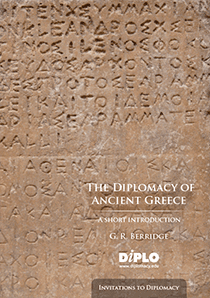 Looking for the perfect gift? Our newest book, The Diplomacy of Ancient Greece by G.R. Berridge, offers stimulating holiday reading and is also affordable and easy to deliver.
Employed against a warlike background, the diplomatic methods of the ancient Greeks are thought by some to have been useless – but by others – to have been the most advanced seen prior to modern times. This book works its way to its own view by looking at the conditions that produced this diplomacy, the personnel it employed, the forms it took, and – in a concluding essay – its fitness for its various purposes. In passing, it draws attention to the usually overlooked private side of the diplomacy of the ancient Greeks, and the greater importance of the proxenos revealed by recent research.
The book draws heavily on the translations of some of the most important primary sources, notably Herodotus, Thucydides, and Xenophon, but is essentially a work of synthesis of existing scholarship. It is designed for the student of diplomacy and the general reader with no prior knowledge of the subject, and gives guidance for further reading.
The book is available via the ISSUU platform.
Upcoming study opportunities
Capacity Development course
Capacity development has been emerging as a central approach within development for more than two decades. To help development professionals better understand and master this paradigm, this interactive online course introduces the key concepts, principles, and values of capacity development. The main focus is on building practical skills for better design, planning, implementation, and assessment of capacity development initiatives. The next session starts 18 February 2019 and the application deadline is 14 January 2019. Please visit the course webpage to read more and apply.
Humanitarian Diplomacy Diploma course
Apply now for the next session of the popular online course Humanitarian Diplomacy, offered in co-operation with the International Federation of Red Cross and Red Crescent Societies (IFRC). This highly interactive 13-week course, led by Ambassador Christopher Lamb and a team of experienced practitioners, extends the knowledge base and develops practical skills of current and future practitioners in humanitarian diplomacy and policy. The course familiarises participants with basic definitions, concepts, actors, and institutions in the field of humanitarian diplomacy; introduces international humanitarian law; hones advocacy and negotiation skills; develops participants' research skills; and increases their understanding of national and regional humanitarian diplomacy activities.
 The course is offered in English; however, participants have the option to write and submit major course assignments and the final research paper in French or Spanish.
 The next session starts 18 February 2019 and the application deadline is 14 January 2019. Please visit the course webpage to read more and apply.
February 2019 online diplomacy courses
Start the new year with one of our most popular online courses:
Apply by 14 January 2019 for Diplo certificate courses. For further information or to apply, click on the titles of the courses listed, or visit our courses webpage. Register now to reserve your place.
Malta scholarships
Thanks to support from the government of Malta, partial scholarships are available for applicants from developing countries to attend upcoming Diplo online courses. These scholarships cover 30%–60% of course fees and can be applied to most online courses in 2019. Browse our course catalogue and contact us at admissions@diplomacy.edu for further information. You can also sign up for our courses mailing list to be informed about upcoming courses.

[Webinar] What is the role of the private sector towards a peaceful cyberspace?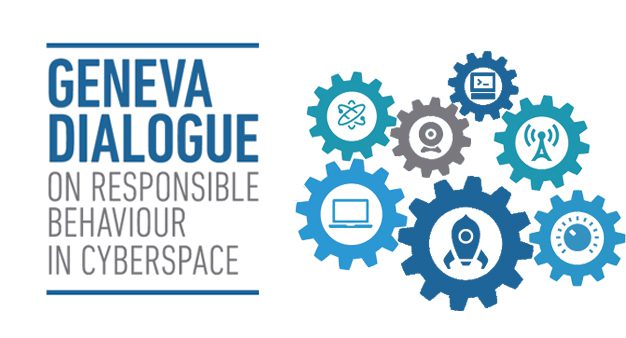 The Geneva Internet Platform is pleased to invite you to the webinar, 'What is the role of the private sector towards a peaceful cyberspace?' on Wednesday, 19th December 2018, 13:00 UTC (14:00 CET). The webinar will question what roles companies can play – and what responsibilities they should undertake – towards implementing the norms stipulated within the UN GGE Report of 2015, such as those related to the protection of critical infrastructure. For more information and to register, visit the dedicated website.
Science fiction meets policy | Policy meets science fiction
Join us on 15 January in Geneva (12:30-16:00 CET) when we ask: What can sci-fi teach us about digital politics and its future? With this event, we bring two very different constituencies together: Sci-fi authors and sci-fi enthusiasts on the one side, and policymakers, diplomats, and international relations professionals dealing with digital politics on the other. What discussions emerge and what lessons can be learned at the intersection of the two? What happens when science fiction and policy meet? Sci-fi can be escapist or critical of our potential future, often in reaction to our present reality. It can provide dystopian or utopian visions of what is to come, but also, many alternative universes in between. Which of these universes becomes our reality will depend on our collective human agency, including our digital policy and its governance.
Learn more about the programme and speakers and register.
[Briefing] Internet governance in January 2019
Join us online for the Internet governance in January 2019 briefing on Tuesday, 29th January, at 12:00 UTC (13:00 CET). Fill in the registration form to reserve your place.
You receive hundreds of pieces of information on digital politics.
We receive them, too.
We decode, contextualise, and analyse them.
Then we summarise them for you.
On the last Tuesday of every month, the Internet governance briefing provides a zoomed-out update of the major global IG and digital policy developments.
What's been happening in Diplo's blogosphere
This time, the Diplo blog features four thought-provoking, in-depth summaries of some of our events and webinars in December. Stafanie Grottola shares the key points from the discussion on Artificial intelligence and diplomacy: A new tool for diplomats? which Diplo and the GIP organised with the Think Tank Hub in Geneva. Andrijana Gavrilovic summarises the key points from our November just-in-time briefing on Internet Governance, including new cybersecurity declarations and resolutions, ethical consideration surrounding AI, and renewed discussions on the implications of the gig economy. Gavrilovic also provides a summary of our webinar on the question of What is the role of civil society and communities towards a peaceful cyberspace? Last but not least, she shares her impressions from our monthly web debate, organised within the framework of the International Forum on Diplomatic Training, on AI on the international agenda – Where do we go from here?
Subscribe to Diplo's News