DiploNews – Issue 352 – 1 August 2018
Upcoming study opportunities
Diploma in Humanitarian Diplomacy – last chance to apply
We are now accepting applications for the next session of the online diploma course Humanitarian Diplomacy, offered in co-operation with the International Federation of Red Cross and Red Crescent Societies (IFRC). This highly interactive 13-week course, led by Ambassador Christopher Lamb and a team of experienced practitioners, extends the knowledge base and develops the practical skills of current and future practitioners in humanitarian diplomacy and policy. The course familiarises participants with basic definitions, concepts, actors, and institutions in the field of humanitarian diplomacy; introduces international humanitarian law; hones advocacy and negotiation skills; develops participants' research skills; and increases their understanding of national and regional humanitarian diplomacy activities.
 The course is offered in English; however, participants have the option to write and submit major course assignments and the final research paper in French or Spanish.
 The next session starts 10 September 2018 and the application deadline has been extended to 6 August 2018. Please visit the course webpage to read more and apply.
Foundations in Education Diplomacy
Diplo and the Center for Education Diplomacy are pleased to announce a new session of Foundations in Education Diplomacy. Education and development are rapidly being shaped by the influence of new actors, international policy, funding structures, and the proliferation of initiatives. This interactive online course presents the concept of education diplomacy in depth, considers the broader impact it may have on education, and allows participants to become more effective and responsive to the dynamic landscape of education. The next course starts on 1 October 2018; apply by 3 September. Partial scholarships are available for selected candidates from developing countries who are active in the field of Education Diplomacy. For more details and to apply, visit the course webpage or contact admissions@diplomacy.edu
Applications open for the 2019 Master/Postgraduate Diploma in Contemporary Diplomacy
Diplo is now accepting applications for the 2019 Master/Postgraduate Diploma in Contemporary Diplomacy, and the Master/Postgraduate Diploma in Contemporary Diplomacy with a specialisation in Internet Governance. These unique postgraduate programmes, offered in co-operation with the University of Malta, include a 10-day residential workshop in Malta followed by 16–20 months of online learning. Visit the Master in Contemporary Diplomacy webpage to read more. Scholarships covering 20%–50% of the Postgraduate Diploma fee are available for applicants from small and developing states. The programme starts on 4 February 2019. The application deadline is 15 October 2018 for international applicants, and 15 November 2018 for Maltese applicants.
Autumn courses on diplomacy and digital policy
Diplo offers a wide range of exciting online courses this autumn, starting the week of 8 October.
Apply by 6 August 2018 for University of Malta accredited courses and by 3 September 2018 for Diplo certificate courses. For further information or to apply, click on the titles of the courses above, or visit our courses webpage. Register now to reserve your place.
Malta scholarships
Thanks to support from the government of Malta, partial scholarships are available for applicants from developing countries to attend upcoming Diplo online courses. These scholarships cover 30%–60% of course fees and can be applied to most online courses in 2018. Browse our course catalogue and contact us at admissions@diplomacy.edu for further information. You can also sign up for our courses mailing list to be informed about upcoming courses.

Capacity building on Internet Governance in Lebanon
From 19 to 20 July the Maharat Foundation provided a capacity building session on Internet Governance (IG) in co-operation with DiploFoundation. The training covered a wide range of issues, from infrastructure to emerging topics, such as big data and artificial intelligence. Human Rights aspects were particular highlighted. The initiative was also considered as a step towards building a wider community supporting IG issues in Lebanon, and served as a preparatory activity to the upcoming national Internet Governance Forum. The capacity building was supported by the Embassy of the Netherlands in Lebanon.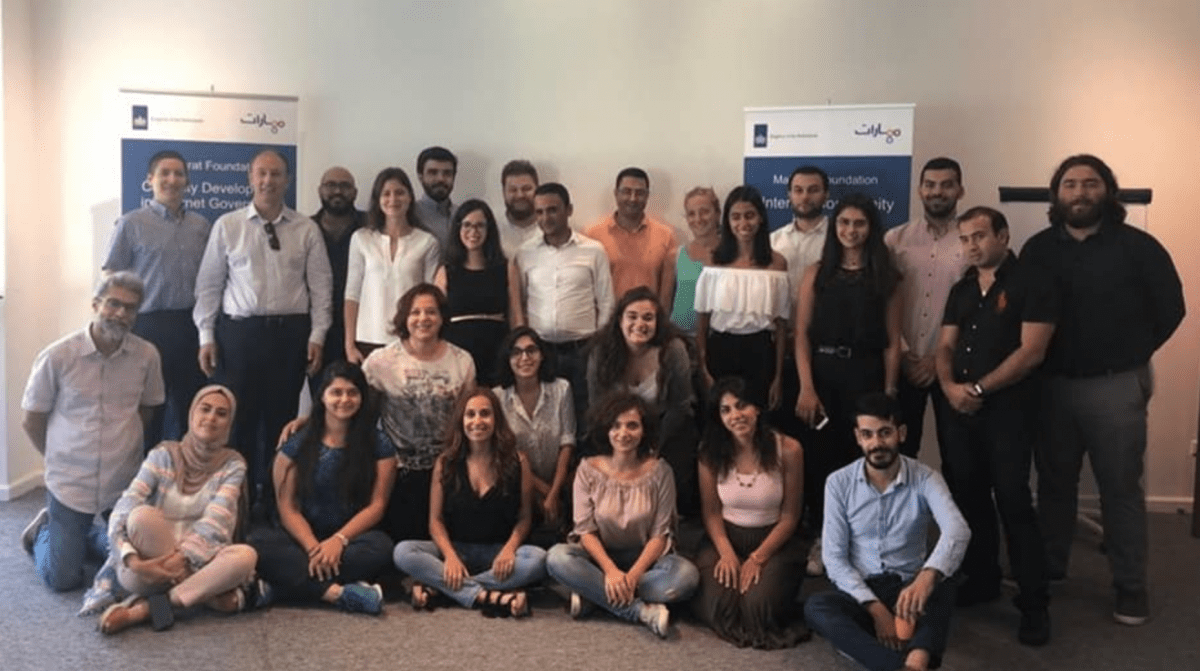 High-level Political Forum on Sustainable Development
The High-level Political Forum on Sustainable Development (HLPF) 2018 took place 9–18 July at the UN Headquarters in New York, focusing on the theme 'Transformation towards sustainable and resilient societies'. The HLPF meets annually to discuss the follow-up and review of the 2030 Agenda for Sustainable Development and its sustainable development goals (SDGs).
The HLPF increasingly addresses issues related to data and digital technology. In particular, the forum provides a venue to explore new sources of data and data capacity needs for monitoring progress towards the SDGs. In addition, digital technology provides new opportunities for the achievement of the goals, although its potential adverse effects on society could generate challenges for sustainable development. DiploFoundation and the Geneva Internet Platform were present at the HLPF to report from a selection of sessions and side events related to data and digital technology. Read the reports on the GIP Digital Watch observatory website.
Workshop for AU Member States on Cyber-Strategy, Cyber-Legislation, and Setting Up CERTs
The Workshop for African Union Member States on Cyber-Strategy, Cyber-Legislation, and Setting Up CERTs took place in Addis Ababa, Ethiopia on 23 July 2018. The aim of the workshop was to provide African experts with the appropriate cybersecurity knowledge to prepare and adopt national cybersecurity strategies and cyber-legislation, as well as identify the requirements for setting up and managing national computer emergency/incident response teams (CERTs/CIRTs).
The event brought together one hundred and thirty experts and government officials from forty African countries, as well as representatives from regionals economic communities (RECs) and international specialised organisations and partners dealing with cyber security.
DiploFoundation's Vladimir Radunovic attended the workshop in the capacity of expert lecturer on global cybersecurity trends, challenges, strategic responses, and international co-operation.
What's been happening in Diplo's blogsphere?
In our new guest blog, Diplomats and 'immunity' from the sending state, Alan Franklin discusses an often overlooked topic. He argues that 'we often discuss the issue of immunity of diplomats and consular officers from the jurisdiction of the receiving state. Rarely is the reverse considered; diplomats may sometimes require protection from their sending state.' Two new blog posts by Barbara Rosen Jacobson summarise her insights from attending this year's High-Level Political Forum on Sustainable Development (HLPF) in New York, which looked at ways to reach the sustainable development goals (SDGs). In Data-driven discussions at the 2018 High-Level Political Forum on Sustainable Development, she outlines the discussions about the importance of data for both monitoring and implementing the SDGs. In Digital technology for the sustainable development goals, she describes how this year's discussions have highlighted technology as a driver towards achieving the SDGs, but also as a cause of social and economic disruptions with negative consequences.

Subscribe to Diplo's News