DiploNews – Issue 307 – 1 September 2016
Upcoming study opportunities
Last few places available – Education Diplomacy Online Course
Don't miss the chance to attend the second session of the online course in Education Diplomacy, offered by Diplo and the Center for Education Diplomacy. Education and development are rapidly being shaped by the influence of new actors, international policy, funding structures, and the proliferation of initiatives. This interactive online course presents the concept of Education Diplomacy in depth, considers the broader impact it may have on education, and allows participants to become more effective and responsive to the dynamic landscape of education. The next course starts on 26 September 2016 and there are just a few places left. Partial scholarships are available for selected candidates from developing countries who are active in the field of Education Diplomacy. For more details and to apply, visit the course webpage or contact admissions@diplomacy.edu
2017 Master/Postgraduate Diploma in Contemporary Diplomacy
Diplo is accepting applications for the 2017 Master/Postgraduate Diploma in Contemporary Diplomacy, and the Master/Postgraduate Diploma in Contemporary Diplomacy with an Internet Governance specialisation. These unique postgraduate programmes, offered in cooperation with the University of Malta, include a 10-day residential workshop in Malta followed by 16–20 months of online learning. Visit the Master in Contemporary Diplomacy webpage to read more and to apply. Scholarships covering 20–50% of the Postgraduate Diploma fee are available for applicants from small and developing states. The programme starts 1 February 2017. The application deadline is 1 October 2016 for international applicants and 15 November 2016 for Maltese applicants.
Application deadline extended – Autumn online courses
Diplo offers a wide range of exciting online courses this autumn, starting the week of 3 October.
Apply by 15 September 2016 for Diplo certificate courses. For further information or to apply, click on the titles of the courses above, or visit our courses webpage. Register now to reserve your place.
Malta scholarships
Thanks to support from the government of Malta, partial scholarships are available for applicants from developing countries to attend upcoming Diplo online courses. These scholarships cover 50-70% of course fees and can be applied to any online course in 2016. Browse our course catalogue and contact us at admissions@diplomacy.edu for further information.
Career opportunity at Diplo: full-time Drupal developer
Diplo is recruiting an experienced Drupal developer with the following skills: advanced knowledge of Drupal, including content types and architecture; advanced knowledge of CSS; basic understanding of Javascript and PHP programming. The position full-time for one year, with the possibility of renewal. The candidate must be willing to work in a dynamic setting with an international team based either in Diplo's Belgrade office or in its Malta office. Applicants are asked to include references, with links, for Drupal projects they have undertaken. Applications should be sent to hr@diplomacy.edu by 16 September 2016. Please share this announcement with potential candidates.
WebDebate: Why and how to teach negotiations
Our September WebDebate next week will focus on the questions of why and how to teach negotiations. Some would argue that negotiation skills cannot be taught and are only acquired through practice. While it is true that any skill is honed through deliberative practice, Prof. Raymond Saner and Prof. Paul Meerts, the guests of our September WebDebate, will argue that teaching negotiations is not only possible but absolutely crucial. The WebDebate will be moderated by Diplo director Dr Jovan Kurbalija. Join us for our next WebDebate on Tuesday, 6th September at 11:00 UTC (13.00 CEST). Learn more and register to reserve your place.
Internet governance in July and August: Issue 13 of the Geneva Digital Watch newsletter is out!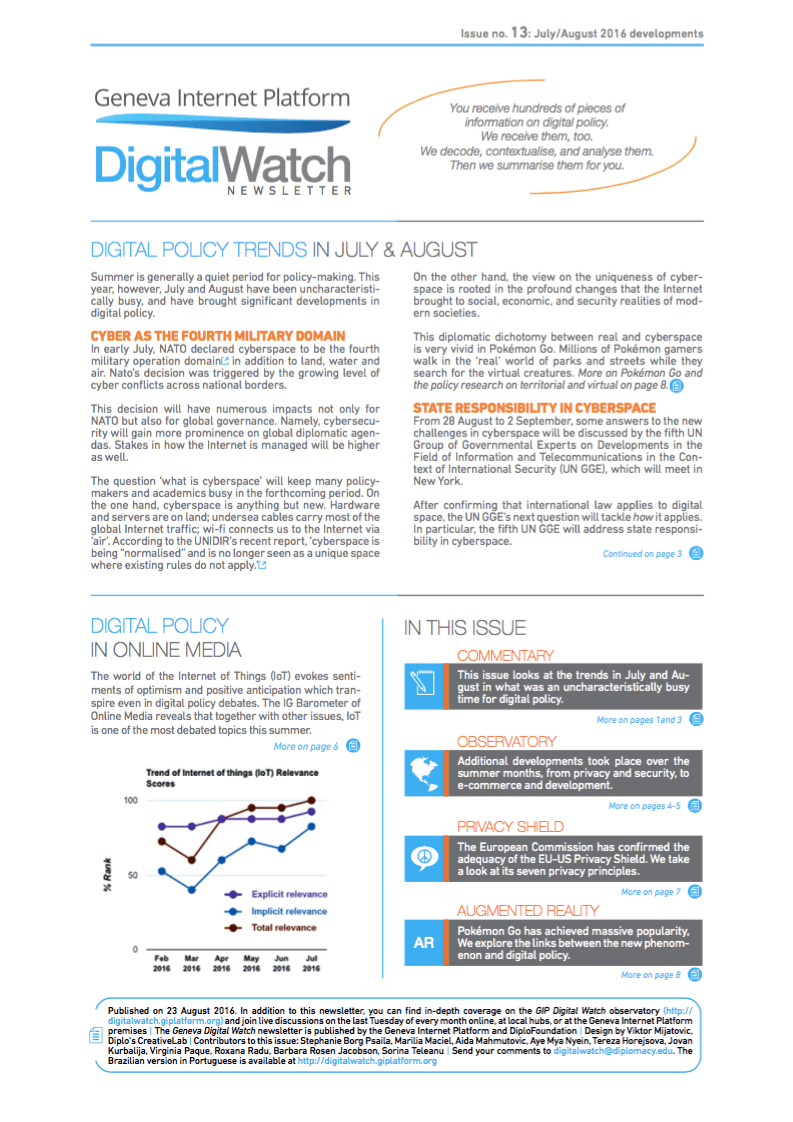 The summer months were uncharacteristically busy. NATO declared cyber to be the fourth military domain, while the EU-US Privacy Shield was approved. E-commerce is gaining momentum, while the Internet remains at the centre of security threats. The digital policy developments and trends were analysed during the August briefing on Internet governance last Tuesday. If you missed it, view the recording and download the IG Barometer. Registrations for the September briefing are now open.
The summer developments were also the subject of Issue 13 of the Geneva Digital Watch newsletter. In addition to the main trends and a round-up of recent developments, the newsletter looks at the EU-US Privacy Shield in detail, the link between augmented reality and Internet governance, and digital policy debates in online media. Download your copy.
Pokémon Go: Digital policy in the age of augmented reality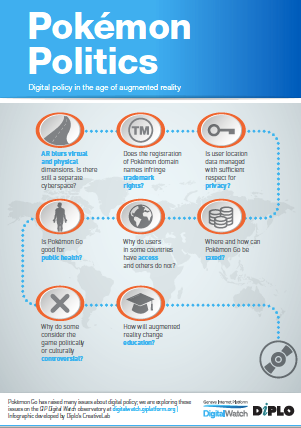 Millions of people are searching for Pokémon worldwide. While Pokémon Go is a fun activity for many people, there are important social, economic, and political dynamics to discover that go beyond the actual game. Is there still a separate cyberspace? How will augmented reality change education? Why is the app accessible in some countries but not in others? What are the security implications? Read the analysis on the GIP Digital Watch observatory of the rising phenomenon of augmented reality and the wider impacts of Pokémon Go on Internet governance issues and overall digital developments. The analysis includes an infographic and an interactive map showing the countries which have adopted or banned the game, and the countries in which the game is controversial
Join us also for a webinar discussion on Pokémon Politics: Digital Policy in the Age of Augmented Reality, on Thursday, 15th September at 10:30 UTC. Fill in the form to join.
What's been happening in Diplo's blogsphere
Diplo's director Dr Jovan Kurbalija looks at Digital diplomacy in three graphs. He uses and combines Gartner's hype cycle and Roger's diffusion of innovations bell curve to argue that it should be possible to take a shortcut to the plateau of productivity in digital diplomacy. Prof. Milan Jazbec, who teaches diplomacy at the University of Ljubiljana and was the Slovene Ambassador to Turkey (2010–2015), contributed two blog posts. In What is sociology of diplomacy? he fleshes out details of the sociology of diplomacy as an emerging subject of study and in Negotiation training he outlines the content of negotiation training. In particular, he emphasises the importance of and the need to strike a balance between expecting the rules of the interaction and improvisation.
New publication: 50 Years of Malta's Foreign Policy (1964-2014)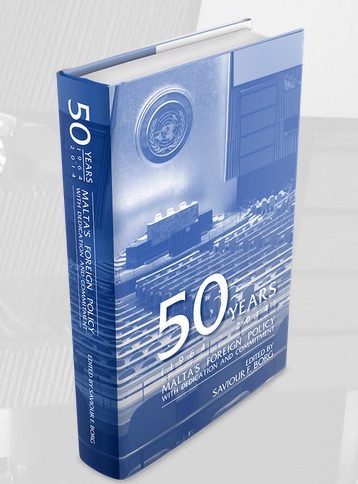 The book 50 Years of Malta's Foreign Policy (1964-2014) is a new publication edited by Diplo board member Ambassador Saviour F. Borg, which gathers speeches delivered by Malta's Prime Ministers, Ministers, and Representatives in the General Debate of successive sessions of the United Nations General Assembly over a period of 50 years. Composed of all the representatives of the 193 member states of the United Nations, each country with one vote, the General Assembly presents a unique forum for multilateral deliberations overseeing and reviewing issues of relevance and concern to the international community. The aim of the book is to serve as a tribute to and a legacy of the dedication and commitment of all those who contributed to Malta's foreign policy in the first 50 years of its membership of the United Nations.
Subscribe to Diplo's News