Webinar summary: Information gathering in the post-Snowden era
Published on 09 December 2013
Updated on 07 August 2022
This webinar tackled the question of information gathering on the Internet, and the impact of Edward Snowden's revelations on same.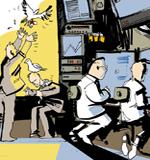 Bearing in mind the most common tools in gathering information for diplomats, such as public press conferences and diplomatic briefings,nowadays we must also add social media coverage (blogs, Twitter, and other sharing platforms) as a valuable channel.
The latest negotiations conducted at global level (Myanmar, Kosovo/Serbia, Iran/USA) were conducted in closed rooms; there were no tweets from the conference rooms, and the interplay between formal and informal negotiations was balanced. The negotiators had a need to filter the access of public to the conference rooms. This brings to light something we can call 'translucent diplomacy'. It is not transparent; while people outside the conference room are aware something is happening, there are no details available. As an example, our presenter Dr Jovan Kurbalija, pointed to the recent Iran – USA negotiations over the nuclear programme. 
In a cloud of information that is getting bigger every day, how can a diplomat distinguish useful tweets from useless ones? This is a main challenge in the information age: how to find the information that is relevant for a particular cause. Keeping in mind the five main competences in the online world (curation, communication, collaboration, creation, and critique) we ocus on the first: curation. It all starts with  finding the information, through Internet searches, Wikipedia, Google score, and e-resources. Finding the information is way easier that it was just decades ago, but the most challenging thing now is to filter the information's relevance.  RSS feeds from a reliable source can form a stream of information (several channels) from which we can evaluate the data and extract what we need.  
While discussing information gathering we should be aware of a few important aspects. First are the so-called filter bubbles. Once we access information, it is no longer neutral and objective, but rather adjusted to our profile (Internet companies create online profiles for us, mostly for commercial reasons). Therefore, if you and I both search for a term on the Internet there will be some commonality but the searches will be adjusted to our personal preferences.  This search bias can lead to wrong information and narrows our quest.
The second part of the webinar shed some light on information gathering in what we call  the post-Snowden era.  In recent years, the amount of information that diplomats can gather through the public has increased. So why are Snowden's revelations important from a diplomatic perspective? Dr Kurbalija pointed to three particular cases: surveillance of 38 embassies and missions in the USA, surveillance of the G20 meeting, and embassy surveillance in Asia. To explain the impact of this, we move into the area of laws protecting diplomats and diplomatic correspondence by using one of the most solid international treaties: the Vienna Convention on Diplomatic Relations (1961).
The VCDR gives diplomats the right to use 'all lawful means' to collect the information (Article 3). It makes some of the practices revealed by Snowden illegal (e.g.  e-spying by embassies). It provides a high level of protection for diplomats by stressing that the archives and documents of diplomatic missions are 'inviolable at any time and wherever they may be'.  Also, third states are obliged to treat  information in transit in the same way accorded by the receiving state.
It is in the interests of the international community that diplomatic communication is protected. The privacy of correspondence between diplomats and capitals can result in stronger international agreements and deals. When drafted, the VCDR referred to diplomatic couriers and traditional ways of diplomatic communication, but in today's world it has a different connotation. Today we must ask different questions. Can we ask Internet service providers to protect diplomatic documents? Can we ask computer cloud owners to protect diplomats' communication? What is a realistic approach to these issues?
To find out what questions were raised by attendees, watch the whole webinar recording:
Subscribe to Diplo's Blog