Internet Governance in October 2018
Published on 22 November 2018
Updated on 07 August 2022
The continuation of data breaches and a tougher backlash against tech companies, a new push for EU tax on tech giants, and a possible change in applying antitrust rules in order to protect competition per se were among the main digital policy developments in October 2018.
These and many other developments, trends, and regional updates were covered during October's just-in-time briefing on Internet governance – our monthly appointment on the last Tuesday of every month – which took place on 30 October 2018. They were also summarised in the Internet Governance Barometer for October, and in Issue 35 of the Geneva Digital Watch newsletter, published on 6 November 2018.
Dr Stephanie Borg Psaila, interim director at DiploFoundation and editor of the GIP Digital Watch observatory, highlighted some of the events held in October 2018, such as the UN High-Level Panel on Digital Cooperation: Virtual Town Hall Meeting, International Conference of Data Protection and Privacy Commissioners, ICANN (The Internet Corporation for Assigned Names and Numbers) 63 Annual General Meeting, and the UN World Data Forum 2018, from which Geneva Internet Platform rapporteurs reported.
Ms Vera Major, government and intergovernmental organisation (IGO) engagement manager of the ICANN Organisation, gave a brief overview of the ICANN 63 Annual General Meeting where new board members of ICANN took their seats. Some of the subjects discussed were the General Data Protection Regulation (GDPR) and WHOIS (the system that hosts the information on who is responsible for a domain name or an Internet protocol (IP) address); the new round of generic top-level domain names (gTLDs); IGOs' access to curative rights protections, geographic names; and two-country character codes at the second level.
Next, Dr Borg Psaila spoke about the main digital policy updates in October, including: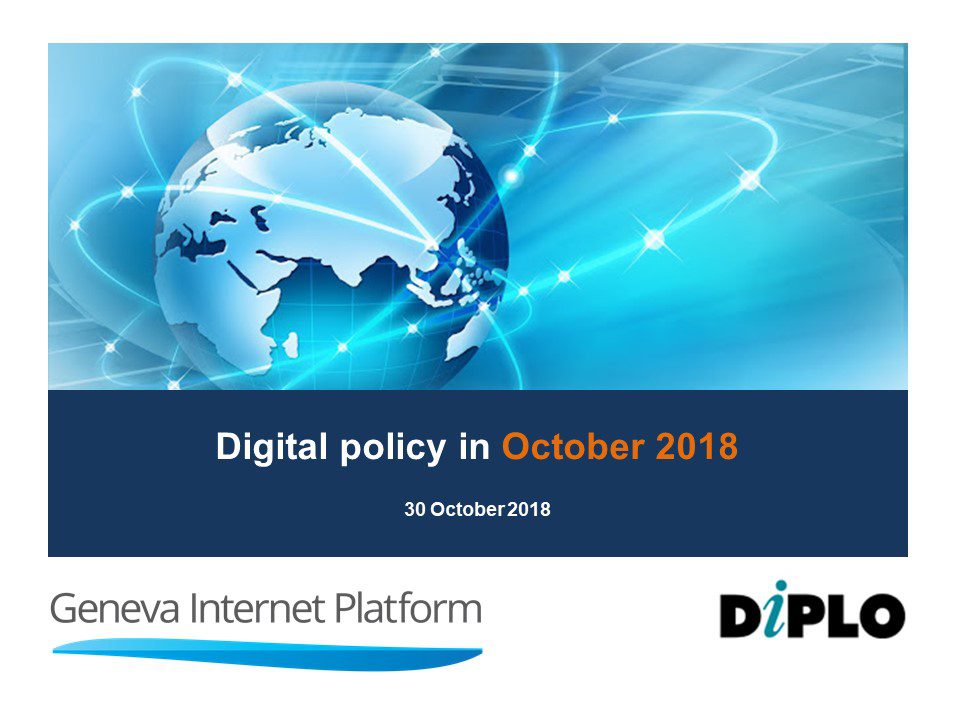 The Facebook hack affecting more than 30 million users;
The World Economic Forum's Global Competitiveness Report 2018 issuing a warning that the competitiveness landscape is being radically altered by the impact of the fourth industrial revolution and digital technology;
Debates on digital tax for Internet companies picking up in Europe;
Representatives of online platforms, social networks, and the advertising industry presenting roadmaps to implement the EU Commission's Code of Practice on Online Disinformation;
Facebook removing 559 pages and 251 accounts of several alternative media pages;
Discussions on the use of blockchain generated voting picking up.
Mr Arvin Kamberi, curator of e-money and virtual currencies at the GIP Digital Watch observatory, explained the shortcomings of blockchain generated voting. The most serious issue is the security of devices: ballot machines, computers, phones. These devices are known to be easily hacked, and can be abused to cast false votes. Another concern is privacy – using blockchain and insufficient encryption can reveal who cast a vote for whom, bringing forth questions of bribery, electoral fraud and other influences. Finally, an Internet-based election process can be undermined by large scale cyber-attacks.
Dr Borg Psaila also gave an overview of top trends in digital policy in October.
A tougher backlash against tech giants. There has been an increased focus on why and how tech giants have been allowed to grow so much, and what can be done to address this. Centralised private power leads to concentration of wealth and a wider gap between the rich and the poor. Since there is no monetary loss for consumers, traditional antitrust and anti-monopoly rules cannot be triggered. A very focused discussion on tackling the dominance of the tech sector via antitrust and anti-monopoly rules is emerging, aiming to change the goals of these rules.
Data breaches continue. A software glitch of the Google+ social network gave third party developers potential access to the private data of 500 000 Google+ profiles between 2015 and March 2018. Facebook revealed it had discovered a security issue affecting 30 million accounts. Misuse of data was strongly criticised by Apple's CEO Tim Cook, who called for tougher rules in the USA similar to the EU's GDPR.
New push for EU tax on digital companies. EU-wide digital tax will be rolled out by 25 December 2018. The tax is specifically aimed at tech giants; those with total annual revenue of €750 million or above, and yearly EU taxable revenue of €50 million or above. In parallel, the Organisation of Economic Co-operation and Development (OECD) is working on a global tax framework. Frustrated by the slow developments at the EU and on the global level, the UK chancellor Philip Hammond said that the UK would 'go at it alone', announcing a new UK digital services tax in its budget. On the other hand, the USA has criticised EU's planned tax, calling it discriminatory.
The next Internet governance briefing is on 27 November. Registrations are open.
Among other topics discussed were the regulations on fake news; the uniqueness of blockchain in enabling e-voting; the possibility of using blockchain for e-voting, and comparing the results of both manual and e-voting to detect election fraud; the potential of blockchain to solve all voting problems; blockchain's compatibility with the GDPR; enhancing Internet governance; and the UK's Code of Practice for Consumer Internet of Things (IoT) Security.
Dr Borg Psaila then spoke about the upcoming events in November, including the International Telecommunications Union (ITU) Plenipotentiary Conference (PP-18) and the 13th Internet Governance Forum (IGF).
Regional perspectives
Amrita Choudhury provided updates from Asia. To counter the fake news, the Indonesian Ministry of Information and Communication issued two press releases for debunking 'hoax news'. The government had also announced that they will be holding weekly briefings on fake news to help the public 'sort through the news'. Apple has submitted a statement to the Australian parliament, criticising the government's proposed Access and Assistance Bill 2018.
Andre Edwards gave an overview of updates from the Caribbean region. The Barbados Stock Exchange (BSE) will join the blockchain revolution by opening up a market for crypto-assets soon. Three Caribbean candidates—Peter Harrison, Alicia Trotman and Kerrie-Ann Richards—have been elected to leadership roles at the American Registry of Internet Numbers (ARIN). Industry stakeholders joined forces for a better digital economy, organising capacity building sessions during the Internet Week Trinidad and Tobago.
Updates from the Middle East and North Africa region were provided by Noha Fathy. The Syrian Telecommunication Regulatory Authority (TRA) declared that the censorship of VoIP services is being examined, as it has adverse effects on the revenues of licensed telecommunication companies. ARTICLE 19 published its 'Tightening the net: The internet in the time of currency crisis' report on the recent Internet policy developments in Iran, which sheds light on major political and economic events that influenced policy decisions vis-à-vis online freedoms and Internet access.
Subscribe to Diplo's Blog