Internet governance in May 2019
Published on 05 June 2019
Updated on 07 August 2022
The continuing controversy around Huawei; the Christchurch call aiming to eliminate online violent extremism; and facial recognition technology raising alarms were among the main digital policy trends in May 2019.
These and many other developments, trends, and regional updates were covered during May's just-in-time briefing on Internet governance – our monthly appointment on the last Tuesday of every month – which took place on 28 May 2019. They were also be summarised in the Internet Governance Barometer for May and in Issue 40 of the Geneva Internet Platform (GIP) Digital Watch newsletter.
The briefing was led by Dr Stephanie Borg Psaila, the interim director of DiploFoundation and the GIP. She was joined by DiploFoundation's Director of Cybersecurity and E-diplomacy programmes Vladimir Radunović, DiploFoundation's Digital Policy Senior Researcher Marília Maciel, DiploFoundation's Senior Lecturer, Researcher, and Project Manager Katharina Höne, DiploFoundation's Multimedia Co-ordinator Arvin Kamberi, and GIP Digital Watch curator Sorina Teleanu.
A look back at events in May
Borg Psaila spoke about major Internet governance events in May 2019, including the AI 4 Good Global Summit 2019, the 5th South Eastern European Dialogue on Internet Governance (SEEDIG), the 22nd Session of the Commission on Science and Technology for Development (CSTD), the Christchurch Call Summit, the 72nd World Health Assembly, and the EBU Media Summit 2019. Details and reports can be found at dig.watch/past-events.
Main updates in May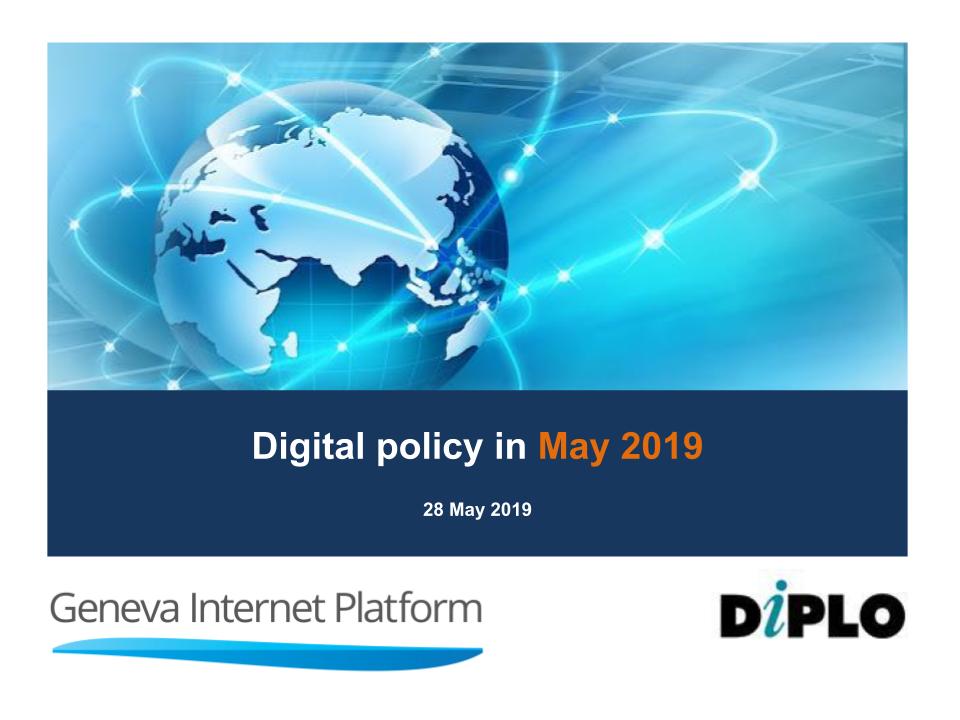 Maciel gave a short summary of economic developments. The Advocate General of the Court of Justice of the European Union (CJEU) issued a legal opinion to the CJEU, affirming that Airbnb is an information society service. Uber drivers protested against Uber's working conditions and pay practices in several cities around the world. In a setback for Uber drivers in the US, the National Labor Relations Board (NLRB) concluded that Uber drivers are independent contractors and not employees.
Kamberi explained Facebook's plans to launch a cryptocurrency for digital payments by 2020.  Dubbed as the 'GlobalCoin', the system is envisaged to provide a secure and affordable payment system even to the unbanked.
Borg Psaila outlined developments concerning digital rights. EU Commissioner Jourova demanded that EU member states respect the 'spirit of the GDPR' on its first anniversary.  The latest major tech company under investigation by the Irish Data Protection Commission (IDPC) for breaching GDPR is Quantcast, the IDPC is currently investigating 18 cases.
Teleanu explained that the ICANN board of directors have resolved to approve the .amazon gTLD application, a decision criticised by presidents of Peru, Colombia, Ecuador, and Bolivia.
Teleanu also gave an in-depth overview of two sets of recommendations by the UN Educational, Scientific and Cultural Organization (UNESCO) and the Organisation for Economic Co-operation and Development (OECD) addressing artificial intelligence (AI). UNESCO issued recommendations to address gender bias in AI applications, while the OECD Council adopted AI recommendations for the responsible stewardship of trustworthy AI.
Main policy trends in May
The controversy around Huawei continues, Radunović explained. US President Donald Trump issued an executive order banning 'any acquisition, importation, transfer, installation, dealing in, or use' of technologies by persons under US jurisdiction, where the transaction involves 'persons owned by, controlled by, or subject to the jurisdiction of direction of a foreign adversary' and poses risks to US security; which affects Huawei. The order prohibits the export of American technology (including IP), unless the Department of Commerce (DoC) issues a special license. Shortly after, Google revoked Huawei's license to use the proprietary Android operating system (OS) on its devices. Reportedly, chip producers Intel, Qualcomm, and Broadcom are also revoking Huawei's licenses. Currently, Huawei uses server chips from Intel; processors, and modems from Qualcomm; and switching chips from Broadcom. While these developments might not cause Huawei much damage short-term, there will be noticeable damage medium-term, as the company would have to dedicate more time and resources to develop their own OS and products. However, if Huawei takes the lead with its own know-how in the chip industry, this might even turn into a win for the company.
Borg Psaila outlined the launch of the Christchurch call by the Prime Minister of New Zealand and the President of France in order to eliminate terrorist, violent, and extremist content online. The call, which was supported by 18 countries and many tech companies, turns attention from solely Facebook, Google, and Twitter to a wider set of online service providers. As online service providers are within the reach of national jurisdictions, governments may be able to directly order companies to remove illegal content. The call makes reference to long-term solutions, such as education, media literacy, and research into new technical solutions. There are, however, several issues which still need to be tackled – defining 'violent extremism', the use of AI and tech solutions, and the time frame in which illegal content should be removed. Besides the Christchurch call, Canada's new Digital Charter also tackles online hate speech and violent extremism.
Facial recognition technology (FRT) raised alarms, Hone explained. The San Francisco Board of Supervisors adopted an anti-surveillance ordinance which bans the use of FRT by the police and other city departments because it could lead to biased and discriminatory decisions. In the UK, a citizen who believes his image was captured by the police via street cameras, launched a legal action for infringement of his privacy. Meanwhile, tech companies hold different views on the issue. In December 2018, Google committed to not selling general-purpose FRT before addressing 'important technology and policy questions.' Microsoft recently reiterated an earlier call for legislation governing the use of FRT. However, Amazon shareholders rejected two proposals requiring the company not to sell FRT to governmental entities.
Upcoming events in June
Borg Psaila outlined upcoming events in June, including the launch of the Report of the UN High-level Panel on Digital Cooperation in New York on 10 June and in Geneva on 17 June, EuroDIG 2019, ICANN65, the 108th Session of the International Labour Conference, and Africa Internet Summit 2019.
Updates from GIP & DiploFoundation
The next Internet governance briefing is on 25 June. Registrations are open.
Borg Psaila gave an overview of the upcoming activities of the GIP and DiploFoundation, which included the May 2019 newsletter, an expert discussion on the UN High-level Panel on Digital Cooperation's report, the June edition of the monthly briefing on digital policy, and a six-month review of digital policy issues in 2019 for Geneva-based practitioners.
Regional developments
Wanda Perez provided updates from the Caribbean countries. BITT and eGA signed a historic memorandum of understanding (MoU) to benefit countries across the Caribbean in e-governance. The World Bank's Caribbean Regional Communications Infrastructure Program (CARCIP) will boost broadband access in the Caribbean.
Shita Laksmi highlighted the developments from Asia. Singapore adopted a new Protection from Online Falsehoods and Anti Manipulation Bill. Indonesia has introduced curbs on social media to prevent the spread of hoaxes and calls for violent post-election attacks, and two days of protests in the capital.
Foncham Denis Doh gave updates from Africa. A Nigerian ICT expert developed an AI platform capable of translating 2000 African languages. The government of Rwanda will regulate social media content to stop misinformation. Teraco's Africa cloud exchange offers direct connection to cloud services in Africa.
Hanane Boujemi provided updates from the MENA region.  Telehealth solutions powered by AI are being rolled out in Saudi Arabia. Saudi Arabia and the United Arab Emirates (UAE) are rolling out 5G technology. Amazon.ae has been launched in the UAE.
Subscribe to Diplo's Blog