Roma rights activists and the political establishment: Communication problems and barriers
Open communication and interaction between political elites and civic society is considered one of the fundamental conditions of a representative, working democracy. Theoretically, this communication ensures that individuals are treated equally, regardless of their race, creed, gender or ethnic origins. This paper examines the existing situation and some of the problems of communication between professional diplomats or politicians on the one side and Roma rights activists on the other.
Resource type
Author
Year
File
Academic papers
Valeriu Nicolae
2004
Related Resources
10 Aug, 2007
Roma Diplomacy is a collection of papers written or inspired through Diplo's 2005/2006 Roma Diplomacy project. ... Read more...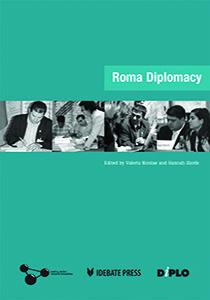 19 Apr, 2006
In his dissertation Valeriu Nicolae takes the position that conventional diplomacy needs not only reform, but also the development of efficient approaches towards the prevention and negotiation of interstate/intrastate ethnic conflict. He proposes that a European Roma ... Read more...