UN General Assembly 76th Session: Analysis of high-level statements
In our just-in-time reporting from the 76th UNGA, you can find:
Who said what. We're looking at each country's digital priorities

in terms of AI, data, cybersecurity, online inclusion, the governance of digital public goods and commons, and more. We're using

our taxonomy of 50+ policy issues, to make it easy for you to track the subjects of interest

. 

Our Common Agenda.

We're also expecting countries to react to the UN Secretary-General's report, Our Common Agenda. Published in September 2021, the report sets out priorities and future activities on pressing global issues such as health, climate change, and security. It also deals with emerging questions related to the rights of future generations and the need for a new social contract for digital and other developments ahead of us.

You'll be able to follow how countries respond to the UN Secretary-General's report in terms of priorities and their proposals for concrete actions

.
Stay up to date!
Subscribe to DiploNews and stay up to date with upcoming events, new publications and research, and Diplo courses and training.
27 September: Linked destinies
By reminding us of the extent to which our destinies are linked – for better and for worse – the pandemic crisis has reminded us of the value of what has united us at this organization for over 75 years. The will to cooperate, the primacy of law over force, unconditional respect for the human person: the principles of our Charter have not lost any of their meaning. In fact, quite the opposite. Today's crises and challenges have made them even more essential. Our security, our health and our planet are now common goods, which together we must strive to preserve. This imperative is not abstract, it is not an ideal. It is, in very concrete terms, the perspective of each of our choices. And just as definitively, it is our punishment each time we are divided, each time we give up, each time we are powerless. Because in a world of exchanges and interdependencies, a world with environmental emergencies, a world facing worrying attitudes of brutalization and the constant temptation of unilateralism, everything that we do together – and conversely, everything that we fail to do – involves us all. We must be aware of this and learn lessons from it. Together.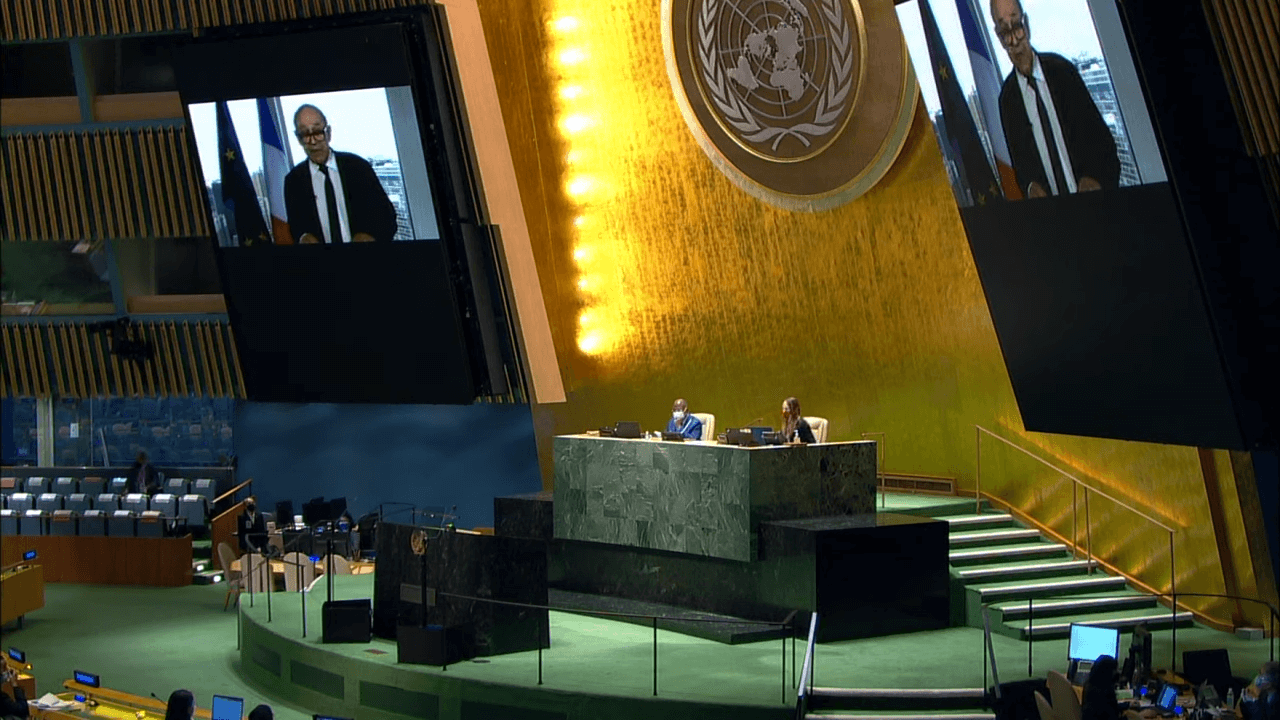 Jean-Yves Le Drian, French Minister for Europe and Foreign Affairs, addresses the general debate of the 76th UNGA on 27 September 2021. (Credit: UN Photo/Loey Felipe)
Jean-Yves Le Drian, French Minister for Europe and Foreign Affairs, strongly called for a promotion of a multilateral order in his speech adding that 'the very meaning and credibility of multilateralism is at stake'.
'Our Common Agenda'
The latest call to reinvigorate multilateralism, the Secretary-General's 'Our Common Agenda' received 3 votes of confidence on 27 September. Nepal expressed support for the report's focus accelerating the implementation of existing commitments. Tunisia stressed its readiness to actively engage with everyone to implement the agenda. Timor-Leste revealed it has contributed a sum of $US50,000 to support the Secretary-General's efforts.
Digital issues
Cyberconflict
Belarus noted that 'The negative dynamics in the field of global security are growing steadily, including due to hybrid wars'. The country also expressed its belief that a hybrid war is being waged against Belarus from all directions, including the accusations against Belarus waging a hybrid war against the EU. Iceland highlighted how the complexity of modern conflicts has grown with the appearance of cyberthreats and disinformation.
Cybercrime
Cameroon defined cybercrime as one of the scourges plaguing humanity, Niger as one of the challenges of the 21st century, while Côte d'Ivoire named it a transnational threat.
Violent extremism 
France invited international partners to 'establish a new digital public order in the wake of the Paris Call and the Christchurch Call to Action, which, since 2019, has enabled us to take decisive action to remove terrorist content from the Internet'. Belarus also highlighted the 'malicious and criminal use of modern information technologies that fuel extremism and terrorism'.
Fake news 
Israel spoke about the role of fake news in political polarisation, stating that 'In a polarized world, where algorithms fuel our anger, people on the right and on the left operate in two separate realities, each in their own social media bubble, they hear only the voices that confirm what they already believe in. People end up hating each other. Societies – get torn apart'. Canada noted that the spread of systematic misinformation and propaganda on social media and the internet shone light on the risks and dangers of the digital revolution. Cameroon mentioned social media misuse as one of the scourges plaguing humanity. Belarus made a reference to information fakes. 
Sustainable development
Oman stressed that global partnerships in scientific and technological progress are needed to maximise the use of advanced technologies and keep pace with them, as part of the sustainable development goals.
Digital divide
Guinea noted that the COVID-19 pandemic demonstrated the world's dependence on technology and digital connectivity. However, many still lack access to the internet, which increases inequalities and 'compromises the resilience of the most vulnerable and requires urgent measures', including the construction of digital infrastructures. Canada only acknowledged the topic: 'we know there is a digital divide'. Nepal also emphasised the importance of connectivity.
Digital taxation
According to France, introduction of a minimum universal 15% tax for multinational companies will help regulate 'increasingly irresponsible behaviours' online. France called on all countries to support this measure, and encouraged its international partners to adopt actual legislation on digital markets like France and its European partners.
Digital economy 
Trinidad and Tobago noted that their newly established Ministry of Digital Transformation is leading efforts to create a competitive digitally-driven economy. They also highlighted that the misuse of digital technology can pose serious threats to economies and societies, and appropriate mechanisms must be developed to minimise its use as a disruptive tool.
25 September: Vaccine apartheid and climate failure
24 September: Has the needle moved?
23 September: Technology to the rescue?
22 September: A time machine at East River
21 September: The UN Secretary-General's passionate plea for the future
Diplo's map of hybrid diplomacy
We bring you the map of hybrid diplomacy, i.e, we mapped out which countries delivered their statements from the Great Hall in New York and which have sent in pre-recorded videos online so far. You can click on the image below to access the interactive version!
Diplo's analysis of UNGA statements of the past five years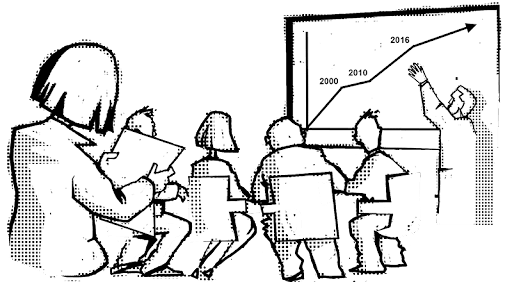 The past few years have shown how digital policy issues have become a staple in world leaders' speeches delivered during the General Debate of the UNGA. 
Dive into our past analysis to connect the dots and observe emergent trends.
UNGA 75 (2020): Full analysis, newsletter article, blog, event recording, raw data
UNGA 74 (2019): Full analysis, newsletter article, blog, raw data
UNGA 73 (2018): Full analysis, raw data
UNGA 72 (2017): Full analysis, newsletter article, raw data