People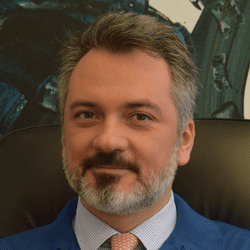 Ljupčo Jivan Gjorgjinski
Senior Fellow for Science and Technology Diplomacy, Diplo
Ljupčo Gjorgjinski is a Senior Fellow with DiploFoundation, focusing his research on the security and diplomatic aspects of frontier science and technology. The research draws on his practical experience at the highest diplomatic levels on artificial intelligence (AI), biotech, and cyber issues, rooted in the theoretical foundations of International Relations Theory, international economics, and diplomatic history.
Ljupčo chaired the 2019 UN Group of Governmental Experts (GGE) on lethal autonomous weapons systems (LAWS), formed under the Convention on Certain Conventional Weapons (CCW). The GGE, under his leadership, adopted a Report that is still the most advanced international normative document to focus on AI, with important context to the document given in his Chair's Summary.
In 2018, Ljupčo chaired the Meeting of States Parties (MSP) to the Biological and Toxin Weapons Convention (BTWC). He resolved a complex financial situation that threatened not only to cancel that year's meeting, but also the long-term financial viability of the Convention. He wrote, as Chair, an Information Paper on the financial predictability and sustainability of the BTWC and, based on that paper, proposed a set of measures, most of which were adopted by the MSP. These measures are broadly considered as decisive in setting this important convention on stable, long-term financial footing.
As a Macedonian diplomat, he was the acting Head of the Permanent Mission of the Republic of North Macedonia to the UN Office and other International Organisations in Geneva (2016–2019); Assistant Director of the Cabinet of the Foreign Minister responsible for strategic communication; and, Assistant Head of the United Nations and Human Rights Sector in the Directorate for Multilateral Relations and Security Cooperation.
Before entering the Ministry of Foreign Affairs, he worked for the UN Development Programme (UNDP) where he managed the joint Macedonian Government–UNDP Policy Support Unit and produced a number of influential reports, development plans, and studies.
He was Executive Director of the Foundation of the first Macedonian president, Kiro Gligorov, and advised the second president, Boris Trajkovski, on information society policy, including the preparation of all Macedonian positions for the World Summit on the Information Society (WSIS) held in Geneva in 2003.
Ljupčo has degrees from the University of Toronto (Hon. BA.), the University of Malta (MA), and the Fletcher School of Law and Diplomacy (GMAP).