DiploNews – Issue 394 – 4 May 2020
Upcoming study opportunities
Summer diplomacy courses
Applications for our next course sessions on diplomacy and Internet technology, starting on 20 July, are now open:
Apply by 18 May for University of Malta accredited courses and by 15 June for Diplo certificate courses. For further information or to apply, click on the titles of the courses listed, or visit our courses webpage.
Need financial assistance? Scholarships are available
Thanks to support from the government of Malta, partial scholarships are available for applicants from developing countries to attend upcoming Diplo online courses. These scholarships cover 30%-60% of course fees and can be applied to most online courses in 2020. Browse our course catalogue and contact us at admissions@diplomacy.edu for further information. You can also sign up for our courses mailing list to be informed about upcoming courses.
Upcoming events
[WebDebate] The UN response to COVID-19: Contributions, challenges, and lessons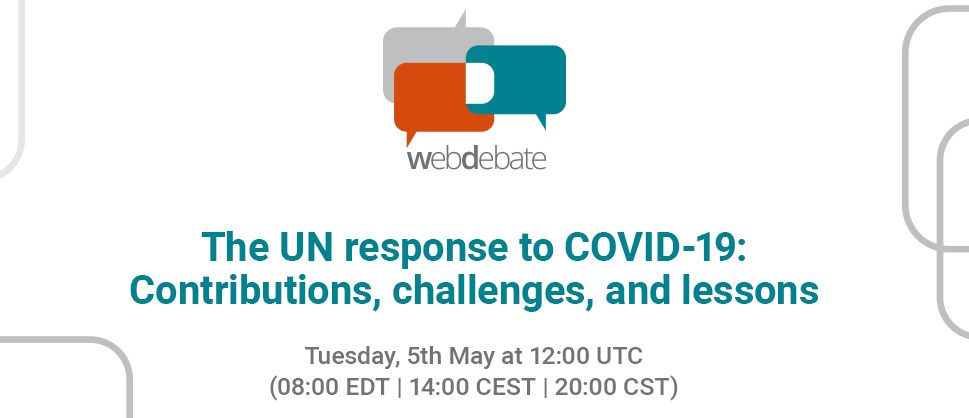 As this year marks the 75th anniversary of the UN, we explore the specific contributions of UN agencies and programmes in response to the global pandemic. On the one hand, we unpack how specific UN entities have reacted and are making contributions in the field. On the other, we take a critical look at what has been accomplished so far and the limits of what UN agencies can contribute.
Join us on Tuesday, 5th May at 12:00 UTC (08:00 EDT | 14:00 CEST | 20:00 CST). Register for the event.
Contact tracing and challenges to privacy – Right On Web Chat

The current global health crisis brings interesting dilemmas and tough choices for governments, individuals, and society. Many agree that using technology for the tracking of infections and their routes is an essential piece of information – not only to understand the virus, but also to protect the population and control the pandemic. On the other hand, human rights, privacy, as well as our comfort may be challenged with massive surveillance of this kind. What if the data gets leaked? What if the data is used for other purposes? Will this surveillance stay in place forever or is it just temporary? Is it legal? What should the safeguards be?
Join us on Wednesday, 6th May at 13:00 UTC (15:00 CEST). Register for the event.
Technology at the service of global health crises: Threats and opportunities
This SciTech DiploHub event has been rescheduled and will take place on Monday, 11th May at 18:00 CEST/16:00 UTC, online. DiploFoundation's Dr Katharina Höne will be taking part in this event which will explore the role of international cooperation during the current crisis; the European response to COVID-19; the impact on cities, in particular Barcelona, in global mitigation efforts; the responses to pandemics in Ibero-America; and the threats and opportunities of new technologies.
Recent online events: Our main takeaways
Democracy and rule of law in crisis? – Right On Web Chat
While the question of democracy and the rule of law in crisis has been around for quite some time, the misuse of personal data, the surge in fake news, extensive surveillance, and human rights violations amid COVID-19 have all further undermined faith in the democratic process and the idea of equality before the law. Access the summary and recording.
COVID-19 and women: The gendered impact of the crisis – Right On Web Chat
As the Coronavirus outbreak continues to unfold, it is becoming clear that the pandemic and the concurrent economic crisis are impacting women differently than men. In this discussion we discussed women's work, domestic violence, a system-wide approach to women's rights, and more. Access the summary and recording.
Effective online learning: Opportunities, limits, and lessons-learned
Since the beginning of the COVID-19 crisis, the majority of higher education institutions in affected countries moved some or all of their teaching online. We spoke to experts and explored key questions around effective online learning. Access the summary and recording.
Internet governance in April 2020 – Briefing
In the latest Internet governance briefing, we provided a round-up of the major global IG and digital policy developments. Access the summary and recording.
From our blogosphere
In her blog First month of COVID-19 in Trinidad and Tobago, Diplo alumni and faculty member Solange Cross Mike presents a case study on how small island states like Trinidad and Tobago are coping with the COVID-19 pandemic.
Autonomous drones can make a substantial contribution during COVID-19. Developments have been nascent, but there is potential for exponential growth. Sebnem Tugce Pala discusses the issue in her blog An assessment of autonomous drones' potential during the COVID-19 pandemic.
World leaders are increasingly using social media. How can they help stop the spread of misinformation and fake news? Alumni member Manyi Arrey Orok-Tambe discusses the issue in Exploring the potential of official/state-owned/institutional social media accounts in the fight against misinformation.
Don't miss…
The eWeek of Online Events: Dialogues, Webinars and Meetings
DiploFoundation's Marilia Maciel (Digital Policy Senior Researcher) was a speaker in UNCTAD's eWeek, for the session Value of cyber security and privacy in digital and e-commerce space.
DiploFoundation and the GIP Digital Watch observatory reported on the digital policy related sessions during UNCTAD's eWeek of Online events. Access the reports.
DiploFoundation on the Global Cyber Expertise Magazine
DiploFoundation's Vladimir Radunovic and Andrijana Gavrilovic were featured in the GFCE's 'Global Cyber Expertise Magazine' with their article 'Capacity building in the UN cyber-deck: The winning card?' Download your copy.
Subscribe to Diplo's News