DiploNews – Issue 348 – 4 June 2018
Upcoming study opportunities
Diploma in Humanitarian Diplomacy
We are now accepting applications for the next session of the online diploma course Humanitarian Diplomacy, offered in co-operation with the International Federation of Red Cross and Red Crescent Societies (IFRC). This highly interactive 13-week course, led by Ambassador Christopher Lamb and a team of experienced practitioners, extends the knowledge base and develops practical skills of current and future practitioners in humanitarian diplomacy and policy. The course familiarises participants with basic definitions, concepts, actors, and institutions in the field of humanitarian diplomacy; introduces international humanitarian law; hones advocacy and negotiation skills; develops participants' research skills; and increases their understanding of national and regional humanitarian diplomacy activities.
 The course is offered in English; however, participants have the option to write and submit major course assignments and the final research paper in French or Spanish.
 The next session starts 10 September 2018 and the application deadline is 30 July 2018. Please visit the course webpage to read more and apply.
Applications open for the 2019 Master/Postgraduate Diploma in Contemporary Diplomacy
Diplo is now accepting applications for the 2019 Master/Postgraduate Diploma in Contemporary Diplomacy, and the Master/Postgraduate Diploma in Contemporary Diplomacy with a specialisation in Internet Governance. These unique postgraduate programmes, offered in co-operation with the University of Malta, include a 10-day residential workshop in Malta followed by 16–20 months of online learning. Visit the Master in Contemporary Diplomacy webpage to read more. Scholarships covering 20%–50% of the Postgraduate Diploma fee are available for applicants from small and developing states. The programme starts on 4 February 2019. The application deadline is 15 October 2018 for international applicants, and 15 November 2018 for Maltese applicants.
Summer online diplomacy courses
Is summer a quiet time in your office? Then it's the perfect opportunity to take an online course. Have a look at our courses on diplomacy and Internet technology that start on 23 July:
Apply by 18 June for Diplo certificate courses. For further information or to apply, click on the titles of the courses listed, or visit our courses webpage. Register now to reserve your place.
Malta scholarships
Thanks to support from the government of Malta, partial scholarships are available for applicants from developing countries to attend upcoming Diplo online courses. These scholarships cover 30%–60% of course fees and can be applied to most online courses in 2018. Browse our course catalogue and contact us at admissions@diplomacy.edu for further information. You can also sign up for our courses mailing list to be informed about upcoming courses.

Modern Diplomacy in Cartoons
We are pleased to share an e-publication featuring a selection of cartoons on Bilateral Diplomacy created in 2004 by Diplo faculty member and senior fellow Ambassador Kishan Rana and the artist Marceta, assisted by Vladimir Maric. You can enjoy the e-book online or download the PDF file.
[WebDebate] Algorithmic diplomacy: Better geopolitical analysis? Concerns about human rights?
Algorithmic diplomacy is a term that reverberates around the corridors of diplomatic institutions. While its meaning is not entirely clear, there is a sense that something important is at stake and that reflections and measured responses are urgently needed. This WebDebate will look at algorithmic diplomacy in the context of geopolitical analysis and diplomatic decision-making on the one hand, and implications of the use algorithms for human rights on the other. We will also look at the potential of algorithms for creating and reinforcing online echo chambers, and the implications for foreign policy analysis, as well as human rights and democratic values.
Our speakers, Mr Shaun Riordan and Mr Lee Hibbard, will draw on their personal experience in diplomacy, digital diplomacy, human rights, and Internet governance to give us a debate that is forward looking, but also adds the necessary amount of critical reflection.
Join us on Tuesday, 5th June 2018, at 11:00 UTC (13:00 CEST). Register to reserve your place.
May newsletter: The latest developments and trends in digital policy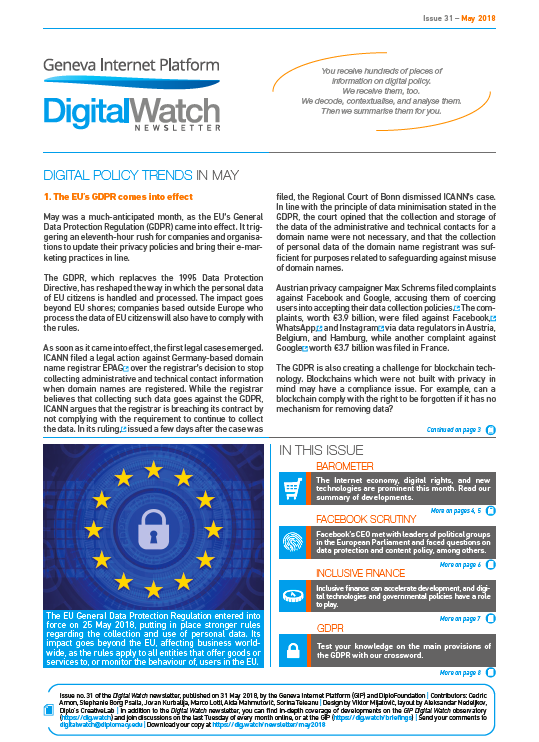 Published on 31 May, issue 31 of the Geneva Digital Watch newsletter provides the latest digital policy updates which took place in May. The main highlights include:
An overview of the top digital policy trends in May, including the EU General Data Protection Regulation (GDPR) coming into effect, triggering an eleventh-hour rush for companies and organisations to update their privacy policies; the scrutiny of Facebook practices continuing, as CEO Mark Zuckerberg met with members of the European Parliament; and artificial intelligence developments being prominent again.
An overview of the main points that Facebook's CEO touched on during his meeting with leaders of the political groups in the European Parliament. Among them: the use of AI to fight inappropriate content; a roadmap for addressing fake news; preventing future use of the platform for interfering with elections; competition and taxation; and platform neutrality.
A look at inclusive finance and its digital policy implications. There is a growing interest in inclusive finance as a way to accelerate development, and digital technologies combined with adequate enabling policies provide the means for this to happen.
A crossword to test your knowledge on some of the main provisions of the EU GDPR.
The Internet Governance Barometer for May, which shows the Internet economy, digital rights, and new technologies being among the most prominent issues this month.
A review of the main digital-policy-related events that were held in International Geneva during the past month.
What's been happning in Diplo's blogsphere
In Building (diplomatic) bridges by teaching literature, Atef Ahmed investigates possibilities for using 'global literature to teach cultural and moral sensitivity and a global understanding of peace and wars'. He finds that the use of Arab and Jewish literature by teachers in the formation of attitudes is still vague and makes suggestions on how to make stronger use of literature in building diplomatic bridges in this particular context. Diplo's Arvin Kamberi looks at Strategies of small states for adopting crypto industry. Using examples from Belarus, Belize, Bermuda, Georgia, and Malta, he identifies four strategies: friendly jurisdiction, ICO regulation, providing resources for the crypto industry, and focusing on enabling payment process.
Subscribe to Diplo's News