People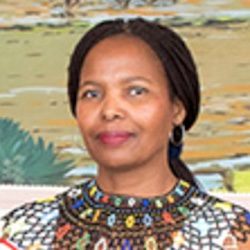 Maud Vuyelwa Dlomo
Deputy Director-General, Department of International Relations and Cooperation, South Africa
Ambassador Maud Vuyelwa Dlomo was appointed as South Africa's ambassador to Madagascar in 2016. Prior to this position, she was appointed as Deputy Director-General, Diplomatic Training, Research and Development at South Africa's Department of International Relations and Cooperation (DIRCO) in August 2008.
Among her qualifications are Master's degrees in Arts and Diplomatic Studies from Wits University and the University of Pretoria respectively. She also holds degrees in Arts and Development together with a post-graduate diploma in education development. She has served on a number of committees during her professional career, among other things as the assistant coordinator for the Defence Sub-Committee of the Transitional Executive Committee in 1994, and as assistant coordinator to the National Economic Development and Labour Council in 1995.
Prior to joining the DIRCO, Ms Dlomo was director: Forestry Restructuring in the Department of Water Affairs and Forestry; chief director: Human Resources Planning in the Department of Education; and chief director: Foreign Service Institute at the Department of Foreign Affairs.