People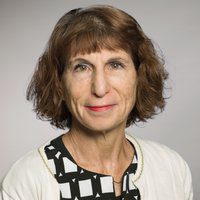 Susan Aaronson
Guest lecturer; Director, Digital Trade and Data Governance Hub
Susan Ariel Aaronson is a research professor of International Affairs and the director of the Digital Trade and Data Governance Hub. The DataGovHub aims to educate policymakers, the media, and the public about domestic and international data governance issues, from digital trade to public data governance.
Aaronson is also a cross-disciplinary fellow and affiliate at the George Washington University's Institute for International Economic Policy, the Institute for Science and Technology Policy, and the Sigur Center. She is also a senior fellow at the think tank Center for International Governance Innovation (GIGI) in Canada where she publishes much of her research
Aaronson is currently directing projects on mapping data governance, and writing on comparative advantage in data, trade as a tool to counter disinformation, data and national security, and America's approach to stimulating artificial intelligence.
Her research has been funded by the Hewlett, MacArthur, Koch, Ford, and Rockefeller foundations; governments, such as the Netherlands, the USA, and Canada; the UN, the International Labour Organization, and the World Bank; and US corporations, including Ford Motor and Levi Strauss.