Event description
Our monthly WebDebates focus on so-called 'new diplomacies'. We explore the emergence of new actors, new tools, and new processes in international relations. As these new diplomacies gain traction, it is important to engage with practitioners and scholars to get a better sense of who is involved and what is at stake. Discussions distil key lessons and define important skills for the next generation of diplomats.
Watch the recording:
and read the summary of the December WebDebate.
In our December WebDebate, we will focus on digital diplomacy.
We will be discussing the following: What are the digital diplomacy strategies of ministries of foreign affairs? How have they adopted social media as part of their public diplomacy efforts? Further, we will explore how digital diplomacy can empower new actors and how they interact with more traditional diplomatic players. But beyond new technology being a tool for diplomacy, old and new, our speakers will also address how the very environment in which diplomacy is conducted is changing.
Join us on Tuesday, 5 December, at 12:00 UTC (13:00 CET). Register to reserve your place.
Our Speakers
Ms Liz Galvez was a senior diplomat with the British Foreign and Commonwealth Office until 2006. During her 33 year career, she has served in a wide range of diplomatic jobs in London and several overseas postings, including Finland, Central America, Geneva (UN), Vienna (OSCE) and New York (UN). Following a posting in Romania in the late 90s, she was seconded for 2 years as a senior policy adviser to the Romanian foreign minister. After retiring with the rank of counsellor, she was appointed the first executive director of the Aspen Institute Romania, which she set up and managed for three years. She is at present a course lecturer with DiploFoundation, specialising in public diplomacy and negotiation skills, and has run several training workshops for the foreign ministries of Bahrain, Armenia, the Republic of Moldova, South Africa, and Italy. Read more about her.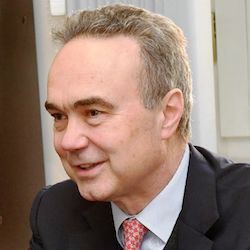 Ambassador Stefano Baldi is a career diplomat in the Italian Ministry of Foreign Affairs and International Cooperation. Since 2016, he has been the ambassador of Italy to Bulgaria. Previously, he was the director of the Diplomatic Institute at the Italian Ministry of Foreign Affairs (2011-2016). He has served at the Permanent Mission of Italy to the EU in Brussels, at the Permanent Mission of Italy to the UN and other international organisations in Geneva, and at the Permanent Mission of Italy to the UN in New York. He has published several books on diplomats and diplomacy. His personal website is: https://baldi.diplomacy.edu
About our WebDebates
The WebDebates on the future of diplomacy are live streamed on the first Tuesday of every month. They are organised by Diplo within the framework of the International Forum on Diplomatic Training (IFDT). Learn more about our series of WebDebates.
If you form part of a dynamic circle of practitioners in your community, we encourage you to establish a diplomatic hub to follow the WebDebates and to facilitate discussions. For more information, contact Diplo's Ms Mina Mudric.