Event description
This year, 11 candidates graduated Master in Contemporary Diplomacy from the University of Malta and DiploFoundation. The graduation ceremony took place at the Jesuit's Church in Valletta, Malta.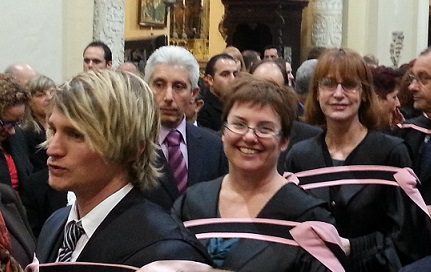 The graduates and their research topics were: Benjamin Wako Mukabire  (Regulation Of Regional Trade Agreements: A Critical Review Of The East African Community), Catherine Farrugia  (EU-Turkey Negotiations: Obstacles to Turkey's application to join the EU), Garry Cronan (Diplomacy and policy development in the Web 2.0 Age and beyond: An analysis of Open Government and Open Data approaches), Virginia Paque (Internet governance (IG) as a diplomatic priority), Kai Sonda Brima (Democracy in Ghana: Lessons for Africa), Markus Koller (A review of the diplomatic relations between the Islamic Republic of Iran and the USA), Mary Murphy (The impact of the Internet on diplomatic reporting: how diplomacy training needs to be adjusted to keep pace), Roxie K. McLeish-Hutchinson (The diaspora as a resource for sustainable development: A case study of Grenada), Phakamisa Siyothula (The Role of the Civil Society in Contemporary Disarmament Diplomacy: A Comparative Analysis of the campaigns and negotiations to ban landmines and cluster bombs), Ene Tammy Abah (The Role of Diplomacy in the Security Situation in the North of Nigeria: Case Study of Boko Haram)
Ezra Zilla Natasha Thomas (The Evolution of Diplomacy in the Caribbean).
We would like to thank the Diplo faculty members who supervised the work of these graduates.
Read The Times of Malta article on the graduation ceremony here.