Event description
From 7-11 May, the corridors of UK Parobrod center in Belgrade became the corridors of the Internet, where DiploFoundation's international exhibition will tackle the digital issues of today through art, previously exhibited at the UN's Internet Governance Forum (IGF) 2017, in Geneva.
Inside Internet corridors
– International exhibition and discussion on contemporary data flows –
The exhibition was created as a meeting point of art, law, personal stories, technical protocols, photographs of cats and secret messages. From data privacy and protection, through encryption to domain name systems, one could follow the signs throughout the space that lead to the questions of gender and technology, and issue of access. The exhibition was organised as a network, spanning two floors and several rooms, in which each artwork offered a short introduction into the digital issue at hand. For additional orientation within the setup, guided tours were organised every day.
With works by:
Andre Castro
Danielle Sucher
Amy Suo Wu
Owen Mundy
Sebastian Schmieg
Silvio Lorusso
The exhibition was opened with a guided tour, on Monday May 7th, 2018 at 20h.
As part of the exhibition Inside Internet corridors, on Thursday, May 10th, 2018 at 18h, a discussion was organized on the subject of contemporary data flows, through an exchange about legal, art and digital policy practices.
For many years, data and privacy were not seen as issues relevant to the daily lives and personal realities of most of the public. However, with the Snowden revelations in 2013, came a newfound understanding that governments around the world were using online data to track the movement and communications of their citizens. With the recent Cambridge Analytica scandal, the Mark Zuckerberg hearing and the 'delete facebook' movement, people are beginning to understand the power that these companies hold over large sets of personal data.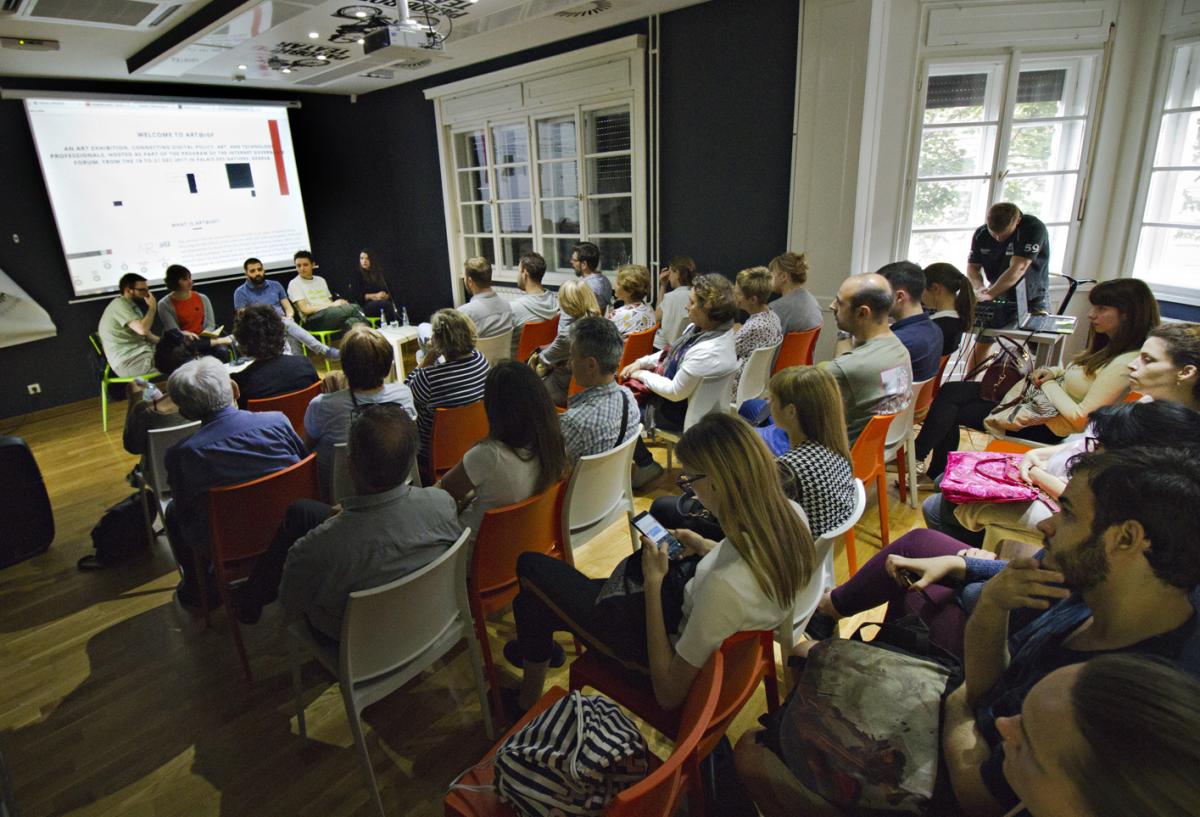 The aim of this talk was to discuss how data impacts our lives and how we can all engage in advocacy to better understand the issues and take control of our data through law, art, media theory, technology and policy. The speakers talked about the Cambridge Analytica scandal and the EU's General Data Protection Regulation (GDPR), concrete projects which use digital media and art interventions as mediators for communicating technical issues, offered some practical tools, and checked out each other's data!
With the participation of:
Danilo Krivokapic (SHARE Foundation),
Darija Medic (DiploFoundation),
Laura Henderson (Internet Policy Observatory, University of Pennsylvania),
Uroš Krčadinac (Digital art department, Faculty of media and communications)

The event was organised by DiploFoundation, the SHARE Foundation, the Internet Policy Observatory, the University of Pennsylvania, in collaboration with UK Parobrod

Links: