DiploNews – Issue 356 – 4 October 2018
Application deadline approaching – 2019 Master/Postgraduate Diploma in Contemporary Diplomacy
Diplo is now accepting applications for the 2019 Master/Postgraduate Diploma in Contemporary Diplomacy, and the Master/Postgraduate Diploma in Contemporary Diplomacy with a specialisation in Internet Governance. These unique postgraduate programmes, offered in co-operation with the University of Malta, include a 10-day residential workshop in Malta followed by 16–20 months of online learning. Visit the Master in Contemporary Diplomacy webpage to read more. Scholarships covering 20%–50% of the Postgraduate Diploma fee are available for applicants from small and developing states. The programme starts on 4 February 2019. The application deadline is 15 October 2018 for international applicants, and 15 November 2018 for Maltese applicants.
Ministerial Conference on High-Tech Crime and Information Security
A regional Ministerial Conference on High-Tech Crime and Information Security under the slogan 'Connect Securely!', organised by the Serbian Ministry of Interior, implemented by the Geneva Centre for the Democratic Control of Armed Forces (DCAF) and funded by the United Kingdom's Foreign and Commonwealth Office (FCO), took place 20-21 September in Belgrade, Serbia. DiploFoundation's representatives Arvin Kamberi and Andrijana Gavrilovic took part in the event, to further support the cybersecurity process that Diplo sparked and fueled in both Serbia and the region in the previous years.
The Battle for the Global Internet
New America, DiploFoundation, and ISOC-DC held an event on Thursday, 27th September in Washington D.C. to discuss what the coming months might mean for Internet governance.
The near future is filled with important processes that could play a significant role in steering the Internet towards one of these poles, including the Internet Governance Forum, the ITU Plenipotentiary, ICANN63, the UN Secretary General's High-Level Panel on Digital Cooperation, and more. Some of these processes pose significant opportunity to codify the principles of freedom, openness, interoperability, security, and resilience, while others pose serious challenges to proponents of the same.
The event was moderated by Tereza Horejsova (Project Development Director, DiploFoundation) and involved the participation of Jovan Kurbalija (Executive Director, Secretariat of the UN Secretary General's High-Level Panel on Digital Cooperation), Robert Morgus (Sr Policy Analyst & Deputy Director, FIU-New America C2B Partnership), Becky Burr (Deputy General Counsel and Chief Privacy Officer, Neustar), and Shane Tews (Co-Chair Internet Governance Forum USA).
DiploFoundation and the Geneva Internet Platform take part in the World Trade Organization Public Forum
The event is taking place from 2 to 4 October, in Geneva. The Public Forum provides a platform for discussing the latest developments in world trade and promotes ways to enhance the multilateral trading system. Diplo is co-organising a session with the Commonwealth Small States Office and ACP Geneva office on sustainable technology-enabled trade and a more inclusive trading system – Small state, ACP states, LDC and SSA perspective. The session is taking place on the 4th from 8:30 to 10:00 in room D. In addition, the Geneva Internet Platform is providing just-in-time reporting, producing summaries from some of the sessions related to digital technology and e-commerce. The reports are available on the dedicated webpage.
#Cybermediation: What role for blockchain technology and natural language processing AI?
Join us, in situ (Room de Mello, 2nd floor, WMO building, Geneva) or online, for a discussion on #Cybermediation: What role for blockchain technology and natural language processing AI? on 5 October 2018, from 10:00 to 11:30 CEST (8:00 to 9:30 UTC).
Technological developments impact all aspects of society. Similarly, they impact the practice of diplomacy. Mediation, the peaceful resolution of conflicts through a third party, is no exception. The #Cybermediation initiative, launched earlier this year, explores mediation in the context of new technology, including social media, big data, and artificial intelligence (AI).
This is not a highly technical event. The discussion will be accessible to a general audience with an interest in mediation and the role of new technology. We will give an overview of both blockchain and natural language processing AI and, building on that, make suggestions for potential #Cybermediation activities. Presentations by expert speakers Katharina E. Höne (Researcher, DiploFoundation) and Dejan Dincic (Digital Transformation and Online Learning Specialist) will form the basis of a wider discussion and brainstorming about the future of #Cybermediation as a joint effort between speakers and audience.
DiploFoundation and the Geneva Internet Platform are co-ordinating the activities of the thematic working groups on big data and AI. Read more on our #Cybermediation project page.
Registration is open and accessible through DiploFoundation's website.
September issue of the Geneva Digital Watch newsletter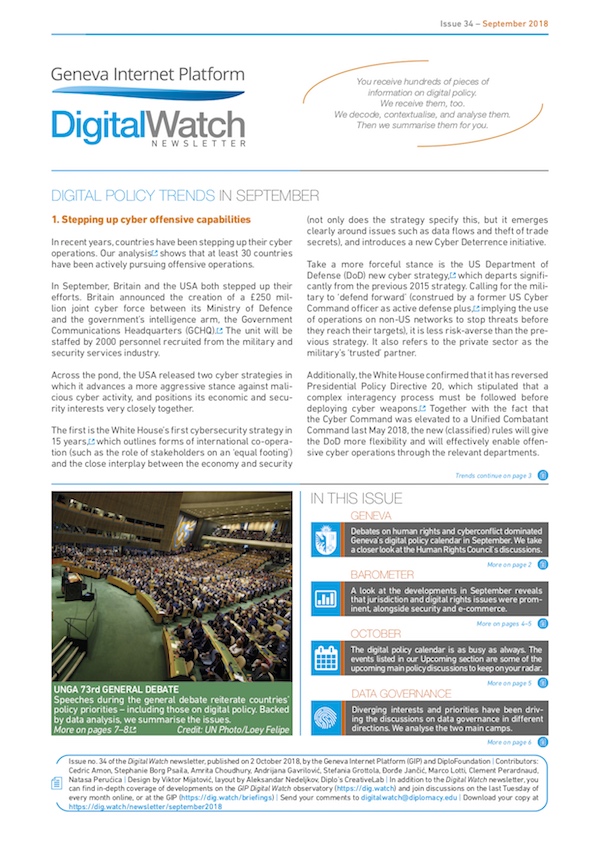 Published on 2 October 2018, Issue no. 34 of the Geneva Digital Watch newsletter provides the latest digital policy updates which took place in July and August. The main highlights include:
Countries step up their cyber offensive capabilities.
Data localisation discussions intensify again, particularly in India.
Discussions on the modernisation of the World Trade Organisation continue, with several suggestions from the EU.
An analysis of countries' priorities on digital policy as stated at the 73rd Session of the UN General Assembly.
An in-depth analysis of the main positions in data governance debates: the free flow of data and the localisation of data.
A crossword to test your knowledge on digital commerce.
The Internet Governance Barometer for September, which shows that security, e-commerce and the Internet economy, digital rights, jurisdiction and legal issues were prominent issues in September.
A review of the main digital-policy-related events that were held in International Geneva during September.
Download the September issue of the Geneva Digital Watch newsletter.
Join us for October's briefing on Internet governance
What are the main Internet governance updates in October, and how will they shape future developments? What can we expect in November? Join us for our next monthly briefing, on Tuesday, 30th October, for a round-up of the major global IG and digital policy developments. Registrations are now open.
What's been happening in Diplo's blogosphere
In The economic impact of data centres, guest blogger Pedro Vilela Resende Gonçalves looks at the impact in data traffic that developments in AI, the IoT, and smart devices, and other data‑heavy applications have had. Pointing out that by 2020, the volume of big data is predicted to increase from 4.4 zettabytes to roughly 44 zettabytes (1 zettabyte equals 1 billion terabytes), he argues that the economic impact of that cannot be ignored.
Subscribe to Diplo's News