Master's students create social media campaign for Safer Internet Day
Published on 08 February 2016
Updated on 07 August 2022
The Internet has had a substantial impact on the work of diplomats. Many diplomatic functions have been digitalised, and several e-tools can be used to perform diplomatic work.
The 2016 workshop for the Master in Contemporary Diplomacy (Malta, 1-10 February, DiploFoundation and the University of Malta) included an innovative session on E-Diplomacy. Participants learned about how the Internet and ICTs can facilitate the work of diplomats, and how to overcome the challenges – such as security and encryption – that arise from the use of e-tools. They will have the chance to deepen their understanding later in the Master's programme, through attending Diplo's online course on E-Diplomacy which starts in May 2016.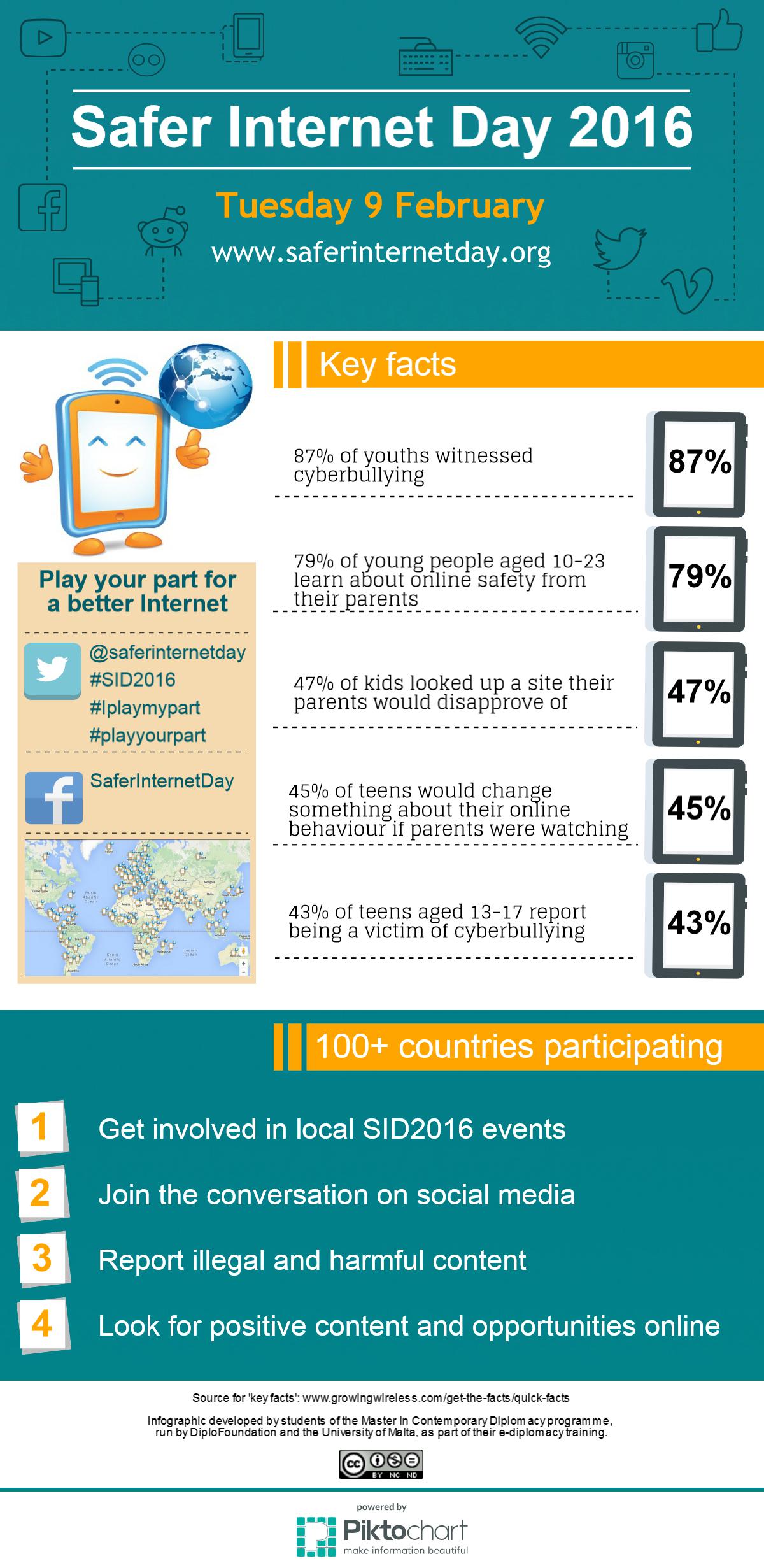 The session involved interactive and hands-on exercises. One of the exercises involved creating a social media campaign related to Safer Internet Day 2016, an annual event dedicated to raising awareness on the safe and responsible use of Internet and technology, especially among children and young people. Participants created content for an event announcement, and for Twitter and Facebook. They also developed an infographic, based on key facts related to child online protection, which was then designed by Diplo's CreativeLab.
In the spirit of the theme, the session was moderated remotely by Dr Jovan Kurbalija from Diplo's office in Geneva. Joining from Serbia and the USA, Diplo's Mr Vladimir Radunovic and Ms Virginia Paque offered their expert advice and feedback. The session was facilitated by Dr Stephanie Borg Psaila from the workshop venue. The instructors drew on methods and experience from the recent Geneva Engage conference, which focussed on effective methods for e-participation.
Ms Natoya Cassius, a participant attending the workshop, said that the e-diplomacy session provided the opportunity to put theory into practice as the session was done via video-conferencing. 'Bridging the gap of digital divide was showcased clearly as the instructors in Geneva were able to connect to the persons in the workshop in Malta at face time. The response rate was therefore quick and effective.'
The content related to Safer Internet Day prepared by the Master's students will be shared on Diplo's social media channels during the event, which is this year celebrated on 9 February. Read the event announcement, and follow @diplomacyedu and Diplo's Facebook page for updates.
Learn more about the Master in Contemporary Diplomacy programme.
Subscribe to Diplo's Blog