Internet governance in March 2019
Published on 01 April 2019
Updated on 07 August 2022
Old concerns and new policy initiatives in the field of cybersecurity, Internet platforms on the radar again, and a renewed focus on the Internet economy were among the main digital policy developments in March 2019.
These and many other developments, trends, and regional updates were covered during March's just-in-time briefing on Internet governance – our monthly appointment on the last Tuesday of every month – which took place on 26 March 2019. They were also summarised in the Internet Governance Barometer for March, and in Issue 38 of the Geneva Digital Watch newsletter.
The briefing was led by Vladimir Radunović (Director of Cybersecurity and E-diplomacy programmes at DiploFoundation), who was joined by Marília Maciel (Digital Policy Senior Researcher at DiploFoundation).
Radunović highlighted some of the events held in March 2019, including 'Principles for AI: Towards a Humanistic Approach?', ICANN 64, the OECD Going Digital Summit – from which Geneva Internet Platform (GIP) Digital Watch Observatory's rapporteurs did just-in-time reporting, and the Group of Governmental Experts on Lethal Autonomous Weapons Systems.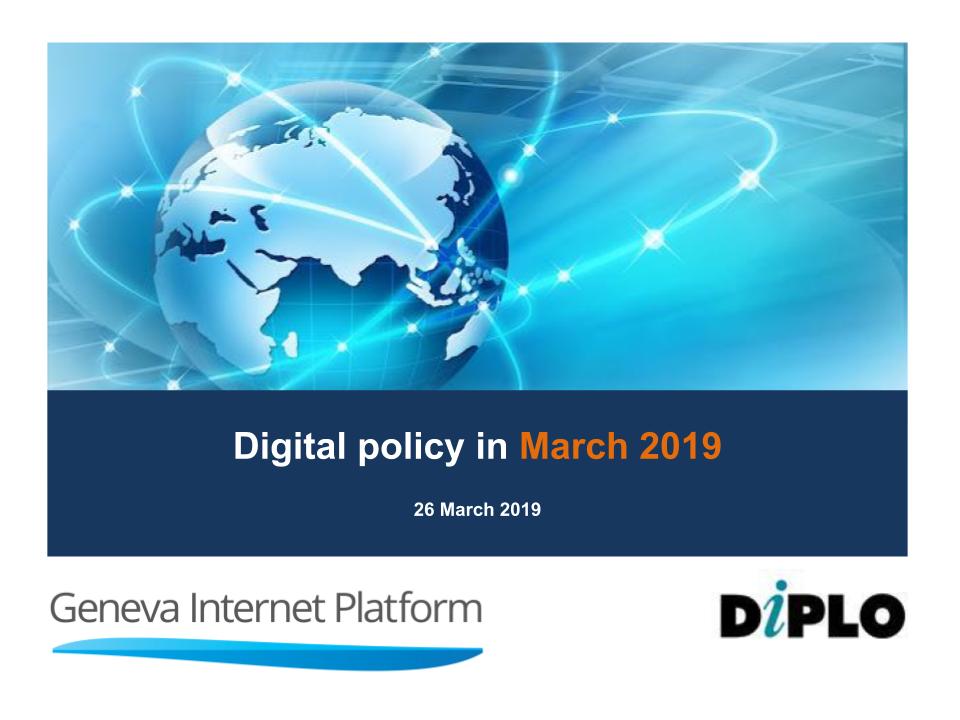 Next, Radunović enumerated the main digital policy updates in March:
The UN Office for South-South Cooperation launched a digital tool to support South-South digital co-operation. 
The Commonwealth Digital Connectivity Agenda will be co-led by the UK and South Africa to support digital trade.
Facebook is getting closer to creating its own cryptocurrency.
The German Ministry of Finance urged for the introduction of a regulatory framework for blockchain-based securities.
The UN Special Rapporteur for Freedom of Opinion called on the EU to bring the Copyright Directive in line with freedom of expression standards.
Huawei sued the US over the equipment ban.
Russia will lay a new fiber optic cable along its Arctic coast.
A new bill to restore net neutrality was introduced in the US Congress.
Artificial intelligence (AI) weapons may be harder to control than nuclear ones, warns Henry Kissinger.
Arizona attorney finds no basis for criminal liability for Uber in 2018 self-driving car accident.
Radunović and Macie gave an overview of top trends in digital policy in March:
Cybersecurity: Old concerns & new policy initiatives.
Mutual accusations and attributions of cyber-attacks expanded in March, Radunović explained.
Venezuela blamed the US for the power outage it has been suffering since 7 March, attributing it to a cyber-attack originating from Houston and Chicago.
The Washington Post reported that US Cyber Command knocked off Russia's Internet Research Agency off the Internet during US midterm elections, in order to stop it from meddling in said elections – which might be a first sign of the US having conducted or used offensive cyber capabilities to neutralise a foreign agency/actor.
Indonesian election officials are reportedly concerned about the security of the their upcoming April elections and named Russia and China as threats, which has since been denied by both countries. Additionally, media sources have been publishing warnings by FireEye that Russian hackers are targeting European governments ahead of the elections for the European Parliament. However, the EU is enhancing its cybersecurity policy framework.
The European Union Agency for Network and Information Security (ENISA) released a paper on the upcoming elections, which contains recommendations on EU-wide election cybersecurity.
The EU Parliament, concerned about the security risks of equipment of third-party vendors, adopted the Cybersecurity Act – which introduced a certification scheme for products, processes and services sold in the EU countries – and the Council endorsed an EU-wide tool to screen foreign direct investment (FDI) in the EU; both initiatives are aimed at the protection of critical infrastructure. The Council also adopted the EU Law Enforcement Emergency Response Protocol to ease the investigation of cross-border cyber incidents
New child safety initiatives were launched, with African Union making an urgent call to protect children online; Serbia launching a children's guide to online safety; and, Ireland introducing new law which may grant online safety commissioners new powers to fine or even press criminal charges against social media firms if they break rules.
Internet platforms are on the radar again.
Facebook has been confronted with new investigations and accusations over its privacy and data protection policy. Maciel explained that New York prosecutors are investigating Facebook for data sharing deals with major tech companies. In parallel, the Cambridge Analytica case against Facebook still running.
Facebook, alongside Twitter and YouTube, has also come under increased scrutiny following failure to prevent the livestream of New Zealand mosque shooting as well as remove all uploads of said video. This raised concerns over the lack of liability of online intermediaries for disseminating harmful content.
The Internet economy was in focus again.
The European Commission fined Google €1.49 billion for abusing its dominant position on the online advertising market by imposing anti-competitive contractual restrictions on third-party websites. Maciel explained that Google has not adjusted its practices after being fined in the past, but also, that this particular anti-competitive practice lasted for ten years which puts into question the ability of authorities to prosecute the case in due time.
Uber was also fined for its practices, and will be paying a €2.3 million in the Netherlands, for violating the Taxi Act by having allowed its drivers to provide transportation services without a proper license when it operated in the country.
Uber also agreed to pay USD$20 million to settle the class action brought by drivers in the USA who did not agree with Uber's policy of classifying drivers as independent contractors.
Maciel also briefly outlined France's plan to tax Internet companies that have global revenues of over €750 million, as it will impose a 3% tax on the French revenues of Internet giants.
The next Internet governance briefing is on 30 April. Registrations are open.
Radunović then spoke about the upcoming events in April, including UNCTAD E-commerce Week; the Internet Freedom Festival 2019;  Intergovernmental Group of Experts on E-commerce and the Digital Economy, Third Session; 2nd Western Balkans Digital Summit, World Economic Forum on the Middle East and North Africa; World Summit on the Information Society (WSIS) Forum 2019; Internet of Things (IoT) Day 2019; ILO100: Law for Social Justice.
He went on to give an overview of the upcoming GIP and DiploFoundation activities which include: the publishing of the February & March edition of the Geneva Digital Watch newsletter; a session on 'Cybersecurity and artificial intelligence: How to allocate liability between the stakeholders' on 8 April at the WSIS Forum 2019, as well as booth presence at the WSIS Forum 2019.
The SS7 exploit and fruitfulness of fines against tech giants were among topics discussed during the interactive session of the briefing.
Regional perspectives
Updates from the Middle East and North Africa were provided by Hanane Boujemi. The ESCWA organised the Second Arab High-level Forum (AHLF) on WSIS and the 2030 Agenda for Sustainable Development. Dubai is the world's top city for foreign direct investments in AI and robotics.
Shita Laksmi gave an overview of digital policy developments in Asia. Thailand adopted its first cybersecurity law. Facebook is bringing its new digital literacy programme 'We Think Digital' to Singapore.
Wanda Perez provided updates from the Caribbean region. The Eastern Caribbean Central Bank will issue world's first blockchain-based digital currency. The Dominican Republic approved plans for the implementation of a national cybersecurity strategy.
Jacob Odame-Baiden gave updates from Africa. Kenya, Uganda, and Tanzania have seen a significant growth in mobile content in Swahili. Microsoft has announced the opening of its first datacenters at two locations in Africa: Cape Town and Johannesburg, South Africa. Rwanda launched first-ever satellite to connect remote schools to the Internet.
Subscribe to Diplo's Blog