Internet governance in February 2019
Published on 05 March 2019
Updated on 07 August 2022
Hardware making a comeback, new artificial intelligence (AI) initiatives being launched, and intensifying efforts to curb the spread of harmful content were among the main digital policy developments in February 2019.
These and many other developments, trends, and regional updates were covered during February's just-in-time briefing on Internet governance – our monthly appointment on the last Tuesday of every month – which took place on 25 February 2019. They were also summarised in the Internet Governance Barometer for February, and in Issue 38 of the Geneva Digital Watch newsletter.
The briefing was led by Dr Stephanie Borg Psaila, the interim director of DiploFoundation and the Geneva Internet Platform (GIP). She was joined by Sorina Teleanu, curator of AI for the GIP Digital Watch observatory and Vladimir Radunović, director of cybersecurity and e-diplomacy programmes at DiploFoundation.
Borg Psaila highlighted some of the events held in February 2019, including the 32nd Session of the Assembly of the African Union, Safer Internet Day, and the 40th Session of Human Rights Council.
Next, Borg Psaila enumerated main digital policy updates in February.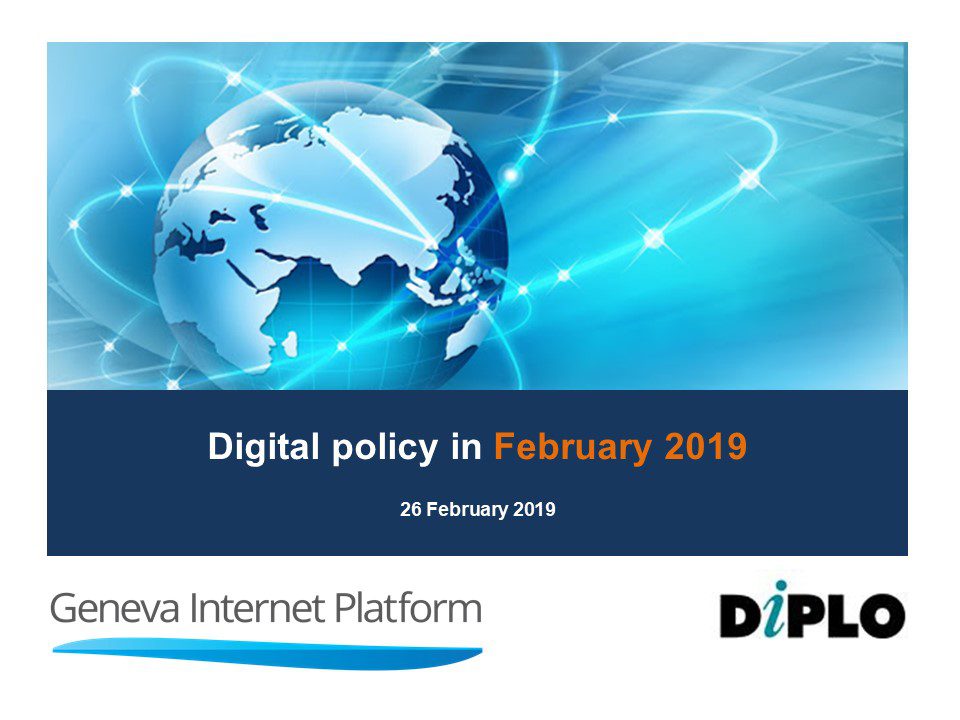 The German Federal Cartel Office ordered Facebook to stop combining users' data from other Facebook-owned platforms such as WhatsApp and Instagram, without voluntary consent.
Lithuania, Luxemburg, Malta, the Netherlands, and Sweden oppose the European Commission's proposal to remove the veto power that member states have over EU tax reforms.
Russia is considering legislation that requires Internet providers to take measures to ensure the independence of the Russian Internet space from the global Internet in cases of foreign aggression.
The speakers gave an overview of top trends in digital policy in February.
Hardware is back. Cybersecurity and E-diplomacy Programmes Director at DiploFoundation, Vladimir Radunović, referred to Diplo's predictions for 2019, where it was recognised that hardware would be back. In February, the Huawei controversy picked up again, allegedly due to security reasons. The main concern is alleged back-door access – security flaws purposely inserted in hardware – that would allow Huawei and ergo Chinese authorities to spy on networks. However, technology is a black-box; few vendors allow scrutiny of their code by partner countries, most vendors are not open to this kind of scrutiny and Huawei is no different. The controversy is becoming increasingly political, as many countries are banning or contemplating banning Huawei hardware. As Huawei continues to make large investments in developing countries, the question arises, whether the investments are economic and geopolitical risks, rather than a security one. This could lead to an expansion of the economic war, where each party would block products of others, or it might prompt vendors to become more transparent with their partners on what their equipment contains.
New AI initiatives launched. Digital Policy Senior Researcher at DiploFoundation, Sorina Teleanu, referred to DiploFoundation's report on AI where the rapid succession of national AI strategies since 2017 was described as 'the race to become the global leader in artificial intelligence'. While this competitive perspective is definitely not reflected in all strategies, many of them aim at leadership in the field. The latest AI strategy, published by the USA, reconfirms this trend – it is dedicated to 'maintaining American leadership in AI'. In a second strategy from the USA, the US Department of Defense launched its own AI strategy to accelerate the adoption of AI within the military. This confirms the trend that some strategies 'focus only on specific aspects of AI', as stated in DiploFoundation's report. In February, India and the UK announced plans to launch new programmes on AI, while the Council of Europe adopted a 'Declaration on the manipulative capabilities of algorithmic processes', drawing the attention of member states to the threats automated systems could pose to human rights and democratic societies.
Efforts to curb the spread of harmful content intensified, Borg Psaila explained. France, Canada, India, Pakistan, and the UN all announced plans to do so. The main question that will arise is whether governments are satisfied – or concerned – with the efforts of tech companies so far. Another concern is to what extent tech companies should be the gatekeepers of content, and whether any of these rules undermine the privacy and freedom of expression protections of users.
The next Internet governance briefing is on 26 March. Registrations are open.
Borg Psaila spoke about the upcoming events in March, including the Human Rights Council, the 30th anniversary of the WWW, and the Group of Governmental Experts on Lethal Autonomous Weapons (GGE LAWS).
Dr Borg Psaila then gave an overview of the activities of the Geneva Internet Platform and DiploFoundation in the last week of February, which included a discussion on AI hosted by the EU delegation in Geneva, the 4th Geneva Engage Awards, and the February 2019 newsletter which will be published in the first week of March.
Regional perspectives
Updates from the Middle East and North Africa were provided by Noha Fathy. Saudi government's eService app Absher tracks and restricts women's movement, which has prompted calls to Google and Apple to stop carrying the app. EU proposed AI guidelines could threaten the documentation of war crime evidence in Syria, as YouTube videos on the subject were seen against YouTube guidelines, and taken down by AI technology due to 'graphic or extremist content'.
Amrita Choudhury gave an overview of digital policy developments in Asia. The Bangladeshi  government has filed a lawsuit against the Philippines for a US$81 million cyber-heist. The Competition Commission of India is reviewing a case over Google's market dominance. The Indian government proposed to amend the rules governing intermediary liability protections. Sri Lanka announced an electronic identity card (eID) and an electronic passport (ePassport) for citizens later this year. The Korea Communications Standards Commission (KCSC) has obligated all Internet service providers (ISPs) in Korea to filter all server name indication (SNI) requests. A draft legislation by the Nepal government is proposing to impose penalties for 'improper' social media posts, raising concerns regarding freedom of speech and stifling dissent.
Andre Edwards provided updates from the Caribbean region. British Virgin Islands will use e-tabulating machines in general elections for the first time. Drones will be used to supervise public construction projects in the Dominican Republic. Jamaica's Universal Service Fund will focus on establishing more community access points in the country. Jamaican children and seniors were trained on online safety by the FLOW Foundation.
Foncham Denis Doh gave updates from Africa. Rwanda will bridge the digital divide by operating its first smartphone factory. Facebook partnered with African NGOs to celebrate Safer Internet Day. Ethiopia's privatisation programme attracted African telecom operators such as Pan African Telecommunications (MTN), Orange, and Vodacom.
Subscribe to Diplo's Blog