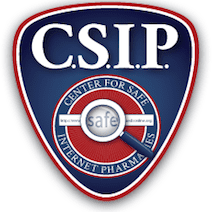 The Center for Safe Internet Pharmacies (CSIP) is a nonprofit organisation set up by several Internet industry players with the aim to address the global problem of consumer access to illegitimate pharmaceuticals from illegal online pharmacies.
Members of CSIP include companies from the Internet industry, such as: domain name registries, registrars, shipping companies, payment processors, and advertising service providers.
CSIP attempts to provide a neutral forum for sharing relevant information about illegal Internet pharmacies among members, aid law enforcement efforts where appropriate, establish a publicly available list of all safe online pharmacy websites, and educate consumers about how to find safe medicine online through partnerships with government leaders, regulators, law enforcement, public health and consumer groups, and health care providers.