People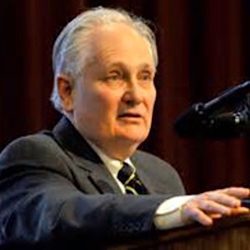 Laurence E. ('Larry') Pope was educated at Bowdoin College, Maine, one of America's leading liberal arts colleges; he spent his junior year in France and graduated in 1967. Following two years as a volunteer in the Peace Corps in order to avoid being drafted to Vietnam, in late 1969 he joined the Foreign Service – and before long was serving his first overseas posting as a consular officer at the embassy in Saigon. Thereafter, he studied Arabic, and devoted the greater part of the rest of his long diplomatic career to posts dealing with the Middle East and North Africa, whether in the Department of State, at missions abroad, or on attachment to the military. After about 15 years in the diplomatic trenches, these posts included deputy chief of mission and chargé d'affaires in Bahrain, 1985-7; director for Northern Gulf Affairs (Iran and Iraq), State Dept., 1987-90; associate director for Counter-Terrorism, State Dept., 1991-3; ambassador to Chad, 1993-6; and political advisor to Gen. Anthony Zinni, C-in-C US Central Command (Tampa, Florida), 1997-2000. He is a recipient of the highest award given by the Defense Department to a civilian, the Secretary of Defense Medal for Distinguished Civilian Service.
Larry had originally assumed that his post with CENTCOM would be his final tour. For many years it was, although in 2000 it looked as if he would go as ambassador to Kuwait until his presidential nomination was blocked by the Senate Foreign Relations Committee, chiefly because of his loyalty to General Zinni, who had publicly ridiculed a plan for the overthrow of Saddam Hussein strongly supported by its powerful chairman. Even refused a hearing by the committee, on 2 October 2000 Larry was led by this treatment to retire from the Foreign Service. His account of this unsavoury episode is to be found in a short article in Foreign Service Journal (pp. 17-19).
But 'retirement' is one thing; giving up work is another, and Larry was not idle for long. Following the Middle East Peace Summit at Sharm el-Sheikh later in October, he accepted an invitation – prompted by the State Department – to act as staff director in Jerusalem for the International Fact-Finding Commission, chaired by Senator George Mitchell, which the heads of state had agreed to establish. This reported in April 2001, although Larry had felt obliged to resign before this because he had been made a special target of Israeli attacks. His account of this episode can be read in the transcript of this interview.
Following the notorious 9/11 attacks in 2001, he became a senior advisor for Arab affairs at the US Mission to the United Nations in New York, a consultant to the Defense Department and other national security agencies, and a Senior Fellow at the Joint Forces Staff College in Norfolk, Virginia. He also lectured widely on what, in an op-ed piece in the New York Times, he called the 'Second Arab Awakening'.
It was in 2012 that a tragic event brought him briefly out of formal retirement. This was the murder on 11 September of Christopher Stevens, US ambassador to Libya, during an attack on the US consulate in Benghazi. Larry offered to go out as chargé d'affaires until a new ambassador could be installed and this was accepted. Such an appointment did not require Senate approval, and he arrived at the embassy in Tripoli – where he had served as political officer much earlier in his career – a month later; he remained until early January 2013.
In recent years, Larry Pope has devoted much of his time to historical research, with a special interest in ancien régime France and its most famous diplomat-writer, François de Callières. In 2004 he published Letters (1694-1700) of François de Callières to the Marquise d'Huxelles (Edwin Mellen Press); and in 2010 the first serious biography of Callières: François de Callières. A Political Life (Republic of Letters). In 2011 he brought out an edited narrative produced by the US Marine Corps History Division: Among Heroes – With a Marine Corps Rifle Company on Peleliu (Marine Corps University Press), and he was a consultant editor on the third edition of the Palgrave Macmillan Dictionary of Diplomacy(2012). His most recent publication is The Demilitarization of American Diplomacy (Palgrave Macmillan, 2014). He is currently working on a biography of Col. Nathaniel Hooke (1664-1738), an Irish-born Jacobite, soldier of fortune, and special envoy, who entered the service of Louis XIV at the end of the seventeenth century.
Larry Pope became a Senior Fellow of DiploFoundation in June 2014.