People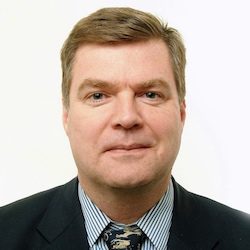 Aapo Cederberg
Associate Fellow, Geneva Centre for Security Policy
Mr Aapo Cederberg is currently Associate Fellow at the Geneva Centre for Security Policy (GCSP). He was Senior Programme Adviser in the Emerging Security Challenges Programme at GCSP from 2013 to 2015, focussing on cybersecurity matters, especially training courses and security dialogue.
Mr Cederberg has served as a Secretary General for the Security Committee of Finland for six years. The Security Committee provides support, advice and expertise for the government in comprehensive security matters and serves as a collaborative platform for the on-going national efforts related to national crisis preparedness. The security committee also works on various initiatives and issues statements and guidelines, such as Security Strategy for the Society and Cyber Security Strategy, to facilitate work towards the common goals. These strategies are government resolutions and were created for the first time during Mr Cederberg´s time as well as the mechanisms to implement them in the whole society. The committee also organises crisis exercises for the government and other stakeholders in society.
Mr Cederberg's earlier assignments include working as the Head of Strategic Planning and Foresight at the Ministry of Defence (2005 – 2007). During his time a first public long-term strategy for the MoD was created (Securely into the Future – Ministry of Defence Strategy 2025). Before this he has had a long career in the service of Finnish Armed Forces, where his latest assignments include holding the position of Commander at the Häme GBAD Battalion (2003 – 05) and serving as a Senior Military Adviser at the Permanent Mission of Finland to the OSCE (1999- 2003).