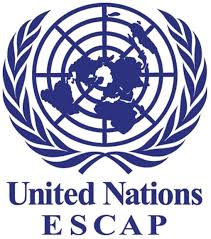 The United Nations Economic and Social Commission for Asia and the Pacific (ESCAP) is one of five regional commissions of the United Nations. ESCAP promotes regional cooperation and collective action among its member states, and assists them in building and sustaining shared economic growth and social equity.
The Commission's work cover the following main areas: sustainable development, macroeconomic policy and development, trade and investment, transport, social development, environment and development, information and communications technologies (ICTs), disaster risk reduction, statistics, and sub-regional activities for development.
In the area of ICTs, the Commission focuses on enhancing the capacity of member states to use ICTs for hazard early warning, resilience building and disaster recovery, and on increasing the availability and affordability of broadband Internet within the Asia-Pacific region.