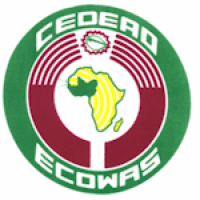 Address: 101, Yakubu Gowon Crescent, Asokoro District, Abuja, Nigeria
Website: https://www.ecowas.int
Stakeholder group: NGOs and associations
The Economic Community of West African States (ECOWAS) is a sub-regional intergovernmental organisation set up with the objective to promote economic integration in all fields of activities of its 15 member states. ECOWAS is working, among others, on encouraging economic growth in the region and on harmonising macroeconomic policies among its member states, in order to achieve economic integration.
ECOWAS member states are: Benin, Burkina Faso, Cape Verde, Cote d' Ivoire, The Gambia, Ghana, Guinea, Guinea Bissau, Liberia, Mali, Niger, Nigeria, Sierra Leone, Senegal and Togo.
ECOWAS's work covers a wide range of sectors, and telecommunications and ICTs are among these.
The ECOWAS ICT policy is aimed to assist and promote the development of a harmonised and standardised ICT infrastructure across the region. As an example, ECOWAS Ministers in charge of Telecoms/ICT have adopted common minimum technical specifications for Digital Terrestrial Television (DTT) receivers in the ECOWAS region to ensure their affordability, as well as a roadmap for the implementation of the DTT. The development of broadband infrastructure between cities and member states is also a priority for the organisation, and work in this area include: the connection of member states to submarine cables, the establishment of an integrated regional broadband network, the development of harmonised legislation on the right of way to facilitate transit and reduce cost for access to submarine cables, etc.
In 2010, the organisation adopted the Supplementary Act on Personal Data Protection within ECOWA, which talks about the required content of data privacy national legislation, and imposes an obligation on member states to establish national data protection authorities. ECOWAS also adopted a directive on cybercrime, in 2011, highlighting the growing need to harmonise or create regional legislation in the face of the increasing level of cybercrime in the region.